2014 in Review: Jette Says Check 'Em Out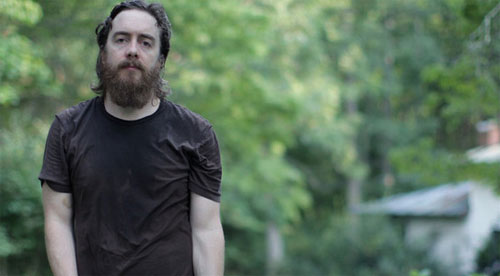 My criteria for movies to include in "best of the year" lists are very loose, as compared to various critics' organizations and other film-awards groups. For example, I would never disqualify Birdman from Best Score because it includes music from other composers. (Otherwise I'd never be able to qualify my all-time favorite score, from The Bad News Bears, but I digress.) The point is to present an interesting list of notable movies I saw in/around 2014, not to nitpick.
So my "notable films of 2014" list includes movies that were released in 2014, no matter when I saw them, as well as movies I saw in 2014 even if they haven't had a theatrical release. And, you know, whatever the hell else I want. If I'd done a 2013 list I probably would have topped it with A New Leaf (1971) because that was by far the best movie I saw that year. (It's on Amazon Prime and Blu-ray. It's funnier than anything else I'll mention in this article. Go watch it now.)
I planned to only include a few films because I never feel constrained by "top ten" or other numbers, but excellent and enjoyable movies kept popping onto the list. These are sort of in order -- my favorite is the one at the top -- but once we get past that, I can't really quibble about whether this one is better than that one. I'd recommend every one of them, is the point.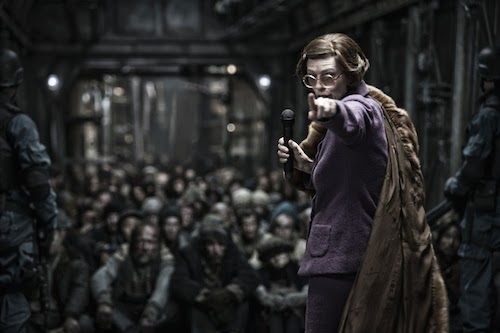 Snowpiercer
Either you're going to love this movie unabashedly or you'll start quibbling about realism and too-obvious metaphors and it's all downhill from there. Personally, I was enthralled by this post-apocalyptic fable about a train that circles the globe containing the last known human survivors, with the poorest in the tail and the richest in the head. People have been going on and on about Tilda Swinton (admittedly we can't do that enough, overall) but Chris Evans was practically unrecognizable and amazing as the leader of the rebels in the back who decide to take over the front. (Matt's review)
(Confession: I have a tendency to mix up All The Chris Actors. At least now I can remember Evans as The Snowpiercer Guy, because as Captain America I got him mixed up with The Kirk Guy and The Thor Guy and now we've got The Guardians of Parks and Rec Dude. This is why we need comic-book films starring women, so I don't confuse all the leads.)
How to watch: Get the Blu-ray and the biggest screen possible. It's also available on Netflix and other streaming outlets.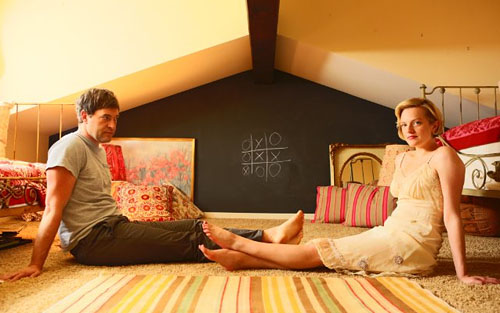 The One I Love
In the first five minutes of the movie, I thought, "Oh, so it's another one of those inevitably-crumbling-marriage movies. Sigh. I don't want to watch this. There had better be a damn good twist coming up." (And I couldn't leave because I had to interview the filmmakers the next day.)
Fortunately the twist was better than damn good and The One I Love is in no way "another one" of anything. It changes genres, moves in unexpected directions, and still is sneakily about the changing ways in which couples perceive one another, without being maudlin or grim. I'm not sure this is one to watch with the one you love, though, unless you've just started dating. (Marcie's review)
How to watch: Available on streaming outlets such as Netflix, and on Blu-ray.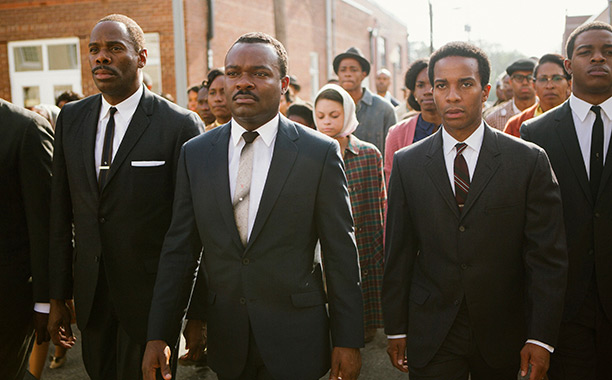 Selma
This is another movie that thwarted my expectations. Historical biopics often seem to follow the same tropes and general storylines. Lincoln alternatively bored and irritated me, as an example. But this movie about the Selma protests and Martin Luther King, Jr. is electrifying. It is relevant in surprising ways. I saw this during a press screening and in one scene, an unexpected action "sucked all of the air out of the room," to quote my colleague John Gholson. (I also saw a lot of surreptitious grabbing at napkins from the Drafthouse tables by critics who did not have Kleenex at hand.) David Oyelowo is superb as King.
Go see this movie now while it's still in theaters, so you can truly appreciate Bradford Young's cinematography. (Elizabeth's review)
How to watch: Selma is currently in theaters.
Blue Ruin (pictured at top)
Blue Ruin is one of two suspenseful, memorable movies on this list that I saw at Fantastic Fest 2013. Let me just cheat and quote from my review: "You all know how revenge films work -- well, this movie doesn't take that path. It's messier and more grim. In many genre movies, the protagonist plans carefully, is skilled at killing people and stitching up any wounds, and returns to a normal-ish life after taking vengeance. Not here. It's easy to sympathize with Dwight because he makes mistakes that ordinary people might make -- he's not stupid, he's just ordinary."
Macon Blair (who lives in Austin now, by the way) is incredible in this role. If you've seen him in Gretchen or You Hurt My Feelings, those are not even the tip of the iceberg. One more note from my review: "I'd say that some parts of Blue Ruin are not for the squeamish but let's face it, I am the squeamish and I would watch this movie again tomorrow."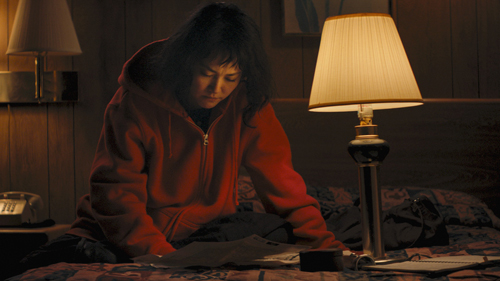 Kumiko, the Treasure Hunter
Austin filmmakers David and Nathan Zellner traveled to Minnesota and Tokyo for this amazing film about a woman who's convinced that Fargo is a documentary and that the fortune hidden in the movie is still out there, waiting to be claimed. Rinko Kikuchi is skilled at playing a character of few words but big dreams and emotions (see also The Brothers Bloom). Also, there's an adorable pet rabbit. As shown previously in Kid-Thing, the Zellners have a marked talent for weaving mythic and fairy-tale elements into ordinary settings. Gorgeous and fascinating. (Debbie's review)
How to watch: Available in theaters starting in mid-March.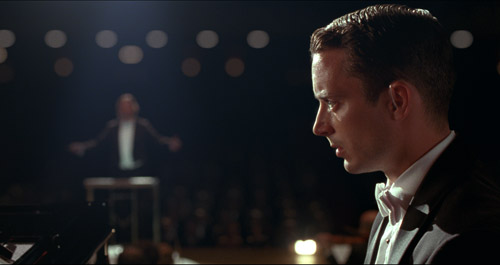 Grand Piano
This is the other suspense film that rocked me at Fantastic Fest 2013. It's set almost entirely during a concert featuring a former star pianist on the rebound, played by sometimes-Austinite Elijah Wood. Again, let's just cut to my review: "Just when you think you're in the middle of A Star is Born during the Norman Maine decline, the concert starts and out of nowhere, the movie shifts gears into a thriller with death on the line." And "In the middle of movie allusions and surprise plot twists, though, it is the utterly believeable performance from Elijah Wood that helps ground Grand Piano and engage the audience."
Grand Piano is directed by Eugenio Mira (The Birthday, Agnosia), whose movies cover a range of genres and yet I've enjoyed every one of them. It's written by Damien Chazelle, who also wrote and directed a higher-profile 2014 film about musicians, Whiplash. I was not a great fan of Whiplash but oh, Grand Piano, with its Hitchcockian influence and suspense that turned my nerves into piano wire for an hour and a half ...
How to watch: Available on streaming outlets such as Netflix, and on Blu-ray.
Birdman
Funny thing about Birdman. I watched it on a screener DVD in December for awards consideration and I had to really force myself to get through the first half hour. I kept stopping the DVD to take a bathroom break and make lunch and check email and pet the cat and anything. Once I made it through a half hour or so, I was interested and decided it was a pretty good film, beautifully shot with first-rate performances. I was especially taken with the score, which is different from anything I'd heard onscreen lately. But the movie didn't make the Top Ten lists I submitted to awards groups.
I saw Birdman a second time in a theater in January and was riveted. Completely taken with the movie and I kept forgetting to see if I could spot any cuts between scenes. Many critics claim that a good movie is just as good on a TV or even a laptop screen as it is in a theater (admittedly I believe I said that myself about Ain't Them Bodies Saints) but in this case, having the movie large and in charge was definitely a factor in my enjoyment. (Mike's review)
How to watch: Available on Blu-ray and streaming outlets such as Amazon. However, as of this writing it is still in some theaters (at least in Austin, where you can catch it at Arbor, Violet Crown and several Alamo Drafthouses) and I do believe that's the optimal place to see this movie if you can.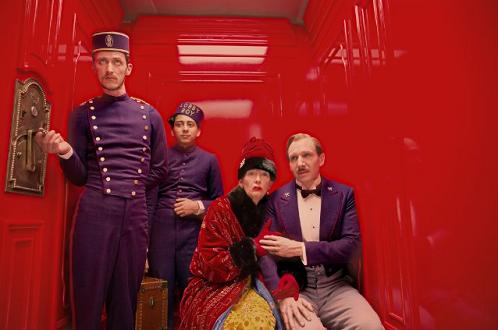 The Grand Budapest Hotel
The funny thing about Wes Anderson's latest movie is that I thought it was regrettably shallow until about 25 minutes after I saw it -- a pretty piece of confectionary, nothing more. I was filling my car's gas tank and suddenly the penny dropped as I realized how much it's about the decline and death of Romanticism. Yes, Romanticism died before this movie is set but that's kind of the point. It's not my favorite Anderson film (Royal Tenenbaums) but it's one of my favorite films from 2014. (Don's review)
How to watch: Available on streaming outlets such as Amazon and iTunes, and on Blu-ray. Some theaters are showing this because it's an awards contender. The bigger the screen you can watch it on, the better. Also I think this movie would work best if you could have some fancy pastries at hand.
Other films I really liked and just don't have time to tell you why you should see them:
The Great Invisible (Elizabeth's review), Joe (my review), The Tale of the Princess Kaguya (Mike's review), Land Ho! (my review), A Most Violent Year (Elizabeth's review), In Order of Disappearance (my review)