Review: Selma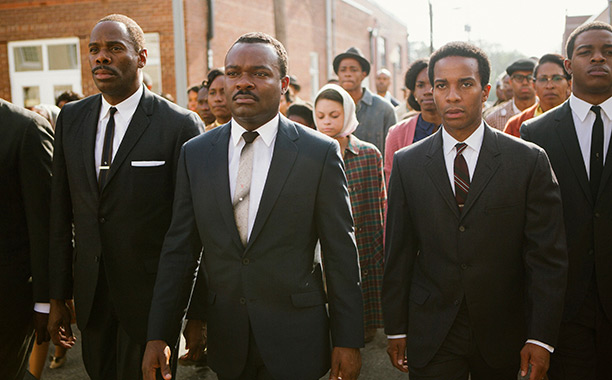 "What we do is negotiate, demonstrate, resist."
-- Martin Luther King, Jr. in Selma
Director Ava DuVernay and a combination of other talent create in Selma a deeply emotional, standout work about a short moment in history: the early months of 1965. The historical drama, attributed to screenwriter Paul Webb although DuVernay herself rewrote most of it, revolves around Martin Luther King, Jr. (British actor David Oyelowo, Lincoln, Middle of Nowhere) and other leaders of the Southern Christian Leadership Conference as they plan nonviolent protest in Selma, Alabama.
At this point in history, segregation had been outlawed, but county clerks continued to turn away black Southerners who attempted to register to vote through "literacy" tests and other deceptive means. In the movie, activist and preacher King pleads with President Lyndon Baines Johnson (British actor Tom Wilkinson, Belle, Michael Clayton) to enact voting rights legislation.
Whereas the original screenplay depicted LBJ as a sort of white savior figure, DuVernay's film spends most of its time with the men (and women) behind the conception of the march from Selma to Montgomery. The diverse characters involved in the planning and scope of this march are given voice, from Rev. Ralph Abernathy (Colman Domingo, Lincoln) who counsels and offers spiritual comfort to King in a jail cell, to Amelia Boynton (the flawless Lorraine Toussaint, Orange Is the New Black) who offers affirmation to Coretta Scott King (British actress Carmen Ejogo, Away We Go, Alex Cross), to young John Lewis (Stephan James, giving a breakthrough performance), who as a member of the Student Nonviolent Coordinating Committee (SNCC) hesitates to participate in the SCLC plans. By including these historical figures and others whose stories may have been forgotten in recent decades, the movie reminds viewers that this is not one man's story -- and that King the man was far from the mythical figure he has become.
Selma shows us both the public King and the private man, dealing with personal doubt and troubles in his marriage. Oyelowo embodies King: preaching with his cadence, wearing the same style moustache, effusing that same charisma. If I hadn't already learned that the King estate wouldn't allow the use of his speeches, I would believe that Oyelowo's words as King were the real thing. DuVernay's script places references to spirituals and hymns in his sermons, just as King did.
Besides the onscreen faces, DuVernay gathered phenomenal behind-the-scenes talent. Bradford Young (Ain't Them Bodies Saints, Pariah) captures mindful cinematography in Selma. A careful choreography leads his depiction of the effects of a church bomb, a solemn movement as he follows the first march to the courthouse, and an artful architecture to his grand shots of the Pettus bridge.
Young and the team involved with lighting show obvious care and knowledge in how best to light and film people of color (more on this topic), illustrated in the scene between Abernathy and King. The two men converse in the dim jail cell, faces barely framed by much light, yet their features are clear as one pastor comforts another with Scripture. Given his work in Selma and A Most Violent Year (opening in Austin later this month), Young's cinematography is the best I saw in 2014.
The dapper costuming by Ruth E. Carter (Amistad, Rosewood), along with the set design and location shoots, help establish the Southern setting and time period. And the large supporting cast is almost worthy of its own post. This is all to say that Selma is refreshingly original in subject matter and its depiction of this period in America's history. It's unfortunate that the issues the film covers are still so strikingly relevant, with deep parallels to recent protests in our nation.
DuVernay's Selma is an elegant construction, inspiring and heartwrenching in its portrayal of these events, but tempered with bits and pieces of humor throughout. Frankly, I believe it is an important work and one of the best films I've seen in recent years.
Added note: Bring Kleenex. I cried both times I watched this movie.