Fantastic Fest Review: The Tale of Princess Kaguya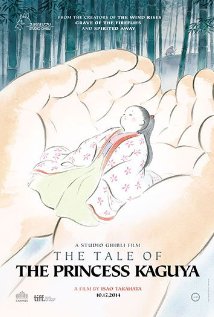 My favorite Fantastic Fest 2014 selection easily won the audience award for best film. Studio Ghibli's latest, The Tale of Princess Kaguya, is also my pick for the best feature from the Japanese animation studio. Directed by Ghibli co-founder Isao Takahata, it is at the surface a straightforward retelling of the 10th-century folktale The Tale of the Bamboo Cutter, perhaps the oldest Japanese story. That simple description, however belies a work of enormous artistic depth evoking powerful emotions.
A bamboo cutter working in the forest finds a glowing stalk of bamboo with a blossom that opens to reveal a tiny princess. He takes her home to raise her with his wife, and she grows with amazing swiftness from an infant into a girl of exceptional beauty and limitless talents. Believing her sent by the gods along with the gold he finds in the bamboo, the old man's vision of Kaguya's future involves a life at court and marriage to a wealthy high-ranking official. She would be happier, however, back home in the hut she first knew, playing in the forest and fields.
Kaguya is enchanted with the simple beauty of nature, finding as much joy in plants and frogs as in the beautiful colors of her fine silks, but there is a mournful sadness in her song. When she plays the koto, the emotion conveyed is overpowering. The success of this film is in no small part due to composer Joe Hisaishi's work. Hisaishi's numerous credits include all of Ghibli's biggest films: The Wind Rises, Ponyo, Howl's Moving Castle, Spirited Away, Princess Mononoke, Kiki's Delivery Service, My Neighbor Totoro, Castle in the Sky and Nausicaa of the Valley of the Wind.
The very few complaints about The Tale of Princess Kayuga regard its length and pace. At 137 minutes, it exceeds the length of Princess Mononoke by three minutes, but little could be trimmed from this emotionally dense film. Takahata packs a lifetime's worth of experience raising a child into that running time, celebrating and reaffirming the meaning of human experience and lamenting how swiftly it passes. Along with Kaguya's parents, we experience the joy of new life, hope for a bright future, disappointment as she makes her own, contrary choices ... and finally acceptance.
Takahata's screenplay explores Buddhist themes including rebirth, spiritual improvement, karma and enlightenment through shedding of emotions. The essence of these themes is laid bare in minimalistic but not unsophisticated animation style. As with calligraphy, simple images are evocative of more complex pictures, capturing and communicating the essence of a scene, and with The Tale of Princess Kaguya, Takahata and Ghibli have created a staggering depiction of the essence of life itself.