Debbie's Fantastic and Favorite Film Memories
Five years and 51 weeks -- that's when I was added to the Slackerwood website, although my official first article about a beloved made-in-Texas film, True Stories, was actually published on June 24, 2009. Coincidentally, my first Slackerwood-related article, "Coffee and Cigarettes at the Alamo," was written two years earlier on June 25, 2007 for the Alamo Downtown Blog-a-Thon, co-hosted by Slackerwood and Blake Ethridge of formerly of Cinema is Dope and now the Museum of Cinema.
Sharing my personal experience of handling the Coffee and Cigarettes director Jim Jarmusch at the original Alamo Drafthouse (on Colorado) during SXSW Film Festival 2004 was truly a defining moment in my career in film journalism. That same year I recall Louis Black assisting at the door at a special midnight screening of Hellboy at the Paramount, with star Ron Perlman talking to fans outside the theater until the wee hours of the morning.
I truly believe that without the efforts and support of local film industry vanguards like Louis Black of Austin Chronicle and SXSW, and Tim and Karrie League of Alamo Drafthouse, I would not have met Slackerwood's founder and editor Jette Kernion. Most if not all of my initial conversations with Jette about film took place on the outdoor patio at Alamo South Lamar either during subsequent SXSW and Fantastic Fest film festivals.
On that special night in 2004 that I blogged about, I was introduced to writer and director Jonathan Demme by Black, and assisted Crispin Glover and Canadian filmmaker Ron Mann (Go Further, Know Your Mushrooms) in and out of the screening at the personal -- and quite polite -- request of Jarmusch. Over the years of writing for Slackerwood I've encountered Mann on his annual visits to Austin for SXSW, and enjoy hearing about his latest film projects. Additionally he graciously gave Courtney Cobb (Crafting a Nation) and me some documentary filmmaking tips while we were in pre-production for Pushing Cadence.
Fantastic Fest, SXSW Film Festival and Austin Film Festival provided me with great opportunities to cover great independent film and network with filmmakers, actors and industry representatives from around the world. Six years ago I never would have thought that I would cover a film festival outside of Austin such as Dallas International Film Festival, let alone Sundance Film Festival. And yet I've made it to Park City for the last three years to cover both Sundance and Slamdance Film Festivals simultaneously to the best of my capability.
Where does that leave me now? With new adventures awaiting me as Outreach Director and programmer for Other Worlds Austin, where I'll also be reviewing science-fiction films, plus hopefully some freelance contributions -- I covered some film panels at SXSW 2015 for Indiewire -- and some incredible and lasting memories.
Here are some highlights from the last six years I'd like to share:
Favorite Interviews
Beth Grant (Herpes Boy) -- I had the good fortune to meet and interview this amazingly witty and talented actress at Austin Film Festival in 2009, and we formed a bond instantly as she offered to share her lunch. We've stayed in touch over the last few years, and I'm constantly impressed at the caliber of her performances whether it's in film, television or theater. I have high hopes that she'll return to Austin one day for a film project, or at the very least to be a guest lecturer for the RTF department at The University of Texas in Austin.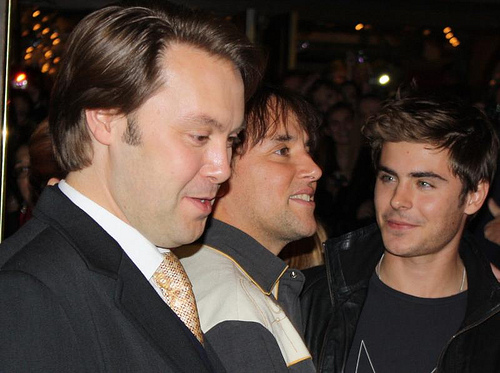 Richard Linklater and Christian McKay (Me and Orson Welles) -- I've probably spoken with Linklater more than any other Austin director, and without fail he's always been laid-back and humble beyond compare. His ability to step out of the limelight at fellow filmmakers' premieres as well as during interviews with his stars is engaging, with the interview for Me and Orson Welles as the most memorable. McKay's gentlemanly charisma was mesmerizing both onscreen and in our interview. Be sure to check out the free screening of this delightful and underappreciated film on June 2, 7 pm at the Paramount Theatre.
Thomas Haden Church -- Never at a loss for words, the Texan actor -- seen above with Austin Film Society Executive Director Rebecca Campbell -- is a straightshooter when it comes to talking about his film projects, such as working with William Friedkin on Killer Joe

and his

take

on the dark and violent film's NC-17 rating.

Joss Whedon, Alexis Denisof, Nathan Fillion and Clark Gregg

(

Much Ado About Nothing

) -- As a latecomer to the cult of Whedon, I'd not fully embraced his immeasurable talent as a writer and director until I saw

Dr. Horrible's Sing-Along Blog

, which I've watched repeatedly. The behind-the-scenes story of this web sensation was engaging enough, but the real hook was the depth and flaws of his characters and the perfect casting. Those qualities shone in our interview, with Whedon's understated and witty discussion, and the humorous exchanges between Denisof, Fillion and Gregg.
Most Painful (and Educational) Interviews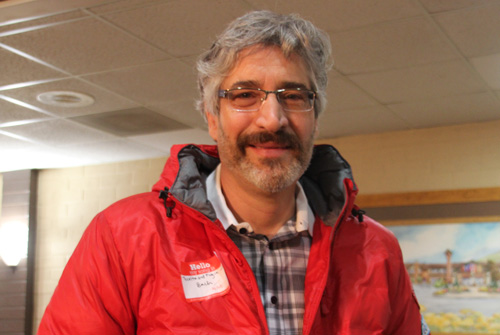 Michael Rossato-Bennett (Alive Inside

) -- I nearly left the theater within the first ten minutes, emotionally overwhelmed by the intensity of the documentary

Alive Inside

due to the personal connections to the story's topic on aging and deteriotation of elders.

It didn't stop there, as during my interview with director Rossato-Bennett an hour after the screening I broke down in tears. "Why are you crying? Please tell me," he insisted. I explained that I wished that I had known about the Music & Memory project while my adopted grandmother was still alive but incommunicable due to a stroke. His response was essentially "the fact that you were moved by the film to this degree makes me want to talk to you all the more."

I learned that it's acceptable to be human and personally connect to filmmakers. Unfortunately I never published our interview as I was holding for the theatrical release of Alive Inside, but I will find someplace to share in the not-too-distant future. Read my review of Alive Inside here.

Shane Carruths

(

Upstream Color

)

-- As a film journalist, I often struggle with my empathic nature when speaking with filmmakers and actors. Speech patterns and tone are easy to fall into sync, which is not a good idea when it's a dark and dreary day and you're not fully prepared. Such was the case during my interview with Carruths at Sundance Film Festival in 2013 for Upstream Color.



It was one of the most emotionally painful discussions in my life, whereas literally several minutes would pass as Carruths pondered and struggled with a couple of my questions. I learned to write and re-write my questions, and be supportive of moving on to the next question to avoid awkward silences.
"Celebrity" Sightings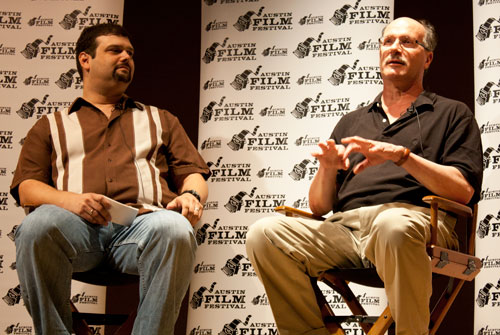 Ted Tally

(

Silence of the Lambs

) -- Despite his long and successful career, Tally remained humble about his screenwriting as he spoke during an

AFF Conversations in Film

with writer

Alvaro Rodriguez

about the evolutionary process of screenwriting, and how often lessons learned don't carry over to the next writing project.
Matthew McConaughey, Tye Sheridan, and Jeff Nichols on the Mud red carpet at Sundance 2013 -- Keep an eye on the young Sheridan who has already worked with the likes of Terrence Malick (The Tree of Life) and David Gordon Green (Joe). His emotionally charged performance as Peter Mitchell - Prisoner 819 in The Stanford Prison Experiment, which premiered at this year's Sundance Film Festival, affirms the extensive range of his talents.
Hometown Heroes
At the risk of missing some well-deserved kudos, I can't say goodbye without a huge thank you to all of our readers as well as the incredibly talented film industry colleagues that I've met over the years. Hosting a full house during SXSW of film journalists, festival organizers, distribution representatives, producers and more from around the world is an invaluable experience that I don't want to end.
The filmmakers and talent in Texas are truly inspirational. A quick glance over the Lone Star State's representation at Sundance 2013 bears witness to that, with more on the horizon. Elizabeth Avellan, David and Nathan Zellner, Kat Candler, Kelly Williams, Heather Kafka, Jonny Mars, Geoff Marslett, Robin Schwartz, John Merriman, PJ Raval, Yen Tan, Andrew Bujalski, Brian Satterwhite, Bryan Poyser, Chris Ohlson, Sam Eidson, Jolyn Janis, Alan and Kristin Berg, and all the folks at Arts + Labor, Detour Films and Troublemaker Films are just a few of the people who amaze me on a weekly basis with the breadth and depth of their dedication for our shared passion for film.
Most importantly, I appreciate the guidance and support of the local film press, especially my fellow members of the Austin Film Critics Association. From the Austin Chronicle to Film School Rejects, ScreenCrush to Lights Camera Austin, and many more, we're a motley crew of Austin's best and brightest film nerds and I adore every one of you. And to my fellow contributors of Slackerwood, I wish you all the best wherever you land, and save me a seat!
[Photo credits: All photos by Debbie Cerda, all rights reserved, for use upon request]