Review: The Grand Budapest Hotel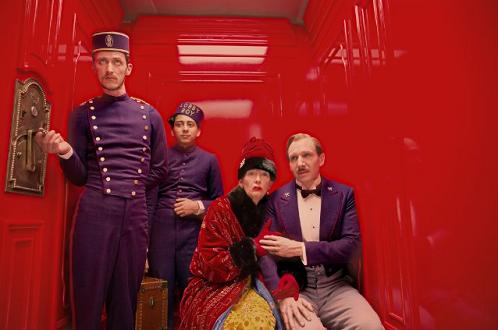 I wish I could say that on the heels of his masterful Moonrise Kingdom, Wes Anderson has outdone himself with The Grand Budapest Hotel. But he hasn't. The Grand Budapest Hotel is not a bad movie. It's just not a great Wes Anderson movie.
Set in a fictional European country just before World War II, The Grand Budapest Hotel is the story of Gustave H (Ralph Fiennes), a prim and elegant concierge at an equally prim and elegant luxury hotel, and his faithful friend Zero Moustafa (Tony Revolori), a lobby boy who tells the story many years later in flashback. (F. Murray Abraham plays the elderly Zero.)
When Gustave isn't busy catering to the hotel clientele and barking orders at his staff, he finds the time to seduce as many female hotel guests as possible, including the dowager Madame D. (Tilda Swinton). Their liaison spans years; when Madame D. dies, she leaves Gustave a priceless Renaissance painting.
Of course Madame D.'s stuffy, aristocratic heirs are furious that the family matriarch has bequeathed such riches to a stranger, and a lowly concierge at that. Knowing the family won't give up without a fight, Gustave and Zero steal the painting after the reading of the will and lead various family members on a cat-and-mouse chase of, well, Wes Anderson proportions.
For an idea of the elaborate caper that follows, watch The Grand Budapest Hotel's frenetic trailer -- it does not exaggerate the film's hyperactive pacing, number of characters and breathlessly busy look and feel. The grand hotel is at the center of a grand adventure.
Grand, yes, and mostly entertaining. But unlike Anderson's best work, not quite satisfying. Anderson's critics often accuse him of quirkiness for the sake of quirkiness; regarding The Grand Budapest Hotel, they may be right. The film has some dark and substantive undertones, as the specters of fascism and war enter the story now and then, especially in the third act. But this depth is fleeting. Most of The Grand Budapest Hotel is superficial and yes, very quirky, as Anderson's trademark coterie of oddballs do odd things in not-quite-real settings.
In Anderson's best films, this off-kilter, highly stylized world works splendidly. Why? Because it goes hand in hand with solid storytelling and character development. But The Grand Budapest Hotel's story is thin, playing more like a progression of events than a complex narrative arc. It reveals little about the characters, who are so wrapped up in the caper that they have no time to share their back stories or reflect on the situation. Unlike Max Fischer in Rushmore or the young sweethearts Sam and Suzy in Moonrise Kingdom, we don't know enough about Gustave and Zero to care about them.
Again, The Grand Budapest Hotel is not a bad movie, at least by non-Wes Anderson movie standards. Its brisk pace comes at the expense of depth and character development, but feels right for a chase film. Anderson's saturated, meticulous and unmistakable visual style is in full force; in this respect, his fans won't be disappointed. Most of the jokes work. And the eclectic musical score is also pure Anderson (actually, pure Anderson collaborator Alexandre Desplat, who also scored Moonrise Kingdom and Fantastic Mr. Fox).
If the acting in The Grand Budapest Hotel isn't memorable, blame the script, not the stellar cast; they're in fine form, doing what they can with mostly forgettable dialogue and few chances to show us their revered acting chops. But while the lead roles are underwritten, the minor characters do have some fun. Willem Dafoe is hilarious as a brass knuckle-wielding henchman hot on the trail of Gustave and Zero, and Harvey Keitel is a hoot as a grizzled prison inmate. And The Grand Budapest Hotel is full of fun cameos by Anderson film alumni (Bill Murray, Jason Schwartzman and Owen Wilson, among others).
Given this rather bipolar review, do I recommend The Grand Budapest Hotel? Yes. Sort of. It will entertain those looking for a diverting bit of fluff with high production values. But Wes Anderson's most demanding fans will be better off rewatching The Royal Tenenbaums or getting back to Anderson basics with Bottle Rocket.
Austin/Texas connections: Wes Anderson is from Houston and attended the University of Texas at Austin, where he became friends with Dallas native Owen Wilson.