Fantastic Fest Review: Blue Ruin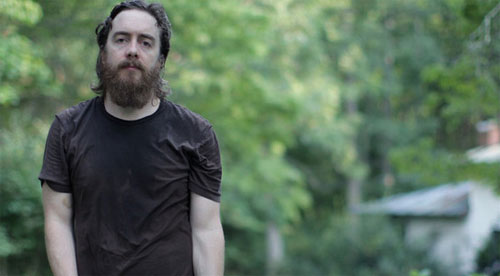 Fantastic Fest is a good time for me to watch movies that I worry will be outside my comfort zone. People who sit next to me may be amused to notice me peeking through my fingers a lot during the gorier scenes. I want to look away -- I can't. And then I go home and have to read M.F.K. Fisher or Jane Austen so I don't have nightmares about whatever I watched at the festival that day.
Austin connections of any kind help push me into movies I might not normally pick. Blue Ruin is a great example. The description made it sound a little too intensely bloody/violent for me. But then I learned that former Austinite Macon Blair stars in the movie. I'd seen Blair in a couple of Steve Collins films (Gretchen, You Hurt My Feelings) and felt I should give Blue Ruin a try. The gamble paid off beautifully, and Blue Ruin is definitely one of the top films I saw at the fest this year. It is indeed intense, bloody and violent ... and damned good.
The movie unspools carefully, letting the audience learn the backstory bit by bit instead of spelling it out in huge patronizing letters. Dwight (Blair) lives out of his car, not afraid to eat out of trash bins or bathe in houses where no one's home. He learns that a criminal is being released from jail after 20 years -- someone who destroyed his family and considering where he is now, probably his future as well. He decides it's time for revenge.
And this is where Blue Ruin deviates from many genre films that might screen at Fantastic Fest. You all know how revenge films work -- well, this movie doesn't take that path. It's messier and more grim. In many genre movies, the protagonist plans carefully, is skilled at killing people and stitching up any wounds, and returns to a normal-ish life after taking vengeance. Not here. It's easy to sympathize with Dwight because he makes mistakes that ordinary people might make -- he's not stupid, he's just ordinary. Not only that, but the movie withholds that feeling of slightly smug satisfaction we all get after vengeance has been taken -- that's not what would happen in real life.
The script by director Jeremy Saulnier (Murder Party) is spare, with little dialogue and no unnecessary scenes or characters. Information is meted out frugally, characters appear as needed. Blair's subtle facial expressions convey more of Dwight's character than the dialogue. He carries the movie beautifully, radiating intensity and pain. (Although admittedly between this and the Collins films, I hope someday to see him in a movie rattling off rapid-fire dialogue, just to compare.) The one detail I had trouble with was Dwight's age -- Blair's timeless look made it impossible to figure out how old he's supposed to be, and I thought the character was much younger until the "20 years ago" info came to light.
I'd say that some parts of Blue Ruin are not for the squeamish but let's face it, I am the squeamish and I would watch this movie again tomorrow. I had to look at the floor for a few seconds in one scene, but it was worth it for such a vivid, energetic movie. So you fellow squeamish folks may want to give it a try -- you can try hiding your eyes, but will end up peeking through your fingers anyway, unable to stop watching.
Blue Ruin has US distribution from Radius-TWC, which plans a 2014 theatrical release.
Austin connections: Actor Kevin Kolack is from Austin. Macon Blair is a former Austinite and has appeared in several local films -- besides the aforementioned Steve Collins movie, he's also in The Man from Orlando. One of Blue Ruin's producers is Anish Savjani, another former Austinite whose company Film Science has produced many local films.