Fantastic Fest Quick Reviews: When Animals Dream, In Order of Disappearance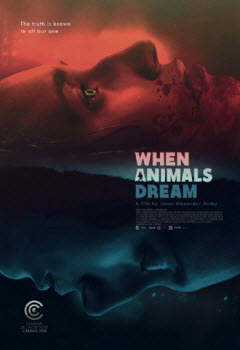 Here are a couple of capsule reviews from my time at Fantastic Fest this year: When Animals Dream and In Order of Disappearance. Both movies are set in winter in Nordic regions, so an overly air-conditioned movie theater is the ideal viewing experience (at least if you're in Austin).
When Animals Dream (Når dyrene drømmer)
I went into When Animals Dream almost completely blind, and it's hard not to encourage you to do the same. The Danish film premiered at Cannes and is the feature directorial debut for Jonas Alexander Arnby.
Sonia Suhl stars as Marie, a teen girl just starting her first job in a fish-processing facility. She's drawn to a cute boy, and getting pranked by a total jerk. Her mom is nearly comatose, for reasons that slowly become evident. Marie has found a rash on her body and as the movie progresses, hair grows on the rash and in other incongruous places, and she has spells of snarling short temper. No one ever uses a word like "werewolf" ... because no one has to.
This movie unwinds very carefully, giving the audience pieces of information one at a time, presenting the tale in a spare way. Everything feels stripped down: Marie's unmade-up face, her economy with dialogue, the barren atmosphere of the small port town. And yet the movie is almost mesmerizing.
I've heard people comparing the movie to Let the Right One In, possibly because both are deliberately paced Scandinavian films about the undead's effect on everyday life -- a minimum of fantasy in what is often harsh reality. And yes, it's a fair comparison, although When Animals Dream does not feel derivative.
I noticed a Radius/TWC logo on the movie, so hopefully this means you'll get to see it either on VOD or in theaters, although I couldn't find a release date online.
In Order of Disappearance (Kraftidioten)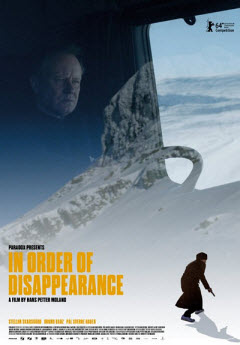 One of my favorite movies of Fantastic Fest, In Order of Disappearance is a vengeance film featuring a middle-age guy in small-town Norway. He's played by Stellan Skarsgard, so you know he's going to do more than drive a snowblower and make speeches after receiving a civic award.
Airport worker Ingvar is kidnapped and murdered for no apparent reason ... and the killers have made it look like a drug overdose. But Ingvar's father Nils (Skarsgard) smells a rat, and Ingvar's friend confirms that the young man was unknowingly drawn into drug-trafficking intrigues. Nils is determined to avenge his son's death no matter what the cost. And like Blue Ruin from Fantastic Fest 2013, In Order of Disappearance reminds us that the cost of vengeance is pretty damn high.
The film is compelling but also includes wry and dark twists of humor, such as the Six Feet Under-like epitaphs every time someone dies. Drug lord Greven (which translates as "The Count") has the most bizarrely decorated home I've seen in a film -- or in person -- in some time.
Excellent acting all around and scenes that give us small, telling details about even minor characters make every performance delightful to watch. Bruno Ganz is notable as a Serbian drug lord, who is also inadvertantly drawn into the fracas.
Director Hans Petter Moland and writer Kim Fupz Aakeson previously teamed up with Skarsgard for A Somewhat Gentle Man, a previous favorite at Fantastic Fest ... which might explain why four theaters filled up with festgoers eager to see the movie in its first screening slot.
I couldn't find info on a US distributor for In Order of Disappearance, which is unfortunate and I hope temporary. This movie is definitely worth seeing.