Au Revoir, and Don't Forget to Feed the Parrot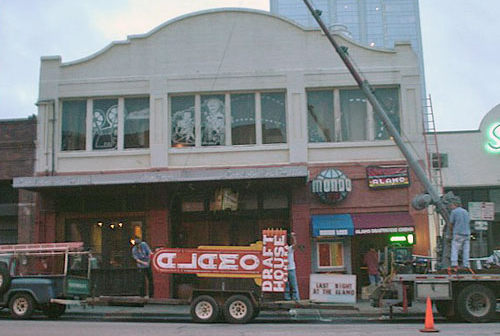 "Good-bye. Don't forget to feed the parrot!" shrieked Flora, who disliked this prolongation of the ceremony of saying farewell, as every civilized traveller must.

"What parrot?" they all shrieked back from the fast-receding platform, just as they were meant to do.

But it was too much trouble to reply. Flora contented herself with muttering, "Oh, any parrot, bless you all," and with a final affectionate wave of her hand to Mrs. Smiling, she drew back into the carriage and, opening a fashion journal, composed herself for the journey.
--Stella Gibbons, Cold Comfort Farm

Saying farewell to Slackerwood has been very difficult. And I do think of it as "au revoir" -- I'm still in Austin, I'm still writing, and so are many of the current Slackerwood contributors. You'll see us again.
I'd like to first thank Slackerwood technical director/webmaster Chip Rosenthal, who has been very patient and hard-working over the years keeping the site running and the editor reasonably sane. Also I want to apologize to him for dragging him to movies he loathed, although I suspect that won't change entirely (no more new Planet of the Apes movies, I promise).
The current Slackerwood contributors have all been awesome: Caitlin, Debbie, Don, Elizabeth, Frank, Jordan, Matt, Marcie and Mike. When the AFS/Slackerwood partnership dissolved last year, they all wanted to keep writing and didn't care about compensation. I have truly enjoyed working with them.
Slackerwood has had a number of past contributors who have materially affected its direction and tone. Chris Holland (pictured above) was the first Slackerwood contributor besides myself, and he started our beloved but short-lived podcast. Speaking of podcasts, some of those hold up remarkably well. My favorites are #13 with Zack Carlson, which is just ... so very Zack, and the two with Kelly Williams and Chris Holland, who should be doing a podcast together all the time.
Slackerwood's first assistant editor, Jenn Brown, was instrumental in guiding and expanding the site for many years. Other contributors I'd like to thank include Rod Paddock, J.C. De Leon, filmmaker James Christopher, Cole Dabney, Nick Robinson, Natalia Ciolko, Anne Heller and Paul Gandersman ... and Blake Ethridge for co-hosting the Alamo Downtown Blog-a-thon when the Colorado theater closed in 2007.
I want to thank Austin Film Society for publishing the site for a couple of years, including current and former AFS staff members Rebecca Campbell, Ryan Long, Austin Culp, Bryan Poyser, Holly Herrick and Lars Nilsen. Numerous AFS interns and apprentices wrote and edited Slackerwood articles -- thanks to all of you, particularly Virginia Yapp, with whom I had a lot of fun one morning interviewing the Saturday Morning Massacre cast and crew (pictured below).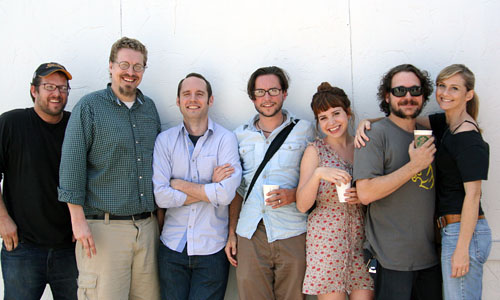 Very special thanks to the AFS staffers who regularly contributed articles to Slackerwood: Chale Nafus and Katy Daiger Dial.
Also, Agnes Varnum (pictured below with local actor Sonny Carl Davis) was wonderfully enthusiastic about Slackerwood and what we could do with Austin Film Society as its publisher, and I can't thank her enough for her help.
I know I'm missing a ton of people here who have written an article or contributed a photo here and there, like John Gholson (who also once designed a Slackerwood logo variant I love), Peter Martin and Laurie Coker. You know how grateful I am.
Slackerwood has never been a very large outlet (I always used the term "boutique") and I appreciate the many publicists and PR reps who took us seriously and ensured we had access to press screenings, filmmaker/cast interviews, and other opportunities. Fons PR here in Austin has really gone above and beyond, as well as Giant Noise.
We also had respect and support from Austin and Texas film festivals: SXSW, Austin Film Festival, aGLIFF, Fantastic Fest, Cine Las Americas, Dallas International Film Festival ... and for me, notably Hill Country Film Festival. And we enjoyed working with Alamo Drafthouse, Violet Crown Cinema, the Paramount/Stateside and Blue Starlite Drive-In.
Many Lone Star filmmaking professionals (writers, directors, crew, actors) also took us seriously and we were happy to reciprocate. If I started listing the Austin film community members who have been part of Slackerwood over the years, I would be typing all night. Besides, you can read the Slackerwood archives to see for yourself ... or watch Austin-made shorts and features. Fortunately, plenty will be available this year.
Finally, thank you all for reading -- some of you have been coming back again and again for most of the nine years this site has been around. This has been more difficult and emotional than I would have predicted, and I'll miss writing for and editing this site so very much. Au revoir.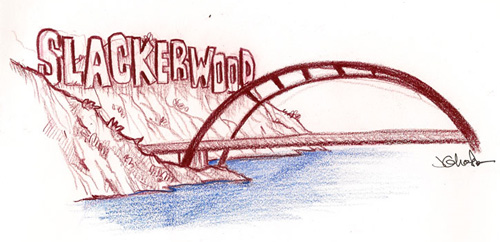 [Photo credit: "Last Night at the Alamo" by Nick Robinson, originally published to Slackerwood in 2007; "Hellboy 2 Alamo Premiere!" (2008) with Chip and Jette in foreground, by Mary Sledd, used with permission from Alamo Drafthouse; "Slackerwood & Stomp Tokyo" (2006) by Blake Ethridge; "Saturday Morning Massacre cast and crew at Austin Studios, June 2012" by Jette Kernion; "BERNIE at the Violet Crown" (2012) with Agnes Varnum and Sonny Carl Davis, by John Leach, used with permission from Austin Film Society; "Fantastic Fest 2007 Opening-Night Party" with Wiley Wiggins and Tim League, and "Alamo South Lamar Patio at Fantastic Fest 2012," by Jette Kernion; "Slackerwood" illustration by John Gholson.]