Review: A Most Violent Year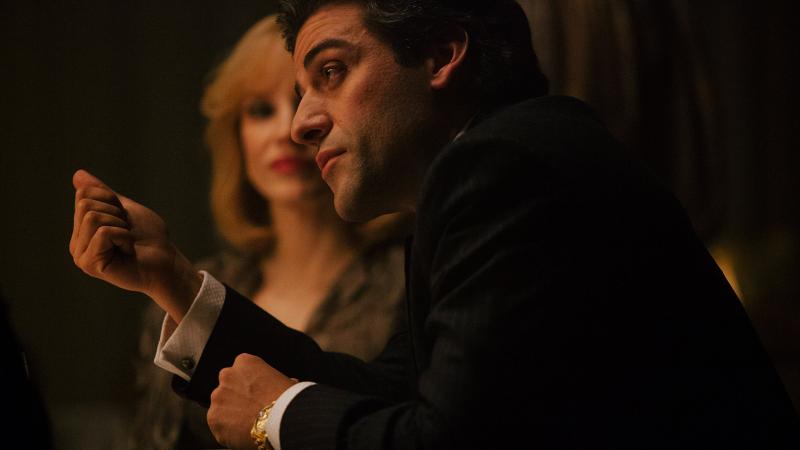 We may currently be in the midst of a pop-cultural infatuation with the antihero archetype, but A Most Violent Year presents us with a more elusive figure. Abel Morales (Oscar Isaac, Inside Llewyn Davis) is surrounded by those who want to bring him down to their level, where firearms and shady business practices abound. A wealthy owner of a heating oil company in 1981 New York, his trucks are carjacked, his workers attacked, and his business investigated by a power-hungry DA (David Oyelowo, Selma). Morales is determined to stay above it all, working hard to respond in a way that's legal and yet still gets results.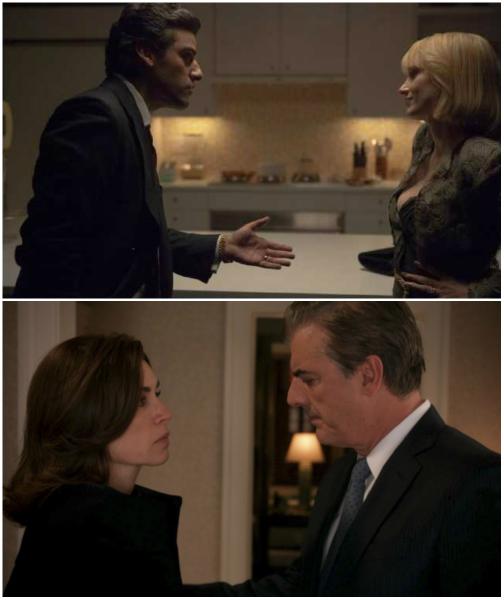 The character of Morales calls to mind another such cultural figure, that of Alicia Florrick on The Good Wife (not only that, but A Most Violent Year includes a couple of guest stars from that same show: Jerry Adler and Patrick Breen). Both Abel and Alicia are involved in businesses which benefit from dirty dealings, yet they view themselves as clean and in the right. Everyone around Abel seems to realize what shady work is necessary to keep his business going; Alicia's law firm represents a drug kingpin and skeazy tycoons, but Alicia attempts to remain separate from their interests. Alicia is nicknamed "Saint Alicia" and Abel is called "an honorable man," even as illegal practices by others are the means to their success.
While Alicia comes from a certain privilege, Abel has worked hard to get his current position. Yet neither seems to question that they deserve any good luck that comes their way. And without spoiling A Most Violent Year, I'll note that in the end, it's all about politics. These similarities are quite striking (and both the movie and show are shot in NYC), although there are elements which set A Most Violent Year apart.
Namely, Bradford Young's kinetic cinematography. Young's work in the previously-released Selma is elegant (as I gushed in my review). His shots in A Most Violent Year, however, contain a broadness of scope amidst a cold palette of blues and earth tones (he says it was inspired by the work of street photographer Jamel Shabazz). A particularly memorable sequence involves a car chase as Abel tails a stolen fuel truck.
Young's camerawork creates an almost claustrophobic motion as the vehicles careen through dark tunnels and drive off-road through neglected areas of the city. Young says in an interview that "All that stuff with me in the car is on the shoulder, hand-held and raw and not so pretty." Young's work in this movie, ridiculously unrecognized by the Academy, was the best cinematography I saw in a theatre last year.
Actress Jessica Chastain (Interstellar) plays Abel's wife Anna, more willing to dirty her hands to help the family business. There frankly (and unfortunately) isn't much to her character, but Chastain does as much as she can, even if it means overacting with an overconfident accent. Albert Brooks (Defending Your Life) treats his supporting role with a tad more grace, using subtle notes as the business' attorney. I can't neglect to mention Alessandro Nivola and his attractive tennis shorts either, although the film is really a star vehicle for Isaac, who exudes a restrained force as the main character.
The costuming by Kasia Walicka-Maimone (Moonrise Kingdom) also helps create a film that so well evokes the time period it seems as if it could be based on a true story (it's not). With A Most Violent Year, writer and director J.C. Chandor (All Is Lost) immerses the viewer in Abel's world as he realizes how pliable his ethics could be after all. Led by Isaac's performance, this taut drama is thoroughly impressive.