Sundance Review: Kumiko, The Treasure Hunter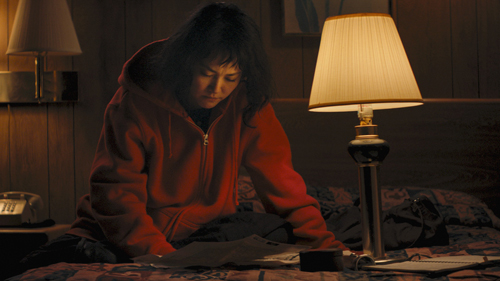 After seeing the premiere of Kumiko, The Treasure Hunter at Sundance this week, it is easy to understand why Alexander Payne (Nebraska) and Jim Taylor (Sideways) signed on as executive producers for the latest feature from Austin filmmakers David and Nathan Zellner (Kid Thing). This film is a superlative visualization of a lonely woman's quest to escape her reality in Japan for the mythical destination of Minnesota in the "New World" of the Americas.
Kumiko (Rinko Kikuchi) deviates from the traditional Japanese society, as she isolates herself from her coworkers and silently rebels against her conservative boss. Her mother's disembodied voice on the phone reminds Kumiko incessantly that if she remains unmarried, she should return home to live. Not that Kumiko's current lifestyle is the most appealing, as she lives in a cramped apartment with her pet rabbit Bunzo as her only true companion.
An old schoolmate's attempt to reconnect affirms Kumiko's lack of interest in the traditional roles. Kumiko describes her destiny to be like a "Spanish conquistador in search of untold riches lost in America," as she obsessively looks for clues and maps out the location of the mythical treasure referenced in the film Fargo.
Kikuchi (Pacific Rim, The Brothers Bloom) provides a flawless and sometimes humorous portrayal of Kumiko in this transformative characterization. Whereas Kumiko could have easily been made the victim of ridicule for her misguided fantasy, we find instead that many of the people she encounters on her travels want to simply help.
The most memorable character who assists Kumiko is Deputy Caldwell, superbly portrayed by David Zellner. Although the deputy realizes Kumiko is on a fruitless journey, he provides her with protection and support.
Kumiko, The Treasure Hunter is a well-crafted tale woven from the strong visual and aural elements of cinematography, art design, and musical score. The members of Austin-based The Octopus Project -- who scored the Zellner Bros previous film Kid-Thing -- layer both traditional Japanese elements with the otherworldly sounds of the theremin and other instruments to create a score that complements the landscapes of this film.
This artistic work further complements the fictional tale of Fargo that inspires its heroine through its art design, as well as the masters of Louis Malle and Billy Wilder through well-placed mise-en-scène.
I highly recommend watching Kumiko, The Treasure Hunter on the big screen for the best viewing experience when this cinematic masterpiece becomes available.