Review: Birdman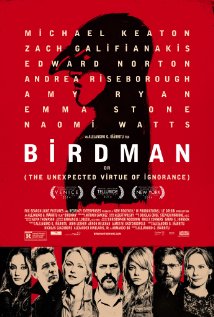 Although Michael Keaton has stated the personality of his character Riggan Thomas is the most dissimilar to himself of any he has ever played, Birdman, it could be argued, is his JCVD. Directed by Alejandro González Iñárritu (Biutiful) and scripted by Iñárritu along with Nicolás Giacobone, Alexander Dinelaris and Armando Bo, it chronicles the efforts of a former Hollywood superhero to reignite the spark of his ailing career.
Hoping to regain relevance, pay homage to the hero who inspired him, and put his family life back together, Riggan Thomas is in the final days of launching a Broadway play he has written, directed, produced and stars in. Guided by an inner voice that sounds not unlike the growling baritone of Beetlejuice, Thomas confronts innumerable internal and external crises that threaten to crush the production.
Behind the scenes, his daughter (Emma Stone), fresh out of rehab, is intent on punishing him for being an absent father. On stage, he must deal with the antics of Mike (Edward Norton), the Broadway darling who is not only perfect for the role but will also bring legitimacy and more importantly, ticket sales to the production. Internally, he struggles with remorse, self-doubt, anger, desperation and an angry flirtation with being a drunken asshole.
So, Thomas has a completely different personality. Keaton may not bare his soul in this, but he bares nearly everything else. He and Norton spend a sizable amount of time in Birdman performing in tighty-whiteys, both for shock value and comedic effect. He doesn't stop at shedding his clothing, however, as even his hairpiece is stripped away. Layer after layer, we peek behind the stage, through the dressing room door, and beneath the clothing and pretense to explore the psyche of an A-list actor.
Equal parts self-deprecating and triumphant, Keaton's performance as a parody of himself is phenomenal. Iñárritu gets deliveries not just from Keaton but from all of his cast, who were required to perform up to 15 pages of dense dialogue at a time. This is mostly delivered in intense one-on-one conversations full of scathing commentary on the Hollywood machine and actors' places in it. Norton's shenanigans provide comic relief every time Keaton gets too dark. His character extends method acting to fellow cast members, doing outrageous things to upset them thus providing a more believable performance. The quality of his work rivals Keaton's, and the interaction between them provides some of the meatiest scenes in the film.
Birdman lays bare the actor's struggle to create meaningful art as opposed to the lure of becoming a sellout. It smartly satirizes celebrity's changing relationship with fandom through the rise of social media. It aspires to Attenborough, Kubrick and Gilliam. Satire and homage, comedy and tragedy, Birdman presents the act of creation as metaphor for the act of creation while it explores the self-destruction required to bring it about.