Fantastic Fest Review: Grand Piano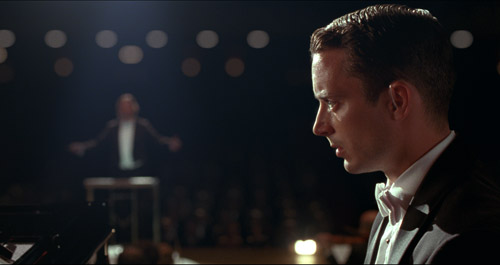 "Like Phone Booth, but with a piano." "It's what you'd get if Brian De Palma decided to rework Unfaithfully Yours."
Glib descriptions of Grand Piano like the ones above (overheard at Fantastic Fest) don't do the film justice, not at all. I'm not even certain they give you an accurate idea of what you're about to see. On the other hand, a plot summarization of the thriller makes it sound ridiculous ... and thanks to filmmakers and stars, it is instead breathtakingly suspenseful.
Grand Piano takes place during a concert of classical music. It begins as one of those potentially enervating movies about a pianist, Tom Selznick (Elijah Wood), giving his first public performance five years after a notorious failed concert. His wife (Kerry Bishe) is a famous actress whose career has eclipsed his, and who's obviously pulled strings to get the event set up, with help from a conductor friend (Don McManus). And just when you think you're in the middle of A Star is Born during the Norman Maine decline, the concert starts and out of nowhere, the movie shifts gears into a thriller with death on the line. That's not the only genre shift in the movie, either.
Director Eugenio Mira (The Birthday, Agnosia) and writer Damien Chazelle (The Last Exorcism Part II, Guy and Madeline on a Park Bench) have managed to create a situation in which audience members are absolutely riveted by a classical piano performance. It's difficult to relax for a second, once the concert is underway. The tension increases until everyone onscreen and off is taut as piano wire.
The strong script is full of allusions to other films, primarily classic suspense movies, which helps wind things up further ... and probably led to the post-film comparisons to other movies like the ones above. Hitchcock, De Palma ... and notice Tom's last name? That can't be unintentional. The filmmakers remind us of the masters without trying to overtly mimic them.
In the middle of movie allusions and surprise plot twists, though, it is the utterly believeable performance from Elijah Wood that helps ground Grand Piano and engage the audience. The actor apparently has the ability to look green-at-the-gills on command. Not only that, but he manages to convince us he's a skilled -- and terrified -- pianist. He's supported by solid performances from the rest of the cast, notably Alex Winter (who's usually behind the camera these days), John Cusack (who's starting to sound weirdly like Jeff Daniels) and Don McManus. Bishe's character is probably the least fleshed-out in the script, unfortunately, but she's able to make it work.
The music is naturally a critical part of Grand Piano, and the choices of classical pieces plus other aspects of the score are a perfect complement to the suspenseful script. Director Mira is also a composer (Timecrimes) and has put together an excellent team for the music, including composer Victor Reyes (Buried).
This is Mira's third feature film -- the previous two have also premiered at Fantastic Fest, going back to its inaugural year in 2005. I've enjoyed both his films greatly; however, they aren't easily available in the US. It's a pleasure to tell you that Magnet Releasing will distribute Grand Piano in America in 2014, and I can't recommend it enough. You might be amazed at how attentive you are to a classical music concert.
Grand Piano screens once more at Fantastic Fest -- tonight at 5:15 pm. Don't miss it.