2010 Guide to Free (and Cheap) Summer Movies in Austin
Check out our 2011 Guide to Free (and Cheap) Summer Movies in Austin for the latest information.
Updated on July 5 with new Alamo Lake Creek series, on June 11 with details on Deep Eddy Pool Movies, and on June 9 with details on the new Cinema East series and specific films for the 101X series.
Last year's Guide to Free Summer Movies in Austin was Slackerwood's most popular article nearly every week through the fall, and one of our most viewed articles for 2009. Apparently everyone wants to know about free movies playing in town this summer -- well, why wouldn't you? So we're not going to wait for summer this year to bring you the 2010 edition, which we'll keep updating as more movies are announced.
Austin is home to at least 16 film series this summer, 12 of which are free, so you can watch movies on a budget practically every weekday this summer, especially if you're looking for family fare. (If you liked Cloudy with a Chance of Meatballs, boy are you in luck ... it's playing in nearly every children's series throughout the summer.) Some of the series are outdoors -- be sure to bring lawn chairs or a blanket.
Only a few series haven't announced their schedules yet, so you can start planning now. In addition to the movies listed below, bear in mind that Alamo Drafthouse at the Ritz still hosts Terror Tuesday and Weird Wednesday screenings each week that cost a whopping dollar to attend ($2 if you buy online). Also, keep an eye on our Event Calendar for free movies that aren't part of a regular series.
The following guide includes dates, locations and cost to give you a comprehensive overview of a summer of free and inexpensive options for your cinematic pleasure. Even the priciest tickets on this list are cheaper than first-run theater offerings. If you aren't familiar with the locations, simply click on the links to see the entry in our detailed venue listings.
101X Summer Cinema Series
Location: Central Park by Central Market
Cost: Free
Dates: June 16 - August 11
Details: This five-film outdoor series is also known as Central Market Movies in the Park. The KROX radio team is not only hosting, but letting listeners pick the films. The voting page is now active. The films start around dusk (8:30 pm or so). Last year kicked off with Raiders of the Lost Ark, so this outdoor film series is likely to fall into PG-13 category most of the time. Don't forget to vote!
Update: The first three films have been announced: Back to the Future on June 16, Beetlejuice on June 30, and Tommy Boy on July 14. Further updates will be posted to their Facebook page.
AMC Summer MovieCamp at Barton Creek
Location: AMC Barton Creek
Cost: $1
Dates: TBD (June through August most likely)
Details: AMC's Summer MovieCamp tends to offer G and PG movies. Proceeds are donated to the Will Rogers Institute and Variety – The Children's Charity. As soon as we have confirmation of dates and times, we'll update this listing.
Alamo Summer Movie Kids' Camp
Locations: Alamo Drafthouse on South Lamar, Alamo Drafthouse at the Village, Alamo Drafthouse Lake Creek
Cost: Free
Dates: June 7 through August
Details: The Summer Kids' Camp features a mix of cult, classic and contemporary family-friendly films that appeal to all ages. The movies play from Monday-Thursday at 11 am, with a different movie every week throughout the summer. The theaters offer a full lunch menu, and these shows can fill up fast. This year, the films rotate weekly around the Village, Lamar ... and now Lake Creek. Kids' Camp starts June 7 with Coraline (in 3D!), with The Iron Giant the following week.
Don't confuse this series with Alamo Kids Club, which is the last Saturday of the month only at Lamar ... and is also free.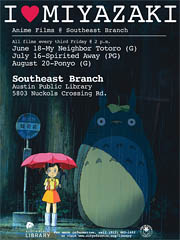 Austin Public Library Film Series
Locations: Various APL branches; see individual programs for details
Cost: Free
Dates: Varies
Details: Throughout the year, various APL branches offer different film series -- usually movies screened on DVD. These free events have included a wide variety of classic, cult, independent and international films. Because these free programs are organized on a branch library basis, you may have to check the APL News page to see what's coming up. Here's what's on the summer schedule so far:
Cine Las Americas Mexican Revolution Films of the 70s
Location: Harry Ransom Center
Cost: Free
Dates: May 6-27
Details: Four rare features by influential directors critically explore the Mexican Revolution and other national realities. Films include El prinicipio (The Beginning), directed by Gonzalo Martínez Ortega (5/6); Cananea, directed by Marcela Fernández Violante (5/13); La casta divina (The Divine Caste), directed by Julián Pastor (5/20); and Cuartelazo (Mutiny), directed by Alberto Isaac (5/27).
Cine Las Americas Mexican Bicentennial and Revolution Centennial Series
Location: Mexican American Cultural Center
Cost: Free
Dates: June - December (except July)
Details: The program is being worked out, but this series will continue to highlight Mexican cinema in celebration of the Mexican Bicentennial and the Centennial of the Revolution. Knowing the Cine Las Americas team, it will include some diverse programming of films you wish you'd seen before, and probably more than a few you won't be able to find on DVD.
Cinema East Summer Movie Series
Location: Outdoors in the lot next to Baby Blue Studios, 1522 E. 12th Street
Cost: Free
Dates: Alternate Sundays from June 13 through September
Details: This new outdoor free film series has a focus on indie films, especially those with Austin ties. Read our profile on the series for more details.
Cinemark Tinseltown's Summer Movie Clubhouse
Location: Cinemark Tinseltown 17
Cost: $1 (or 10 for $5 in advance)
Runs: June 8 - August 12
Details: Three days a week at 10 am, you can see a family-oriented film (G or PG). Most of the titles are relatively recent. This year, only one Cinemark theater in Austin appears to be participating. Movies range from Mr. Bean's Holiday to Monsters vs. Aliens to Hotel for Dogs.
Deep Eddy Pool Splash Party Movie Nights
Location: Deep Eddy Pool
Cost: Regular pool entrance fee
Runs: June 26 - August 14
Details: Deep Eddy has posted their 2010 schedule, which includes family-friendly movies like Cloudy with a Chance of Meatballs as well as movies for older kids and grownups like Raiders of the Lost Ark and Grease.
Kyle Movies in the Park
Location: Gregg-Clarke Park in Kyle
Cost: Free
Runs: May 7 - September 3
Details: All movies start 30 minutes after sunset. The schedule is almost complete with Bedtime Stories (May 7 at 8:30 pm), Shorts (May 28 at 8:30 pm), Planet 51 (June 18 at 9 pm), Cloudy with a Chance of Meatballs (July 23 at 9 pm), Imagine That (August 13 at 8:45pm), and a final film yet to be announced that will be shown on September 3 at 8:15 pm. Sponsored by My HEB Plus! Kyle and Time Warner Cable.
Nueva Onda Movie Nights
Location: Nueva Onda
Cost: Free
Dates: May 20 through October (updated!)
Details: Updated! This series runs spring through fall with monthly movie nights at local restaurant Nueva Onda. The free programs includes shorts of all sorts and the occasional feature film, from SXSW and Cine Las Americas selections to student films and local filmmakers' works in progress. Just confirmed mere hours after this went live that the new start date is May 20, and the screenings should run through October.
Paramount 2010 Summer Film Series
Location: Paramount Theatre
Cost: $7-9 (Film Fan and Flix-Tix discounted to $5)
Dates: May 20 - September 12
Details: Oh, what a wonderful tradition! Last year I caught two Chaplin films with an appreciative near-capacity crowd in the middle of the week. The advantages to catching this eclectic mix of classic films is not only are many films in spectacular 70mm, but every night is a double feature, so that's a 2-for-1 deal. The Paramount also hosts frequent special events and discounts, so keep an eye out; last year's closing weekend featured live camels for the Lawrence of Arabia screenings.
This year starts in late May with a "Double Bogie" pairing of Casablanca and The Maltese Falcon, followed by "Fun with Nick and Nora" with Another Thin Man and The Thin Man Goes Home. The schedule is now complete, and Jette will be happy to see the newly restored version of The Red Shoes is showing on August 14-15, as it's a sumptuous print and a great big-screen experience.
Regal Free Family Film Festival
Locations: Arbor, Westgate, Lakeline
Cost: Free
Runs: June 8 - August 5
Details: This series screens G and PG films (usually geared toward younger children) on Tuesdays and Wednesdays at 10 am. The same movies rotate play at all three locations so it'll be easy to fit your favorite film out of the 14 listed into your schedule. Selections range from Wallace and Gromit in Curse of the Were-Rabbit (yay) to Paul Blart: Mall Cop (really?). The festival page includes all participating theaters in Texas, but it's grouped by city so it's not too hard to navigate. These screenings are popular with the daycare crowd, so if you or your kids really want to see one of the films, get there a little early.
Republic Square Movies in the Park Updated!
Location: Republic Square Park
Cost: Free
Runs: Sept 1 - Oct 14
Details: Austin Parks Foundation's Movies in the Park at Republic Square series never ran last year. Thankfully it is back again this year, with an outstanding lineup of classic summery blockbusters from years past sure to bring out the crowds. Just remember, alcoholic beverages, glass and styrofoam are not permitted in the park. On the other hand, dogs, picnics, and lawn chairs are welcome, so you can watch The Last Starfighter or Poltergeist with your puppy and a picnic basket.
Round Rock Movies in Your Park
Location: Old Settlers Park, Round Rock
Cost: Free
Runs: June 4 - July 16
Details: Pre-movie activities start at 7:30 pm and the movie starts at dark. Blankets and chairs (and bug repellent) are recommended. Sponsored by Time Warner Cable. The two films scheduled so far this year are Cloudy with a Chance of Meatballs (Friday, June 4) and Planet 51 (Friday, July 16). If more are added, we'll update the guide.
Screen Door Films
Location: Studio 4D at University of Texas at Austin
Cost: Free
Runs: June - ?
Details: The collaboration between Screen Door Films and UT to show locally made films is continuing through the summertime. The documentary Previously Unknown: The Legend of Blaze Foley screens at Studio 4D at University of Texas at Austin this Wednesday, May 5. The Overbrook Brothers plays next on June 16.
Whole Foods Sunset Supper and Cinema (N. Lamar)
Location: Whole Foods Market (Downtown)
Cost: Free (to attend)
Runs: May - July
Details: Last year's series was so successful, Whole Foods is doing it again with six weeks of movies. The film is free, with a three-course prix fixe dinner available for purchase, and will start at sunset. When the exact dates and movies are set, we'll let you know.
We're going to keep updating this article as more information becomes available, so let us know if you are involved with a summer film series that isn't included on the above list, or if you have more details on one that is included.
[Photo credit: "Nueva Onda, South Austin" by Elliot Ng. Found on Flickr and used under Creative Commons license.]