2011 Guide to Free (and Cheap) Summer Movies in Austin
Check out our 2012 Guide to Free (and Cheap) Summer Movies in Austin for the latest information.
Updated May 31 with specific films/dates for 101x Summer Cinema Series.
It's nearly triple-digit weather, and those icy-cold movie theaters are beckoning, often too tempting to resist. Unfortunately, sometimes your wallet has to resist, especially with prices for first-run 3D movies and concessions, especially especially if you're bringing kids along or paying babysitters.
So, for the third year running, Slackerwood is happy to bring you our guide to free and cheap summer movies in Austin. Some long-running free programs and series have started charging admission -- of a dollar or two. You can still find great deals on moviegoing in this town if you're on a budget. (And is it just me, or are half the summer movie programs in town this year screening Dazed and Confused? Not that there's any reason to complain about that!)
Some free series from previous years are gone: AMC dropped its Summer Movie Camp this year. South Austin restaurant Nueva Onda closed last month, which means the excellent indie-centric Nueva Onda Film Series is on hiatus until the programmers can find a new location. Movies in the Park is still around but it's not at Republic Square Park this summer; instead, head over to Fiesta Gardens for some free films. On the other hand, I had originally lamented the end of Cinema East, and just got a press release a couple of days ago telling me it's alive and well. We also have some new venues like the Blue Starlite Drive-In.
Some of the listings in this guide aren't complete yet, because specific films have yet to be announced; we'll update them as we get more information. If you have more info on a series or know about something we've forgotten, please let us know in the comments.
101X Summer Cinema Series
Location: Central Park by Central Market
Cost: Free
Dates: June 15-August 10
Details: This annual outdoor series is also known as Central Market Movies in the Park. This year's lineup: Weird Science (June 15), Dumb and Dumber (June 29), National Lampoon's Christmas Vacation (July 13), Teenage Mutant Ninja Turtles (July 27) and Sixteen Candles (August 10). Movies start when it gets dark and for viewers age 21 and up, there are beer specials available.
Alamo Summer Movie Kids' Camp
Locations: Alamo Drafthouse on South Lamar, Alamo Drafthouse at the Village, Alamo Drafthouse Lake Creek
Cost: Free
Dates: June 6 through August 25
Details: The Summer Kids' Camp features a mix of cult, classic and contemporary family-friendly films that appeal to all ages. The movies play Monday-Thursday at 11 am, with a different movie every week throughout the summer. The theaters offer a full lunch menu, and these shows can fill up fast. The films rotate weekly around the Village, Lamar and Lake Creek locations. I'm tempted to take a long lunch at work for some of these films -- the lineup includes Ponyo, Iron Giant, Pee-Wee's Big Adventure, Goonies and Fantastic Mr. Fox. (I tried last year and found out you must get there 20 minutes early or so because the theaters do often fill to capacity.)
Don't confuse this series with Alamo Kids Club, which is the last Saturday of the month only at South Lamar ... and is also free. Hey, they're showing Time Bandits this weekend (May 26) in 35mm. Again, get there early.
Austin Public Library Film Series
Locations: Various APL branches; see individual programs for details
Cost: Free
Dates: Varies; year-round
Details: Throughout the year, various APL branches offer different film series, screened on DVD. These free events have included a wide variety of classic, cult, independent and international films. Many of these programs are organized by individual branches so it's difficult to find web pages for the series themselves,. Check the APL News page to see what's coming up and to confirm dates and times. Here's what I've found on the summer schedule so far:
Head Start Cinema is a collaboration with Austin Film Society that runs from June 6 through August 10. Every week, the University Hills and Windsor Park branches will screen a movie that is on the British Film Institute list of 50 films they think you should see by age 14. It's an excellent lineup including Star Wars, Singin' in the Rain, King Kong, The Princess Bride and other good movies, plus some AFS student shorts mixed in too. Windsor Park will also hold post-film discussions.
Community Cinema "sneak previews" movies that will be broadcast on the PBS Independent Lens series. The series has been going on since October and finishes up on June 7 with Two Spirits at the Windsor Park branch.
The Polish Cinema Series is still continuing from last year, now at the Howson branch: Chlopaki Nie Placza/Boys Don't Cry at Howson on June 14, Galerianki/Mall Girls on July 12 and Roku Tygrysa/Lovers in the Year of the Tiger on August 9.
Based on Books shows movie adaptations of classic books at the Yarborough branch. The series wraps up this summer with The Thin Man on June 16 and The Last Picture Show on July 21.
Family Matinee movies screen regularly at the Howson and Windsor Park branches. On June 4, you can see the classic 20,000 Leagues Under the Sea at Howson or Tangled at Windsor Park, Labyrinth at Windsor Park on June 18, Gnomeo and Juliet at Windsor Park on July 2, Journey to the Center of the Earth (the original) at Howson on July 23, Legend of the Guardians at Windsor Park on August 6 and Swiss Family Robinson at Howson on August 20.
Summer Crime Wave is the latest Weeknight Cinema series at the Milwood Branch. The library is screening Le Samourai on June 7, In Bruges on June 14, the 1978 film Straight Time on June 30 and Raising Arizona on July 12.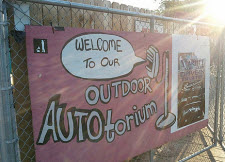 Blue Starlite Mini Urban Drive-In
Locations: Cesar Chavez and East Sixth venues
Cost: $5 for pedestrians and cyclists; $25-30 for cars holding up to 4 people
Runs: Year-round
Details: Blue Starlite shows a variety of movies (projected DVDs) after dark in its two downtown locations, 3-4 nights per week. Both locations are in/near food trailer areas so it's easy to buy treats. Movies in June include Ghostbusters, Young Frankenstein, One Crazy Summer, Dazed and Confused and a Godzilla Fest. The drive-in also hosts the Cinema 41 indie film series.
Cinema East 2011
Location: French Legation lawn, East 8th Street at San Marcos Street
Cost: Free
Runs: May 29 - Sept. 7
Details: The Cinema East free outdoor series returns for the summer, this time showing movies on the lawn of the French Legation building on alternate Sunday nights. You can buy refreshments from mobile vendors associated with the HOPE Farmers Market. Cinema East hasn't revealed their lineup yet, but last year the series included a number of local indies. They promise "a unique post-screening open dialogue between the creators and audience" as well as some after-parties.
Updated: Their Sunday, May 29 movie will be the delightful doc Winnebago Man, and local filmmaker Ben Steinbauer will hold a Q&A afterward.
Cinemark Tinseltown's Summer Movie Clubhouse
Location: Cinemark Tinseltown 17 (south)
Cost: $1 (or 10 for $5 in advance)
Runs: June 7 - August 10
Details: Two days a week at 10 am, you can see a family-oriented movie (G or PG). The Tinseltown South schedule is here. Most of the titles are relatively recent, with a couple of interesting older films tossed in. Movies include The Wizard of Oz, How to Train Your Dragon, Diary of a Wimpy Kid and Muppets from Space.
Deep Eddy Pool Splash Party Movie Nights
Location: Deep Eddy Pool
Cost: Free with regular pool entrance fee
Runs: June 25 - August 6
Details: I'm so pleased Deep Eddy's annual movies-in-the-pool series is back. This year's lineup of monthly films includes family-friendly movies like Tangled as well as movies for older kids and adults like Indiana Jones and the Last Crusade and the perennial series favorite Grease.
Paramount 2011 Summer Classic Film Series
Location: Paramount Theatre
Cost: $7-9 (Film Fan and Flix-Tix discounted to $5)
Dates: May 20 - September 12
Details: New Paramount Film Programmer Jesse Trussell has managed to keep old favorites as well as adding some inspired double-features to the summertime mix this year. From Breakfast at Tiffany's to Brazil; Peeping Tom, Paper Moon and Pale Flower; there's something here for everyone. The Paramount frequently offers promotions tied in to specific films; check the web page to find out what's on the agenda.
Regal Summer Movie Express
Locations: Arbor, Westgate, Lakeline
Cost: $1
Runs: June 7 - August 3
Details: Regal's summer film series for kids is no longer free, but $1 is still pretty affordable. This series screens two movies per theater -- one G, one PG -- each Tuesday and Wednesday at 10 am. The same movies rotate play at all three locations so it'll be easy to fit your favorite film into your schedule. Here's a list of all participating Austin theaters; click the links to find schedules for each theater. The selections this year include Ramona and Beezus, Percy Jackson and the Olympians: The Lightning Thief, Despicable Me and Megamind.
Eastside Movies in the Park
Location: Fiesta Gardens
Cost: Free
Runs: June 7 - August 2
Details: Republic Square Movies in the Park happened in the spring this year, but the city is still showing some great free summer movies outdoors, over in Fiesta Gardens. On June 7 you can watch Dazed and Confused; the July and August movies are still TBD. Food vendors will be around and the movies are captioned for the hearing-impaired. Bring a blanket or lawn chair to sit on; remember that you can't bring alcohol, glass and styrofoam into city parks.
Round Rock Movies in Your Park
Location: Old Settlers Park, Round Rock
Cost: Free
Runs: June 4 - July 16
Details: Free movies aren't only for Austin proper -- you can find them in Round Rock too. This monthly outdoor series kicks off with Megamind on June 3, Shrek Forever After on June 24, and two movies on July 4 -- Iron Man 2 and Despicable Me -- as part of the Frontier Days Festival. The movies start when it gets dark; bring a lawn chair or blanket, and concessions are available.
Whole Foods Sunset Supper Cinema
Location: Whole Foods Market (Downtown)
Cost: Free (to attend; menu items are available at a cost)
Runs: Ends in June; picks up again in September
Details: Whole Foods ran their movie series in the spring this year, and is finishing up with two more screenings: Roman Holiday on May 27 (menu items include "Audrey's Caprese Salad" and a "Roman Holiday Wrap") and The Neverending Story on June 3 (menu items include "Childlike Empress Sliders" and "The Falcor Pizza"). They'll be back in September and hope to offer some tempting titles and dishes.
In addition, look for free and cheap screenings year-round from the following groups:
Austin Film Society -- If you are an AFS member (membership starts at $30/yr), you have the opportunity for some free screenings and discounts on other screenings sponsored by AFS. AFS has started sponsoring free preview screenings for its members this year, too.
Alamo Drafthouse -- Terror Tuesday and Weird Wednesday tickets are usually $1, although we strongly advise you buy online in advance (the movies frequently sell out), which brings the price up to a whopping $2. Music Monday films are usually $2. "Like" them on Facebook and find out about special free preview screenings.
Austin Chronicle Contests -- Keep an eye on this web page for info on standby tickets to free preview screenings.
[Photo credits: "Deep Eddy Splash Party Movie Night" by Susan Allen Sigmon; used with permission from Austin Parks and Recreation; "Blue Starlite Mini Urban Drive-in Theatre" by RJ Cichocki; used with permission; "Changing the Paramount Marquee" by Jette Kernion. Many thanks for letting us use these pictures!]