Discussing 'Much Ado About Nothing' with Joss Whedon and Cast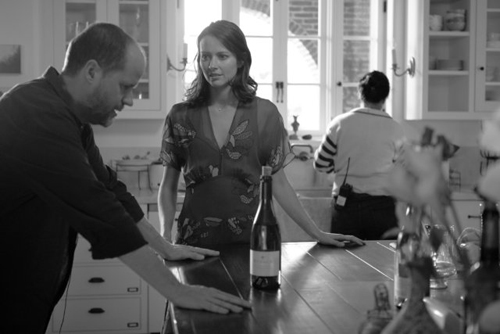 As a fan of writer and director Joss Whedon (pictured above on set) and his recurring ensemble of talented actors including Amy Acker, Alexis Denisof, Nathan Fillion and Clark Gregg, I was intrigued to hear about Whedon's thematic version of a classic Shakespeare comedy, Much Ado About Nothing. I saw this darkly humorous film at SXSW this year (Don's review) and participated in a roundtable discussion with director Whedon and several members of the cast -- Denisof, Fillion and Gregg. The movie is now in theatrical release and will open in Austin on Friday.
Whedon successfully delivers a dark and humorous portrayal of lovers at odds due to misunderstandings of their own making as well as from outside forces. I strongly agree with Don's observation that "with its cast of stars from Whedon's hit films and shows, it may also introduce an entirely new audience to the wonders of Shakespearean theater."
Whedon's direction stays true to Shakespeare's language, with a modernization in the setting "princes" of industry within a house in Santa Monica designed by Kai Cole, Whedon's spouse. The use of windows and doorways to frame scenes as well as long tracking shots effectively keeps the audience engrossed within the story as well as if portrayed onstage. Whedon stated that he chose to film Much Ado About Nothing in black and white to capture both a comedy noir and "give it an elegance" that is more affordable than in color.
When asked about the recurring themes in his television and film productions, Whedon admitted that Much Ado About Nothing shares the common theme of "living and the aloneness of our condition -- the way we are manipulated and the way that things are expected of us and we don't know how that jives with who we are."
During our interview, Denisof spoke about his motivation in playing lead male Benedick as a "real guy," unevolved at the beginning of the story.
"Here's a guy who thinks he's Elvis, but turns out to be Inspector Clouseau -- particularly when he discovers that he's actually in love," he said. In addition to the massive amount of dialogue, the actor was faced with the added challenge of physical comedy.
Although Acker and Gregg had both taken on this Shakespeare in the past onstage -- Acker as Hero and Gregg as Benedick -- Much Ado About Nothing was Fillion's first attempt at Shakespeare. Despite his small role, Fillion was faced with the challenge of what seems to be nonsensical language. Gregg spoke of the difficulty of comedy, and how well Fillion took on the character of Dogberry.
"What he [Fillion] pulls of in this is really remarkable because if you read it on paper you wouldn't see that it seems like 'conversational clarity' the way that he makes it clear and funny," Clark said.
Fillion added, "I haven't been challenged like this in a long time."
To prepare for his role as Leonato in Much Ado About Nothing, Gregg hired a full-time coach to grill him for two days so he could learn his lines in time for the 12-day production. Fillion researched his character's dialogue through books and the internet, as well as phone calls to his retired schoolteacher parents "to give it a rhythm -- I just wanted it to make sense."
The preparation of cast and crew of Much Ado About Nothing certainly paid off, resulting in a whimsical and engaging tale that transcends time. Be sure to see the film on the big screen to enjoy and appreciate this timeless romantic comedy.