AFF Conversations in Film: Writer Ted Tally and 'Silence of the Lambs'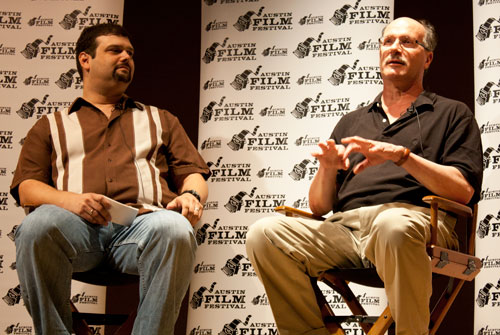 My number-one recommendation to anyone interested in screenwriting in Austin is to pay close attention to the Austin Film Festival (AFF) offerings. Not just the mentoring sessions and panels at the festival itself in October, but also throughout the year when AFF hosts "Conversations in Film" screenings and sessions. This series brings veterans of the television and film industry together with fans as well as emerging filmmakers and writers to discuss their works and the medium.
The most recent Conversations in Film session, on Sunday, March 25, at the Harry Ransom Center, featured Academy Award-winning screenwriter Ted Tally (White Palace, The Silence of the Lambs, All the Pretty Horses) and was moderated by Alvaro Rodriguez (From Dusk Til Dawn 3: The Hangman's Daughter, Machete) -- seen above. Tally has received acclaim for his adaptations of the works of bestselling authors including Cormac McCarthy, Thomas Harris, Rosellen Brown and George Dawes Green. Following the conversation, a special screening of an original 35mm print of Silence of the Lambs -- recently listed on the Library of Congress' National Film Registry as a "culturally, historically, or aesthetically significant" film -- took place at the Bob Bullock Museum theater.
Find out more about Tally and what he revealed about his transition from playwright to screenwriter as well as his thoughts on director Jonathan Demme after the jump.
During the post-screening Q&A, Rodriguez and Tally continued their discussion of Tally's most infamous adaptation. I thoroughly enjoyed Rodriguez's moderation, which demonstrates his dedication to researching not only his guest speaker's career but also to screening many of their works. His questions keep the pace going, resulting in dynamic and provocative conversations.
Despite his long and successful career, Tally remains humble about his screenwriting as he spoke about the evolutionary process and how often lessons learned don't carry over to the next writing project. He revealed that as a playwright in college, he thought movies were impossible to imagine as a profession -- the concept of making a film was unreal to him. Furthermore, in the "holy temple of theater" at Yale University, writing for movies was not desirable, and television was out of the question.
It wasn't until Tally's thesis play Terranova was seen by legendary British screenwriter and director Lindsey Anderson that Tally was introduced to the world of film writing. In 1979, Anderson tutored Tally during the development of Empire, a proposed film based on the Indian Mutiny of 1857 when Indian troops in northern India rebelled against their British commanders. The film was never made, but Tally is grateful of the education that he received from such a talented theater and film legend. Tally went on to state that "no day spent writing is ever wasted," and that writers can learn something even in unproduced scripts.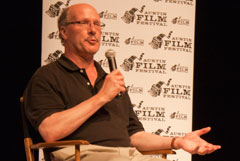 Rodriguez praised Tally for his style of creating long second acts and allowing a scene and the characters to "breathe." Tally said he's drawn to strong female characters such as Clarice Starling (Jodie Foster) of The Silence of the Lambs and Nora Baker (Susan Sarandon) in White Palace, and that the first step in editing and adapting a novel for the screen is to "make the choice of whose story it is."
He also spoke highly of The Silence of the Lambs director Jonathan Demme for his willingness to trust Tally's writing, as evidenced that Demme shot everything Tally wrote with little exception -- what wasn't shot was after consultation between Demme and Tally. The pair were determined to create a film that despite its violence would be tasteful and not exploitative. Tally attributed the film's success to Demme's sensibility, and stated that he would rather see another character's reaction than see the violent action itself. Tally referenced Demme as well as Barbet Schroeder (Before and After) and Brett Ratner (Red Dragon) as the three most collaborative film directors he's worked with.
The screening of The Silence of the Lambs was an experience in itself, as the "charm" of the scratches and audio noise as well as the hairstyles and wardrobe are the only aspects that date the film. Despite the numerous times I've watched this film, the suspense, drama, and implied violence still emerges as fresh and bloody as a newborn lamb.
The next event in AFF's Conversations in Film series takes place on Wednesday, April 18, and will feature television writer and UT Austin graduate Rob Thomas (Veronica Mars) as he uses his critically acclaimed series Party Down as a case study on how to get a television series from concept to creation to getting picked up. Thomas will present the first public screening of the original, un-aired pilot for Party Down. Don't miss this special opportunity!
[Photo credits: "Alvaro Rodriguez and Ted Tally," "Q & A with Ted Tally" by Debbie Cerda, all rights reserved.]