Lone Star Films Will Shine at Sundance in 2013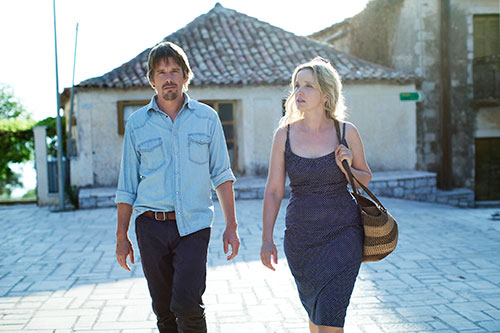 The Sundance Film Festival has announced most of its 2013 film program, which includes a pleasantly surprising number of films from the Lone Star State. Austin filmmaker Richard Linklater will premiere Before Midnight, the sequel to Before Sunset (2004) and Before Sunrise (1995), with Ethan Hawke and Julie Delpy (pictured above) reprising their roles as their characters cross paths again. Local company Stuck On On was involved in the movie's post-production.
Take Shelter director Jeff Nichols' new film Mud, starring sometimes-Austinite Matthew McConaughey, native Texan Joe Don Baker and Reese Witherspoon will have its North American premiere at the Utah festival, having wowed audiences and critics alike at Cannes earlier this year. Young actor Tye Sheridan (Tree of Life) from Elkhart, Texas, stars as one of the young boys who befriends McConaughey's title character. As with Take Shelter, Nichols utilized Stuck On On for sound post-production and Austin composer David Wingo for Mud.

Writer/director Andrew Bujalski's locally shot movie Computer Chess features man versus machine during a chess tournament in the 80s. To create a more authentic look, Bujalski located old computers through local hobbyists as well as Austin's Goodwill Computer Works Museum, which features more than 100 working vintage computer systems. The cast includes Wiley Wiggins.
Dallas filmmaker Yen Tan's Pit Stop, shot in Austin, features local actors John Merriman, Heather Kafka and Jonny Mars as well as native Texan Amy Seimetz (Tiny Furniture, Sun Don't Shine). David Lowery co-scripted; he first worked with Yen Tan on the 2005 dramatic anthology Deadroom, which Lowery edited and both he and Tan produced and directed. As you'll learn below, this is not the only Sundance 2013 film in which Lowery is involved. Nor is it the only Sundance film involving Mars and producer Kelly Williams.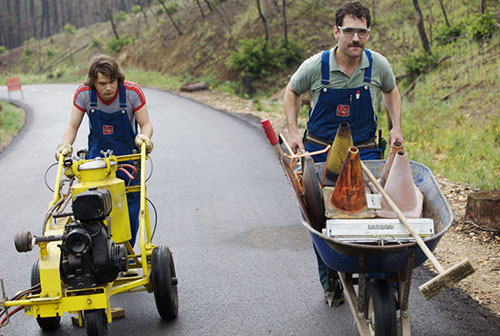 Another feature film with Texas roots to debut at Sundance Film Festival is writer/director David Gordon Green's Prince Avalanche, which was filmed in Bastrop. This low-budget remake of the Icelandic film Either Way stars Paul Rudd and Emile Hirsch (pictured above) as highway road workers who "spend the summer of 1988 away from their city lives ... themselves at odds with each other and the women they left behind." The film features music from local artists Explosions in the Sky as well as Mud composer David Wingo.
Other Sundance Film Festival 2013 films with local and Texas ties:
Writer/director Kat Candler, producer Kelly Williams and star/co-producer Jonny Mars are ecstatic that their short film Black Metal has been accepted into the 2013 program. Black Metal centers around about a thirtysomething black metal singer (pictured right) who must deal with unintended consequences of his music on his fans and family. This will be the second year in a row that the trio will premiere a short film at Sundance, following 2012's delightful and touching Hellion. Williams also produced Pit Stop and was one of five filmmakers to receive the Sundance Institute's Feature Film Creative Producing Fellowship earlier this year.
Dallas/Fort Worth area filmmaker David Lowery (Pioneer) has written and directed Ain't Them Bodies Saints, premiering at the fest. It's about an outlaw who escapes from prison and sets out across the Texas hills to reunite with his wife and the daughter he's never met.
In addition to Tan's Pit Stop, Heather Kafka appears in Candler's Black Metal and Lowery's Ain't Them Bodies Saints. Kafka is currently acting in Prince Avalanche writer/director David Gordon Green's Joe, along with Tye Sheridan of Mud.
Amy Seimetz of Pit Stop also co-stars in the anxiously anticipated Upstream Color from director Shane Carruth (Primer). Upstream Color is described as being about "a man and a woman… entangled in the life cycle of an ageless organism." David Lowery co-edited the film with Carruth.
Hannah Fidell's Austin-based film A Teacher tells the story of a high-school teacher who has an affair with a student. The cast features Jonny Mars and Chris Doubek. Several of the crew members are locally based including gaffer Nick Scimeca (Spring Eddy, Red White and Blue).
Former Austinite Jas Shelton (Cyrus) is Director of Photography on C.O.G., a film based on a David Sedaris short story about a young man who travels to Oregon to work on an apple farm.
Sometimes-Austinite Athina Rachel Tsangari co-produced and appears in Linklater's Before Midnight and will also premiere the short dramatic film Capsule, which she directed and scripted. Tsangari is best known locally as the founder and artistic director of the Cinematexas International Short Film Festival, which ran from 1995 to 2006.
German film Houston is partially set and shot in H-Town; it's about an alcoholic corporate headhunter. Director Bastian Gunther who is from Berlin where the other half of Houston was filmed now resides in Austin with his wife.
Sundance Film Festival runs from January 17-27, 2013, in Park City, Utah. Slackerwood is planning extensive coverage of the features and shorts listed above.