Interview: Thomas Haden Church, 'Killer Joe'
Actor Thomas Haden Church traveled to Austin recently from his ranch in Bandera County for Austin Film Society's reception and special screening of the darkly provocative and often brutal film Killer Joe (my review). While in town, Church met with local press to talk about the Texas-set movie, adapted by Pulitzer and Tony Award winner Tracy Letts from his own play, and directed by Academy Award-winning director William Friedkin.
During our roundtable interview, AFS Executive Director Rebecca Campbell dropped in for a chat, thus the photo above. Never at a loss for words, Church -- who emceed the Texas Film Hall of Fame Awards in 2009 and 2010 -- expressed his support of Austin Studios and AFS as well as the Texas Film Commission. He also spoke at length about the Lone Star setting of the film, shooting in New Orleans (which pretended to be Dallas) and working with legendary filmmakers.
Slackerwood: What attracted you to the Killer Joe project?
Thomas Haden Church: Chiefly William Friedkin and then this script, which was based on the Tracy Letts play. Whenever Matthew McConaughey became involved, it all started to happen really quickly. I wanted to work with Billy [Friedkin], and I thought the screenplay was dark and violent and funny, and edgy. All the things that challenge an actor in a character.
Had you seen Killer Joe onstage?
Church: I hadn't, I read the play after I read the screenplay and committed to the movie. They sort of toned it down for the movie, because the play was notoriously graphic.
Being raised in Texas, how did that inform your reaction to reading the script?
The characters were familiar but not in a direct context to my life. These are people that I traditionally avoided growing up. I grew up very middle-class, played sports, went to college. For the most part, this level of society I wasn't as exposed to, and certainly not to the extent that the characters of the movie are so immersed in it.
I lived around Dallas for awhile, and certainly have been around Texas police officers and law enforcement types all over, and there is an attitude that was very familiar to me in how Tracy [Letts] wrote the character of Joe. He's a very stoic no-nonsense sort of arrogant character, but there's also a methodical lethal attitude that permeates who he is and I thought that Matthew really captured that well. There's just this malevolence to him, of what he's capable of doing and he's largely empowered by the law to do it.
The other characters were easy to me -- young hustling drug dealer, middle-aged dad who works in a welding shop and drinks too much. Some of that stuff is a little more familiar, and so our task was to make it as authentic as possible.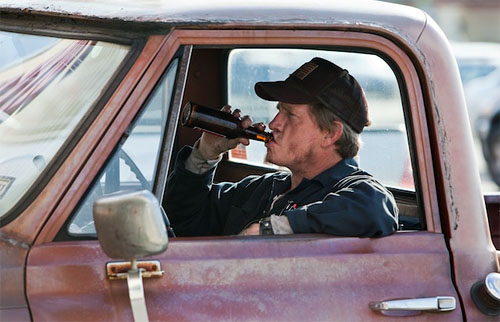 How did you prepare for your character?
Church: I hung around a tattoo shop a lot. I didn't have a lot of time because I'd done two movies back to back, and I only had a couple of weeks since finishing a movie. I prepared by going to New Orleans and getting into heavy rehearsals with Billy and the rest of the cast.
It was really just getting involved with the area of Dallas [where the movie is set]. Specifically there's an area off Harry Hines Boulevard in Northwest Dallas that was always the worst, seediest part to be in, and that's where this story takes place.
New Orleans has got plenty of seediness to go around. We would rehearse and then I would go drive or walk around in this burnt-out warehouse district where we were shooting and the sound stages were built. It's a real gutted-out riverfront area that was sort of on the other side of that bridge from downtown. The off-duty police who worked our security would say, "It's cool to go over there, but don't go too far over that area."
The strip club scene was the most vile place that I'd been in, and that's what Billy wanted. He wanted something that was so nasty -- they sought out the nastiest strip club they could find in New Orleans. Trust me, there's 5,000 of them, and that's where we shot. It was a ways from New Orleans out towards the airport. Bizarre, but cool -- it had so much character, and it brought another level of humanity to that.
Is your character Ansel a victim or villain?
Church: I think they all fall in the middle. To me in some ways the most innocent character is Joe. He is invited into a situation, and he gives a very simple plan -- "If you ever admit that you know me or you talk about this, you'll be killed, and I need $25,000 up front." But he's already been slightly intrigued by a young woman and he allows his sexual fascination with her to draw him in.
In one of the interviews, a journalist stated that the family makes a deal with Satan. I said, "No, the truth of the matter is that Killer Joe makes a deal with Satan's children." He really does because we're the most f***ed up. If he kills a drug dealer or a child rapist and those are his hits in his other jobs and people pay him money to do it, fine. He comes into this, and his sexual fascination leads him down the not-so-primrose path to what happens at the end. He kills the woman and then finds out that he's not going to get any of the money. He at that moment is the real victim, but he's the guy in the best position to get revenge for being victimized.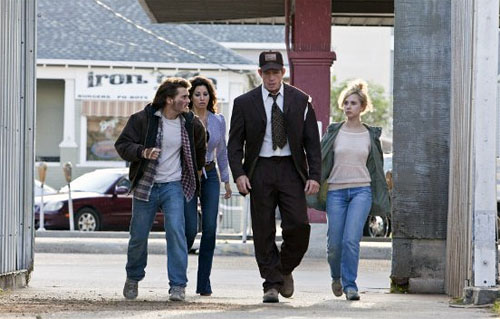 You've worked with acclaimed younger directors, but when you have a chance to work with someone like Friedkin who goes back so far -- what do you take away from that experience as an actor?
Church: Billy [Friedkin] is old school in that he loves as much rehearsal as you can force into a day or a weekend, and I really appreciated that. Alexander Payne is a noted exclusion, but with a lot of younger directors now, everything moves so fast that you don't have the time to rehearse, or they think it's just not as much of a priority. Billy comes from that old-school "Let's get it right before we ever get on set." But he is known as a director that moves very fast, as do Clint Eastwood and Walter Hill who are sort of in that same generation of directors.
More than anything, Billy is very methodical in his approach to rehearsal. You know everything in the scene, you know all the action and dialogue and all the other characters' dialogue. If you do decide to change something, everybody can make the same adjustment at the same time.
Since you are dealing with a dark story in Killer Joe, how do you keep it light on the set when not filming?
I don't think we did, there wasn't a lot of laughter. Billy runs a very focused set. Caleb Deschanel, our wonderful director of photography, was using the Arri Alexa, a really new hi-def camera system. They were able to change setups and move things and get the lighting right very quickly, which was a real blessing with Billy because he likes to move fast. We shot the movie in eight weeks, and it's very dialogue-heavy. It was tough because we did a lot and crammed a lot into every dime.
What's your next project?
Church: I shot a movie called Whitewash in Quebec which will probably be out next. Lucky Them is still a little ways off, Marisa (Tomei) is still attached, and I'm attached. Paul Newman posthumously and Joanne Woodward humously are exec producers of it. It's a movie that's been in gestation for awhile, but we're going to get it done. Marisa is a music journalist and I'm a playboy documentarian. She's chasing [someone] like a Jim Morrison, but still alive -- some real reclusive rock-and-roll guy, supposedly Johnny Depp may play that part. It's a good cast, with Allison Janney and Alec Baldwin doing roles, as well as Phil [Philip Seymour] Hoffman. The movie is sort of driven by Marisa Tomei and myself. I think that Paul Dano is going to be this young rock-and-roll guy that's sort of involved -- a very fine young actor who was in There Will Be Blood.
Will we see Ranger Chet Masterson again in Zombie Roadkill?
Church: They are threatening -- because it was through Ghost House Pictures, which is Sam Raimi's company -- every now and then I'll get an email or phone call, "We're going to do this as a feature." Supposedly Sam's behind it and Sony wants to fund it if they can do it for the right price. I thought it was really fun.
[Photo credit: "Rebecca Campbell, Executive Director of Austin Film Society, and Thomas Haden Church," by Debbie Cerda, all rights reserved. ]