Sundance Review: Alive Inside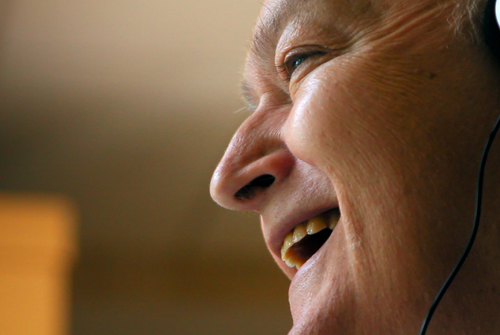 Of the five documentaries nominated for Academy Awards this year, four played Sundance Film Festival 2013. Festival Director John Cooper credited this to the heightened aesthetic excellence in the films at the festival as well as that "the world is accepting non-fiction in really interesting ways." During a discussion of the business and profits of independent films, Cooper stated that "at Sundance, we have to think a little differently. We think of impact. When you look at something like Invisible War is changing policy, when you look at Blackfish -- awareness is actually changing how things are done in our world. It's as important as how much money they (the films) make -- and actually way more important to us."
The documentary film that most affirmed this vision at this year's festival for me was director Michael Rossato-Bennett's documentary Alive Inside: A Story of Music and Memory. This moving and groundbreaking documentary received the Sundance Audience Award for U.S. Documentary, as well as a standing ovation at its premiere at Sundance 2014.
As high as I'd set my expectations for Alive Inside, the film far exceeded what I'd imagined. I nearly left the press screening that I attended simply because I was emotionally overwhelmed and in tears, while still a response that I would still describe as a positive experience from the aspect of grieving and healing after personally witnessing the mental deterioration of a beloved elder. Anyone who has ever had a loved one suffer from Alzheimer's disease, dementia, stroke or mental illness will recognize the profound impact of this film's core message -- that personalized music therapy can not only awaken but in some cases prolong our emotional and mental faculties.
Rossato-Bennett was asked by social worker Dan Cohen to film his work for just one day, yet he was so engaged by what he witnessed that he took a three-year journey with Cohen to capture both the impact to different subjects as well as interviews with credible mental health experts. We meet Henry, a resident of Cobble Hill Health Center and the subject of the viral video that has now reached over 1.3 million views, along with his caring recreation therapist Yvonne Russell. Henry's transformation after listening to songs from his past is amazing not only as he "awakens," but the infectious engagement of others in the room.
These are people who have experienced a loss of dignity, no longer capable of caring for themselves and often so heavily medicated that they are even less likely to communicate. Alive Inside subject Denise knows this all too well as she struggles with the powerful emotions brought on by her bipolar disorder, as she states that it is "painful to feel that no one is there to accept your gift." Some patients seem beyond reach such as John, who while in the Navy served at Los Alamos, and was exposed to radiation that impacted his health permanently.
Alzheimer's patient Marylou can't even operate the elevator in her apartment building, yet within moments of listening to "I Get Around" by the Beach Boys, she is up and dancing with her husband who is amazed by her transformation. With a smile on her face, Mary Lou sings along to the simple melody and vehemently states "it can't get away from me, if I'm in this place."
Alive Inside also features supporting interviews with healthcare experts such as Lucile Hanscom, executive director of the Picker Institute who supports patient-centered care rather than disease-centered and physician and system-driven principles. Alzheimer's expert Dr. Peter Davies of the Albert Einstein College of Medicine of Yeshiva University speaks about the effectiveness of music on the mechanisms related to the disease.
One of the most important questions that this film raises is "Does elderhood have a place?" With so many baby boomers more intent and destined to age in place, it is critical for our society to do so in a healthy manner.
Alive Inside is a compelling film that is woven from closely shot footage from Rossato-Bennett along with innovative animation and archival film and photos. The multimedia approach visually encapsulates the film's topic quite effectively, enhancing viewers' experience. The musical score as well as many of the songs featured in relation to the subjects is another aesthetic layer that engages the audience.
Despite the massive amounts of footage shot over three years, Rossato-Bennett managed to pare his film into an intimate focus on several subjects without overwhelming viewers with too many focal points of the story. The interwoven technical facts and expert input are well placed, providing a release from the often emotional journey viewers embark on along with its subjects.
This film is an often humbling portrait of a staggering crisis in our society. Rossato-Bennett effectively humanizes and connects his film's subjects to the audience in a very natural and personal manner.
Alive Inside: A Story of Music and Memory is firmly planted at the top of my "must-see" list for 2014, as well as my "must-share" for its compelling message. Become a part of the call to action to support the Music & Memory Project by donating used iPods, or even simply by answering the question, "what's your favorite song?"
Austin and Texas connections: Associate producer Jonathan Clasberry is from Austin.