Movies This Week: May 3-9, 2013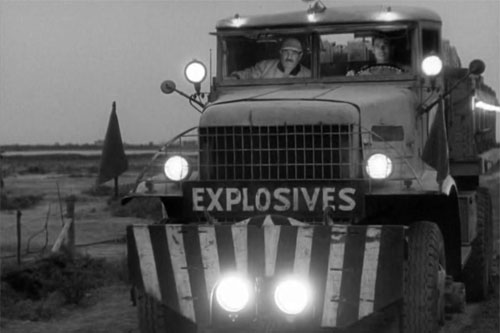 By the time you read this, I'll be in Fredericksburg for the Hill Country Film Festival. I love a film fest that's in one theater, where you get to know all the filmmakers and half the audience, and where short films prevail and celebrities do not. I wish the weather were less capricious, but you can't have everything. If you're in Austin instead, your best bet may be that fabulous new release about heroes who use their iron technology to assist mankind. Of course I mean the Austin documentary Trash Dance, which has a weeklong run at Violet Crown.
Hoping to get back in town Sunday in time for Alamo Drafthouse Ritz's Cinema Cocktails screening of the 1949 musical On the Town, a favorite of mine, screening in 35mm. Who couldn't love dance numbers from Gene Kelly, Vera-Ellen and especially Ann Miller, with a script from Comden and Green? And you can have a Manhattan while you watch.
On Monday, don't forget Stateside Independent is screening the delightful Austin food-truck-centric comedy The Happy Poet (Elizabeth's preview), with some cast members in attendance. Or you could head to Alamo Village for Austin Film Festival's screening of AFF 2012 documentary Spinning Plates (Debbie's review).
If you're like me and you haven't seen The Wages of Fear (pictured above) on a big screen, head to the Marchesa on Tuesday night for the AFS Essential Cinema screening. And you can still sign up for Thursday night's The Kings of Summer sneak peek -- get me your names ASAP!
Movies We've Seen:
Blancanieves -- This Spanish silent film is a twist on the Snow White fairy tale. Marcelena saw the movie at Cine Las Americas last month and says it's "full of humor, heartache, and the hope and promise of love and acceptance." (Arbor)
Iron Man 3 -- Writer/director Shane Black and Robert Downey Jr. (Kiss Kiss Bang Bang) reunite for the third installment in this superhero franchise. Mike says it's "a spectacular action flick that's great for family viewing" with a strong focus on the character as opposed to the usual battle-scenes-with-suits. Look for Mike's review this weekend.
No Place on Earth -- Debbie describes this documentary (which also contains some dramatic re-enactments) as "an incredible Holocaust survival story of how 38 people lived underground for a year and a half -- the longest recorded sustained underground survival -- to escape the death camps." Read her review for details. (Arbor)
Trash Dance -- Back in Austin after premiering at SXSW 2012, this locally made documentary about "the unlikely beauty of trash collection" is one you don't want to miss. Don says in his review, "The performance shows us how the ordinary can be graceful, but its other point is to humanize those whose work we take for granted and don't notice unless it isn't done." (Violet Crown)
Other Movies Opening in Austin:
The Angel's Share -- Ken Loach's latest film is about four young men performing community service together who discover opportunity for success via a whiskey distillery. At the Austin Chronicle, Leah Churner says in her review that it "feels soft-edged and flabby for a UK comedy import." (Violet Crown)