Review: Trash Dance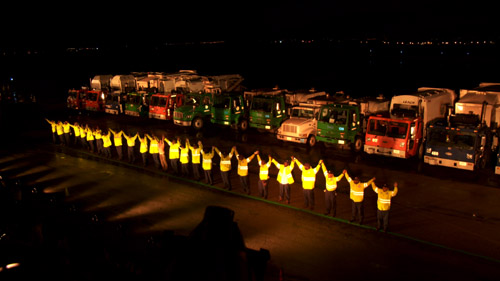 Trash Dance opens Friday for a weeklong run at Violet Crown Cinema.
The adage that one person's trash is another person's treasure is relevant to Trash Dance, but doesn't apply in the strictest sense. In the Austin indie documentary and the dance performance it celebrates, the treasure isn't the trash -- it's the unlikely beauty of trash collection.
Director Andrew Garrison's film is an inspiring look at the Trash Project, Austin choreographer Allison Orr's ambitious dance performance featuring 24 City of Austin Solid Waste Services Department employees and 16 large sanitation vehicles. (That's right -- trash trucks.) The performance and the film find artistry in the mundane world of picking up garbage; more importantly, they show us there is dignity in even the hardest and least desirable jobs.
Creating the dance was a year-long project starting in late 2008. Orr knew that to choreograph such a work, she had to get to know the workers, earn their trust, understand what they do and study their movements. So she spent many days the job with them, and not just as an observer. She emptied garbage cans, picked up litter, collected dead animals (a task she could barely stomach) and learned to appreciate the finer points of picking up trash. Garrison's film crew tagged along, capturing every messy detail and introducing us to some of the people who keep our world clean.
Orr then turned what she'd learned into a work of art, brainstorming with the employees to create an elaborate 75-minute performance with a score by Austin composer Graham Reynolds. After two months of rehearsal -- and plenty of logistical headaches, including rare summer rain -- Orr and her barely ready but enthusiastic company put on an impressive show in late summer 2009. Performed on a former airport runway with a live score (and in yet another rainstorm), the dance was hit with the unexpectedly large audience of more than 2000 people.
There is beauty in the dance, albeit unconventional beauty. Orr's goal was not to turn sanitation workers into modern, ballet or any other conventional kind of dancers; instead, she built the dance around their on-the-job movements, as well as the movements of their trucks. The end result is surprisingly fluid and graceful, if not dancing as most people think of it. The Trash Project's point is to show us there is hidden kinetic poetry where we least expect it, and by all measures it made its point very well.
As intriguing as the Trash Project is, Trash Dance is a captivating documentary because it focuses less on the dance than on the dancers. Garrison interviews many of the performers, telling us who they are rather than just what they do. They work hard for little pay and often hold second jobs, but we expected this; what we may not have expected is that many of them are well educated and articulate, with plenty of talent and creative insight. Among the interviewees is Ivory Jackson, Jr., a talented rapper who picks up yard trimmings; street sweeper and harmonica player Orange Jefferson; litter collector and break dancer Anthony Phillips; and Gerald Watson, a bucket truck operator whose true passion is youth ministry.
In telling these human stories, Trash Dance also parallels the Trash Project's deeper meaning. The performance shows us how the ordinary can be graceful, but its other point is to humanize those whose work we take for granted and don't notice unless it isn't done. The performers are people most of us never meet and seldom see; they pick up our trash while we're asleep or at work, doing their jobs anonymously. Like the film, the dance gives them a rare moment in the spotlight.
Trash Dance is an expertly crafted film, with a compelling subject and brisk direction and editing. I do wish there were more of it, however. At 68 minutes, it no doubt leaves many performers' stories on the cutting room floor, and I'd like to see more footage of the rehearsals and final performance. We see fascinating glimpses, but they only hint at the entire dance's impact.
Still, what we see is plenty powerful. A winner of many film festival awards, Trash Dance deserves these accolades for its poignant and inspiring look at the beauty -- and the people -- we seldom notice.
Austin/Texas connections: Filmed in Austin with a local cast and crew, Trash Dance is an entirely home-grown production. The film won a Special Jury Recognition Award at SXSW 2012. Read Mike's fest review for another viewpoint on the film.