'The Happy Poet' Returns to Austin at Stateside Independent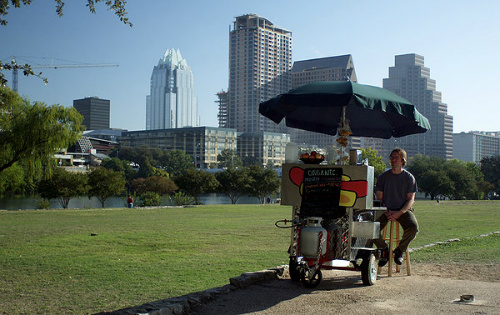 Stateside Independent will screen The Happy Poet -- which premiered at SXSW 2010 -- Monday, May 6 at 7 pm [ticket info]. Cast members Jonny Mars, Chris Doubek and Liz Fisher, and producer David Hartstein, will be there for a Q&A following the movie.
In The Happy Poet, a comedy filmed in Austin, unemployed writer Bill (writer-director Paul Gordon) dreams of running a cart that sells local/organic vegetarian snacks: eggless egg-salad sandwiches, basil pesto pitas and the like. There's just a slight hitch in his plans: He's practically broke and has to insinuate to the man selling him the food cart that he will be selling hot dogs instead. He makes the snacks at his apartment in the morning (my baker friend would be distressed to see his lack of plastic gloves) and stakes out a spot to sell his wares.
Bill, bespectacled and hesitant, is aided in this venture by friends who help him advertise and come up with a name for his business -- The Happy Poet. Ironic, because Bill seems only slightly satisfied at times. He lacks much of a backbone and has to deal with disappointment. Thankfully, Bill grows through his experience with the food cart and all it entails.
His pal Donny (Jonny Mars) runs deliveries for the business and may be running a little something something on the side. Bill's new friend Curtis (Chris Doubek) appears to be a friendly mooch. There's also down-to-earth customer Agnes (Liz Fisher), whom Bill has a crush on, and who may seriously want to read his poetry.
The humor in The Happy Poet is goofy and awkward. The scene where Bill reads his poem "Chasm" aloud had me alternately squirming and giggling. The characters here are familiar, and so are some of the other faces that show up! I also like that Austin plays a background role. Certainly this film might have been based in any number of towns, but it is truly believable that some guy like Bill would try his hand at a veggie food cart on Auditorium Shores (city permits allowing).
Indeed, the only part of the movie that struck me as false is the ending. I can't go into much detail because spoilers!, but I'll just say the ending felt ridiculous and off-putting. It seems tacked on, and based in an alternate reality. If you attend the Stateside screening or saw the movie previously, feel free to comment (in as spoiler-free a way as possible) to let us know if you agree with me about the ending or think I'm way off-base.
Austin connections: Director Paul Gordon attended UT's graduate film program from 2001-2005. Mars, Doubek and Fisher are all Austinites. The Happy Poet was filmed in Austin at locations such as Auditorium Shores, the Drag and South Congress.
You can also read Jordan's profile of The Happy Poet filmmakers and our SXSW 2010 review.