Review: No Place on Earth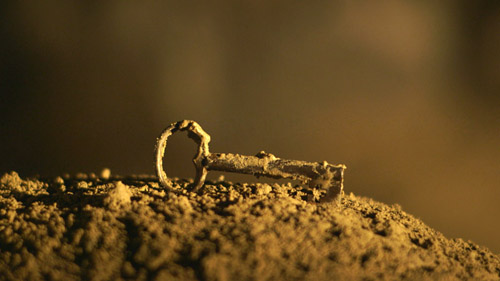 When Chris Nicola traveled to the Ukraine, it was to understand his own family's history and explore caves. Not only did he inexplicably discover everyday objects such as buttons and shoes in a remote cave, but he also unearthed a rumor of a group of Jews who lived in a cave. These discoveries led to an incredible Holocaust survival story of how 38 people lived underground for a year and a half -- the longest recorded sustained underground survival -- to escape the death camps. Nicola confirmed the story by locating 14 of the original cave inhabitants.
The experiences of these Ukrainian Jews is captured in the documentary No Place on Earth -- which opens in Austin tomorrow at Regal Arbor -- by longtime television producer Janet Tobias in her film directorial debut. The survivors are now in their eighties and nineties, but they were quite young when they took refuge in the cave. According to Tobias (from the press notes), "There were no leaders in the cave above about 35. And they were doers – they weren't thinkers and analyzers. They really didn't have the time to sit around and contemplate."
No Place on Earth can easily be described as a docu-drama rather than documentary, as the movie relies mostly on dramatic re-enactments of the group's experience in the cave. This vérité style is enhanced with interwoven present-day interviews with the main storytellers, including brothers Saul and Sam Stermer and sisters Sonia and Sima Dodyk. Thanks to the resourcefulness and determination of the brothers, the group had a community that survived despite the odds -- often with very little food or water for days on end, and with very little light.
In addition to personal interviews, for source material Tobias also used Esther Stermer's memoirs We Fight To Survive, Sol Wexler's memoirs and a 2004 National Geographic Adventure article "Off The Face of The Earth" about Nicola's decades-long investigation.
A heart-wrenching final chapter features the survivors returning to the Ukraine and to the caves with their grandchildren to show them the historical place that had been the subject of many bedtime stories for their grandchildren and great-grandchildren. The group visits both the fairly accessible Verteba and the more difficult Priest's Grotto, which only the grandchildren were able to descend into.
The re-enactments were filmed in Hungary using both inexperienced and established actors, giving these scenes a very realistic feel. Katalin Lábán's portrayal of matriarch Esther Stermer is well done, and the young men who effectively portray Esther's sons are memorable.
The challenging cinematography for No Place on Earth was handled by various cinematographers including César Charlone (Constant Gardner and City of God), Sean Kirby, who shot the return visit to the caves. Eduard Grau (Buried) and Peter Simonite (Tree of Life) filmed the re-enactments. Kirby also shot the very personal interviews with several of the survivors. Grau and Simonite successfully used a mix of practical light sources with just enough supplemental lighting to create a cinema vérité rather than documentary feel to the cave scenes.
Tobias brought on editors Claus Wehlisch and Alexander Berner (Eyes Wide Shut, Cloud Atlas) and Deidre Slevin (Snow Flower) to assemble the various elements of this film, resulting in a riveting and emotional story.
Fans of traditional documentary filmmaking might at first be slightly put off by the abundance of dramatic re-enactment in No Place on Earth, but the engaging storytelling ability of the film's subjects draw viewers into their amazing tale. Although there are plenty of Holocaust stories and movies, this film presents a little known and inspirational story of bravery and determination not to be missed.
Austin/Texas connections: Cinematographer Peter Simonite is based in Austin.