AFF Review: Spinning Plates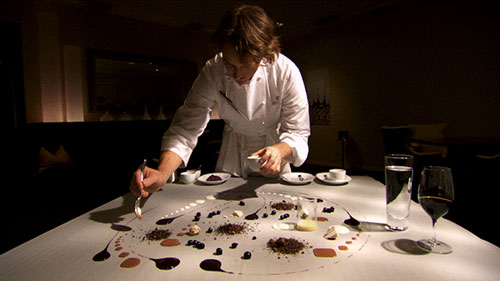 This year's Austin Film Festival Documentary Feature Audience Award co-recipient Spinning Plates features three restaurants that not only initially seem worlds apart -- molecular gastronomy at Alinea in Chicago, the historic Breitbach's Country Dining in Balltown, Iowa, and the Mexican restaurant Cocina de Gabby in Tucson -- but also beyond most viewers' personal experiences. That first impression is quickly dispelled as viewers find themselves immersed in the very personal stories within each subject's environs.
The highly rated restaurant Alinea in Chicago seems the most impersonal due to its progressive menu, artistic decor and high-priced multi-courses, yet is the most engaging through the story of chef Grant Atchatz. Chef Atchatz talks about his career in the same manner that one would expect an artist to express himself. In fact, many of his gastronomic creations are multi-dimensional masterpieces, inspired by both art and nature.
Despite Atchatz putting so much of his personality into the menu, he conveys the importance of the team within the kitchen at Alinea -- a critical point when he learns that he has Stage 4 cancer of the tongue and may not only lose his sense of taste, but very likely his life. Atchatz must overcome the odds to see his restaurant achieve the ultimate goal -- three stars in the Michelin food guide for Chicago -- as well as balance his life as a husband and father
Atchatz's health is not the only tragedy that Spinning Plates portrays -- the 150-year-old historic Breitbach's restaurant suffers not just one but two massive fires, destroying this local landmark. Breitbach's is not just an eatery, but a daily community gathering spot for the residents of Balltown. There are silver linings in this story, though, as one of the Breitbach girls meets her future husband on the carpentry team that helps the family rebuild their restaurant.
The third story told within Spinning Plates is of Cocina de Gabby, where a young Mexican couple struggle to survive and provide for their young daughter. They've literally given up everything for their restaurant that is sparsely frequented, with both parents and family members working nearly around the clock to cook and serve.
Common threads run throught the stories within Spinning Plates, including the ability to overcome personal tragedies, focus on family, and leave a legacy as well as create a community. The editing and cinematography is visually stunning and intimate, connecting the audience to the film's subjects. The score resonates within and engages viewers as well, and leaves the audience with a sense of hope for the future of these seemingly different restauranteurs.
Although I would not describe myself as a gourmet, I must admit that after watching Spinning Plates I was left with such an insatiable taste for these featured restaurants offerings that I hope to experience both Alinea and Breitbach's Country Dining one day. I highly recommend watching this film that provides an intimate insight into the passion and creativity behind these establishments -- while Alinea received the only three-star rating for Chicago in 2012, sadly the third subject Cocina de Gabby closed its doors not long after the film was completed.