See 'The Kings of Summer' at AFS Sneak Peek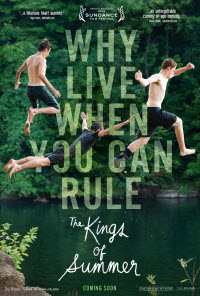 Slackerwood is giving you the chance to see The Kings of Summer next week, almost a month before it opens in Austin theaters ... and at no cost. This popular Sundance 2013 comedy will have a preview screening on Thursday, May 9, at 7:30 pm at Regal Arbor. Austin Film Society has offered us a limited number of spaces on a will-call list to give to Slackerwood readers -- each space is for two people (you and a guest).
If you're on the list, you and your guest will have "secured" space in the theater -- the theater isn't being overbooked, although specific seats aren't reserved for you. This means you won't have to stand in a long line wondering if you'll get in. However, I'd recommend getting there early anyway, in case there's a standby line for unfilled seats.
The Kings of Summer is a coming-of-age movie about three young men who run away from home and spend the summer building and living in their own house in a remote wooded area. The teens are played by Nick Robinson (no, not that one), Gabriel Basso and Moises Arias. The supporting cast includes Nick Offerman, Megan Mullally, Mary Lynn Rajskub and Alison Brie.
Former Austin film critic Chase Whale reviewed the movie for Twitch when he saw it at Sundance under the title Toy's House. He praised the script and called the movie "an unforgettable coming-of-age comedy that's sweet, witty, and brings back the joys of being young and full of life."
Here's what you have to do to get on the list for this screening: Use the Slackerwood contact form to send me a message with your name and email address. I'll add your name to the list, which I'll send to Austin Film Society, and they'll have it at the Arbor that night. Check in at the box office when you arrive. The deadline to send me your info is 10 pm on Friday, May 3 so I can forward all the names to AFS in time for the screening.
If you miss the screening, the movie opens in Austin on June 7.