Cine Las Americas 2013 Dispatch: A 'Snow White' Night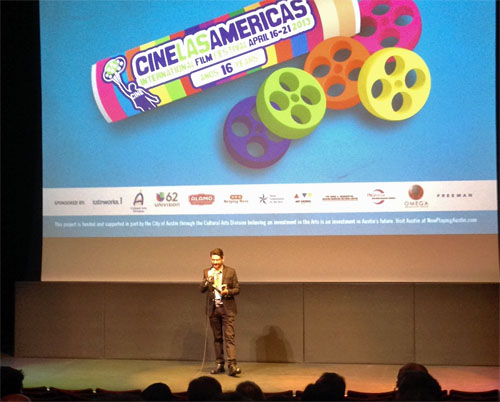 Tuesday night not only marked the opening night of the highly anticipated Cine Las Americas International Film Festival, but also the first festival that I get to attend as press. I arrived early, around 5:30, to get my badge and ticket to the opening-night film, Blancanieves.
In an effort to kill time, I met up with my friend Samantha Lopez for a drink and early dinner. Sam has screened films for CLAIFF for some time now, and filled me in on what to expect. The best part, she said, is not knowing what to expect, as each film was as different as the next. And with each of the films only screening once, one must choose wisely.
The screening kicked off with an encouraging speech from CLAIFF Executive Director Eugenio del Bosque Gómez, explaining what the team had planned and some small changes implemented this year. Film Program Director Jean Anne Lauer then joined him on stage to say how she knew that the movie we were about to see was their opening-night film immediately upon watching. I think this gave the audience and myself hope for what we were about to encounter.
Blancanieves is based on The Brothers Grimm fairy tale "Snow White and the Seven Dwarfs." Unlike the charming Disney version we have grown to love, this film put a very real look on an otherwise fantastic tale. Shot in black and white, the look was similar to that of an old Chaplin or Keaton film -- not to mention that it was a silent movie with English title cards.
The story follows Carmen, a young girl who never knew her mother. Upon the death of her grandmother, she is sent to live with her father (a former bullfighter) and evil stepmother. As is true in most fairy tales, the stepmother makes life miserable for Carmen, casting her out of the house when she is older. In her wandering she is discovered by a troupe of traveling dwarfs. The troupe takes her in and puts her in their bullfighting show, not knowing the legend she will ultimately become.
Although you might roll your eyes at the thought of a 90-minute silent, this film did anything but bore me. It is full of humor, heartache, and the hope and promise of love and acceptance. It was thrilling to hear the audience howl with laughter and even yell out when Carmen was in danger. It gives me hope that, at the end of the day, audiences still just want a movie with heart and, above all, a story.
I chatted with Jean Lauer at the opening-night reception after to ask her why she was drawn to this film. "It's a story that everyone can understand," she told me. "It takes a very real look at the traditional fairy tale, and doesn't turn out the way you expect. After all, not every story has a happy ending."
I also asked her what she hoped audiences would take away from the festival this year. Her response brought a smile to my face: "With this lineup, it doesn't matter what country you're from or what language you speak. Just come and see the films; there is something, a story, for everyone."