SXSW 2013 Guides: One Film Guide to Include Them All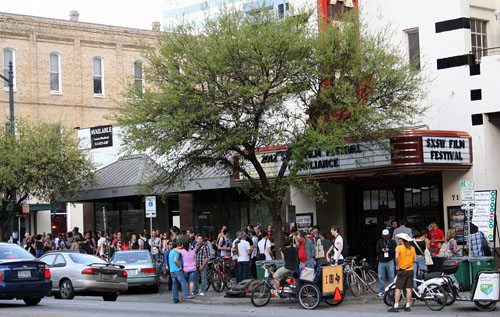 Here it is: The SXSW Film Fest Omnibus Survival Guide. Slackerwood has been publishing SXSW insider's guides for years, but this year I decided it was everyone else's turn. This guide is essentially a collection of all the guides and tips I could find that would help SXSW filmgoers. I also threw in our own guides from this year and when still relevant, previous years. It is truly One Guide to Rule Them All.
And if this isn't enough guidance, bring your questions to the SXSW Film Conference panel "A Beginner's Guide to SXSW Film" on Friday at 2 pm at ACC. Agnes Varnum, Yen Tan, David Modigliani, Kimberley Jones and I will attempt to answer them and if we can't, probably someone in the audience can.
Speaking of David Modigliani, let's kick things off with the "SXSW 2013: Do It Like a Local" video from Flow Nonfiction, where he's Creative Director. David's the guy on the left of local chef/restaurant owner Paul Qui. The advice is geared toward Music but there's a lot of universal tips in here (plus, it's fun).
What to bring/carry around
"My film-fest survival guide kit includes antacids, because film-fest food can do that to you; a bag of almonds or other nuts for the times I get pulled into some event at mealtimes; and a tin of tangerine Altoids, which are just sour enough to keep me awake if I unwillingly feel sleepy during a movie. I keep an extra jacket in my car in case the weather changes, and sometimes I stow an extra water bottle in there too." -- Jette, SXSW 2010 Guide: Film Festival Survival Tips (featuring Film Fest Geek Barbie, pictured at right)
"At the suggestion of some of my social media friends, I'm planning to bring a power strip to SXSW." -- Omar Gallaga, Digital Savant, Austin360.com
"If you've ever been to Austin, you know that the weather can be unpredictable so be sure and check weather listings before you leave. All that said, Austin is a really casual city. If you want to attend panels in your pajamas, we won't judge." -- SXSW 2013, First Timer's Guide
How to get around the fest (and where to park)
"The best thing Cap Metro is offering for SXSW is extended MetroRail hours." -- Jette, SXSW 2013 Guides: Tips for Locals With Wristbands or Tickets
"The City of Austin website has a parking map (PDF) that shows all the meters and public garages downtown, but it looks like it hasn't been updated since 2011, so take it with a grain of salt." -- Jette
"Keep in mind that some garages take cash only. You don't want to be in a hurry to get to a screening and have to search for an ATM." Larry Richman, SXSW Real Tips for Real People #4
"Catch a Chevy is back and will shuttle you around downtown at no cost if you have a SXSW badge or a Film wristband. Very nice." --Jette, SXSW 2013 Guides: Film Festival Theaters
Here's the 2013 SXSW Film Venues & Shuttles video with details about shuttle routes:
What and where to eat/drink
"Our favorite place for grabbing a bite on the run before downtown movies is the excellent Royal Blue Grocery, less than a block down Congress (toward 6th) from the Paramount. We would never admit to or encourage anyone to pick up some non-noisy, non-smelly salad from the deli section and sneak it into a Paramount or Stateside movie for a meal between movies (and if you do it, don't sneak it out of your bag until the theater is dark and the ushers are not nearby)." -- Jette, SXSW 2013 Guides: Film Festival Theaters (Paramount Theatre)
"Despite what everyone will tell you, you totally do NOT have to eat at Torchy's. No, it won't blow your mind. Punch everyone that tells you otherwise." -- Taco Journalism 2013 SXSW Taco Map
"SouthBites is basically going to be a food court for SXSW, I'm going to try to bring in the best trucks in the state, it's going to be a couple of blocks from the Convention Center." -- Paul Qui, SXSW 2013: Do It Like a Local (video)
"In the time it will take you to park near Franklin Barbecue, wait in the line with all the other SXSW visitors, and finally get your food, you could probably drive to Smitty's in Lockhart and back." -- Jette
Near Topfer Theatre/ZACH: "There are better options nearby for a quick bite between flicks at this new SXSW film venue. If you refuse to walk more than a block, you have Taco Cabana and Schlotzsky's, but we recommend taking the extra steps necessary to eat something your stomach will thank you for later." -- The Austin Chronicle's Guide to Locating and Destroying Food Targets at SXSW Film
"If there's a place you really want to dine at during SXSW, check to see if they make reservations and make one ASAP. As in, stop reading this guide and go make the reservation now, especially if you're planning brunch." -- Jenn Brown, SXSW 2012 Guides: Dining in Austin
"If you want a truly comprehensive guide to dining in Austin, the Austin Food Blogger Alliance has an amazing City Guide." -- Jette
Regarding bars: "Avoid Sixth Street unless you are there for a screening at the Ritz. If you do venture into the belly of the beast, stop by Easy Tiger Bake Shop & Beer Garden for house-cured meats and fresh baked pastries." -- Debbie Cerda, SXSW 2013 Guides: Drink Like an Austinite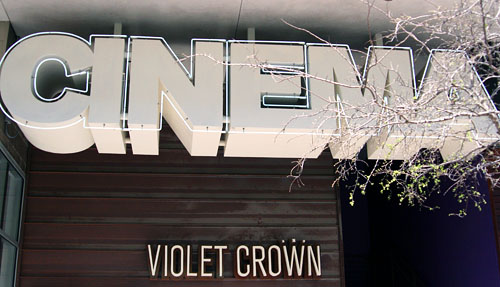 In the theater

"Keep in mind that someone mentioned on screen might actually be in the next seat." -- Larry Richman, SXSW 2013 Real Tips for Real People #3
"Don't stalk celebrities in the theater bathroom with a cameraphone." -- Jette, who can't believe she has to tell people this (after it happened a few years ago)
"SXSW isn't about hustling; it's about taking your time and being open to whatever moment you're in. Time in a line is time well-spent: That's how you get to know other festivalgoers and discover your next must-see movie. Stick around for the Q&As – they're usually a blast – and you might end up hearing about an unpublicized afterparty or some popup shenanigan." Austin Chronicle, Keep Calm and Party On
"You cannot bring outside food or drink into most film venues. So don't be surprised when you're stopped at the door and told to ditch those awesome ChiLantro kimchi fries. The Paramount is particularly strict about it, and will not let you carry in water bottles, even. I stick my Kleen Kanteen into my bag when entering a theater." -- Jenn Brown, Insider's Guide: Surviving SXSW 2012
How to prevent mid-fest collapse
"Try to get in a little exercise and a big protein-heavy breakfast every morning you can." -- Jette, channeling everyone's mom
"Best gyms? Are you serious?!? If you have time to work out you don't belong there." -- Larry Richman, SXSW 2013 Real Tips for Real People #1
"The biggest help for me the next day is drinking juice. So I go into JuiceBox, JuiceLand, Daily Juice -- I think it's a great way to energize yourself for the festival." -- Paul Qui, SXSW 2013: Do It Like a Local (video)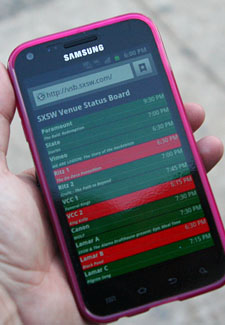 Handy websites/apps

"I live in Austin, so the only things I'll be packing are my iPhone pre-loaded with handy apps and a small purse with a charger cable and wet-naps." -- Michael Robin, SXSW Survival Guide: App Edition
"Somewhere prominent on your smartphone, bookmark the Venue Status Board URL (pictured at right). This shows you at a glance which screenings are full or about to be ... so you can stop sprinting from Rollins to Ritz if it's hopeless." -- Jette
General fest enjoyment/survival
"I can't stress it any more: I have never turned to someone standing next to me [in line] and asked, 'So what have you seen/liked/not liked so far?' and not gotten into an engaging conversation." -- Larry Richman, SXSW 2013 Real Tips for Real People #5
"Just say yes. Be open to wherever the SXSW winds take you; we've had our very best times at the impromptu get-togethers that spring up after a movie everyone's jazzed about. It's all a parade, so step in, son!" -- Austin Chronicle, Keep Calm and Party On
Final words
"Be nice, have fun, and remember the goal is to discover and support new film and music. Also, before you decide you want to move to Austin, visit again in August." -- Bee vs. Moth, SXSW 2012 Guides: Tips from the Experts
[Photo credit: All photos by J. Kernion, all rights reserved. Please ask if you want to use them yourself.]