SXSW 2013 Guides: Tips for Locals with Wristbands or Tickets
The SXSW Film Pass, a longtime favorite for Austinites wanting to see fest movies, is no more. Instead, the second-tier theater access pass is now the SXSW Film Festival Wristband, mirroring the music fest's access. I don't have a picture of the wristband yet, so enjoy the above photo of the now-obsolete pass that Austin frequent-filmgoer David Roland Strong is holding. Great pass number, you'll notice.
If you don't have one and want one, get them now before they run out (which they do) at Waterloo Records, Alamo Drafthouse Ritz, Alamo Drafthouse Slaughter and Alamo Drafthouse Village. You are actually buying a wristband voucher, which you then have to redeem for a physical wristband at a SXSW venue when the festival starts.
I'm faced with the problem of what to call people who are wearing the wristband, since I can't say "passholder" anymore. "Bandwearer"? "Wristband holder"? I favor "wristbandito" myself. I'll try some variations as we go along, you tell me which one you like.
So, wristbanditos, here are ways to get the most out of your $80 investment in a fetching SXSW Film Wristband. It's a great deal if you know the best opportunities for filmgoing. In addition, I've got tips for Austinites (and visitors) who want to buy individual tickets for just one or two SXSW films. And if you have a badge, keep reading, because I'm going to give you parking and transportation tips too.
If you're a local without a badge, your best bet is to see movies at the two SXSatellite theaters, Alamo Drafthouse Village (schedule) and the brand-new Alamo Slaughter (schedule), although movies aren't screening there on the final Friday and Saturday. The satellites are difficult for out-of-towners to reach, and not convenient to downtown. Also: free parking.
In case you aren't a seasoned SXSW Film vet, here's how theater seating works for each movie: Film, Gold and Platinum badgeholders with SXXpress tickets "jump the line" and go in first, followed by the rest of the badgeholders. After that, the film wristbandanners (that doesn't work, does it) are let in, if space allows. Finally, if there's still room, ticketholders can get into the screening. Tickets go on sale 15 minutes before the movie starts if seats are available -- keep reading to learn how you can buy tickets now to movies at the Paramount.
Free movies for everyone!
Yes, the SXSW Community Screenings offer free movies that anyone can see, first-come, first-served, at the Boyd Vance theater in the Carver Museum. The AFS Shortcase, which our contributor Debbie Cerda helps program, is one of the highlights. The Carver Museum is not quite downtown, but has plenty of parking.
Also, UT's Women in Cinema will host an unofficial SXSW panel, "SXSW Women in Cinema," on Wednesday, March 13 at 7:30 pm at the University of Texas: Communications Building B (CMB), Studio 4D. It's free and open to the public. The filmmaker panelists are Jillian Schlesinger (Maidentrip), Lauren Wolkstein (Social Butterfly), Julia Pott (The Event), Lola Bessis (Swim Little Fish Swim), Frances Bodomo (Boneshaker) and Celia Rowlson-Hall (The Audition, Si Nos Dejan).
Tickets available right now
Many SXSW films screening at the Paramount Theatre have tickets for sale online for $13 -- they'll refund your money if the theater fills up, but they're confident these screenings will have enough room for you. Ticketholders who buy in advance get seating access before those who buy tickets that day.
As of today, you can buy tickets to nearly all SXSW Paramount films, including Austin-connected films like The Bounceback, Rewind This!, Pit Stop, When Angels Sing, Prince Avalanche, Before Midnight, Mud, Getting Back to Abnormal, Milo ... and a lot of other movies too.
Film wristbanderinos (if you're not into that whole brevity thing) should take a look at that page of Paramount movies linked above, because those are screenings you have a really good chance of gaining admission to see. Any Paramount screening that's not on that list ... your odds are not as good, but apart from the opening-night film it may be worth a try. If the badge line is wrapped around three sides of the Paramount, that's when you start to worry.
Tips and tricks for film wristbands and tickets
I cribbed some of these tips from Slackerwood contributors Mike Saulters and Don Clinchy, who have SXSW on a film pass in recent years. You can read about Mike's good and bad experiences using the pass.
As I mentioned earlier, Alamo Village and Alamo Slaughter are your best bets. But you'll probably want to head downtown for a few movies.
If you're downtown, try the Paramount and Austin Convention Center (aka the Vimeo theater), the two largest SXSW Film venues. The Vimeo/ACC theater lines shorten considerably during the Music festival, and seats are almost always available then.
Further out from downtown, the Canon Screening Room at the Long Center (aka Rollins) is often a good bet as well (see all the empty seats in the above photo?). And the new Topfer theater has 400 seats -- I suspect this will be a good venue for you once Interactive ends.
Don't bother with Alamo Ritz and Violet Crown during the first half of the festival. You really don't have a chance. During the second half, you might have good luck in the mornings. Most movies screening here also screen somewhere else; check the schedule.
Get up early. The earlier in the day the movie is scheduled, the better your chances of getting in. Badgeholders may be hung over or tired from watching midnight movies, so you've got better odds before noon.
Which means you should avoid midnight movies. They're almost always sold out for badgeholders anyway.
Figure out which films have the biggest buzz ... and go see something else at another theater at the same time. Lots of people will be at the Paramount on opening night, so Rollins may be a great choice.
Get to the theater at least 30 minutes before the movie starts if you have a wristband -- longer if you're trying to buy a ticket, or if you're dying to get into a popular movie.
Aim for seeing movies from Wednesday through the second Saturday, after the Film and Interactive conferences end. Many out-of-towners will be gone, so the lines are shorter.
Always have an alternate choice, preferably at a bigger theater -- or find a party to duck into. Expect the unexpected and roll with it.
Avoid big-name titles, especially if the movie is only screening once during SXSW, and if it's screening at a smaller venue. Many of those movies will come back to Austin sooner or later. Instead, take a risk with a lesser-known film that you might not get another chance to watch. Try one of the short film collections -- I love shorts, and SXSW always has a great selection.
Movies shot in Austin or with Austin ties may fill up quickly. Sometimes cast and crew members and their families are invited and a number of seats are reserved. On the other hand, these movies draw more ticketholders than badgeholders, because the audience is full of locals wanting to see their cousin or coworker's movie. So if you get there early, you might be okay.
The SXSW Go app for your smartphone will supposedly give you a status update about whether an upcoming screening is sold out, or about to sell out, just like the boards at each theater do. I like to bookmark the SXSW Film Venue Status Board web page on my phone, so I can check it quickly.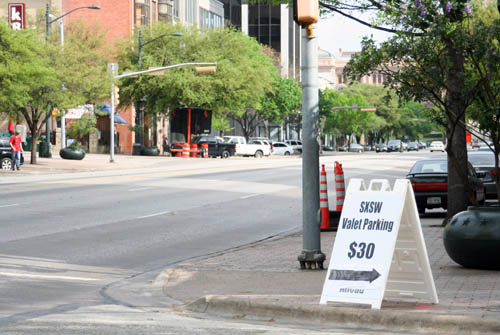 The parking situation for locals
I have no parking secrets to share, really. I'm not sure where I'm going to park this year. SXSW downtown parking sucks and it sucks more every year. The Interactive attendees are early risers so during the first part of the fest, you have to get downtown by 10 am for decent parking. Once Music starts, you have until about noon.
The only places you know you'll be able to park easily are the SXSatellite venues, Alamo Village and Alamo Slaughter, and actually parking in those theaters has grown tighter in the last year, so allow a little extra time. You can't park in the ZACH lots for Topfer -- you'll have to park on the street nearby if you're spending the day there.
In addition, city parking meter hours have been extended most nights and on Saturday, so free parking at SXSW is pretty much a thing of the past unless you're a really good walker. Accept it and budget accordingly.
The good news for badgeholders is that the SXSW Film Shuttle is running every day of the fest, so you can plan your day without worrying about how to park in two different locations.
And there's good news for wristbandees (I kind of like this one). The Catch a Chevy program is available to you this year as well as to badgeholders. This is a great thing. You can hail one of the cars at 4th and Trinity, or flag one down at a venue, and they will take you to any non-satellite theater or really, anywhere downtown.
I have two methods of convenient parking that I used to call fail-safe, but who knows anymore:
Get there before 9 am. I don't like it either (I aim for 10:30 or 11 am myself). But if you do it on Sunday you can probably park for free at a metered spot. And if you're a badgeholder you get first pick of the SXXpress tickets at ACC. Even if you can't get downtown at that hour, remember that the earlier you get there, the better your parking chances. Also, on the first Saturday and Sunday, if you're early you can probably park in the free-on-weekends lot across from the Long Center. Speaking of which ...
Park at the Long Center. It costs money (fees change depending on the events that day, but are usually reasonable), but if you're a badgeholder you can take the shuttle back there when you're done for the day. And even if you have to walk (it's about a mile from Paramount), you can get out and get home pretty easily, avoiding downtown gridlock. However, I recommend not doing this on the Thursday/Friday/Saturday of Music because concerts on Auditorium Shores bring a lot of traffic over there (Thurs/Fri might be ok if you're leaving by 5, though).
Alternate transportation options
If you don't want to deal with parking downtown, try Capital Metro. The best thing Cap Metro is offering for SXSW is extended MetroRail hours. MetroRail fares are $2.75 each way, which is cheaper than parking downtown during the fest, and the downtown stop is right in front of ACC. This is a good option for Saturdays and the second Friday -- it doesn't run on Sundays, and on weekdays not past 7 pm-ish. Check the times carefully (regular schedule) and get in line early at ACC for your return trip, as the trains can get pretty crowded. I took the train last year on the second Saturday of the fest -- parking at Highland Mall, getting downtown in the morning and leaving in early afternoon -- and it was a very pleasant experience, and cheaper/easier than parking downtown that day. (Don't try to park at Crestview Station, they get cranky.)
The worst thing CapMetro is doing for SXSW is moving the bus routes off Congress downtown over to Guadalupe and Lavaca, where they're rather less convenient. Still, the bus isn't a bad option and perhaps the buses will be less crowded/delaye this way. If your home isn't bus-convenient, you could park a little further away from the downtown venues and take a bus to the theaters. Cap Metro has Night Owl buses that run after midnight, too (but not on Sunday nights).
If you live in north Austin, this bus option gives you free, covered, non-towed parking: Park in a (free) park-and-ride space in the Triangle garages, then take the #101 or the #1 to the Lavaca/Guadalupe stops (8th for the Paramount, 4th for ACC). You won't have to walk a mile to your car, and it's safe at night. Caveat: It's easy to get downtown this way, but at night the buses are overcrowded and delayed, and some are so full they won't stop. Plan accordingly.
And there's always the good old bicycle. If you have a SXSW badge, you might try the new SXcycle bike-share program this year (and let me know how it works). I haven't tried cycling around SXSW or even downtown, so if anyone has any advice about this option, let me know.
Please share your own tips and tricks for bandwristas (I think I'm sticking with "wristbanders" from now on), ticket buyers and Austinites generally in the comments. I'll update this article whenever I receive any new information or tips.
[Photo credit: All photos by J. Kernion, all rights reserved. Please ask if you want to use any of these photos.]