SXSW 2013 Guides: Film Festival Theaters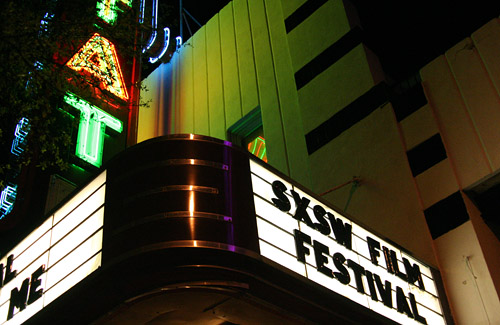 You'd think that by now, we would have said everything there is to say about the theaters where movies will screen during SXSW this year. But some of the theaters have changed, a new venue has been added ... and Alamo Drafthouse on South Lamar is not a venue this year, since it's being remodeled. This is a big disappointment, especially for locals (the first movie I saw there was my first SXSW film, in 2005), but SXSW has devised some clever ways to make up for the loss.
This venue guide will be updated before and during the fest as we get more useful information to add to it, especially relating to the newer venues. Don't hesitate to contact me with tips.
Here are some of the SXSW venue changes for 2013:
SXSW is using Violet Crown again, but pairing the theaters for screenings. This means twice as many people can get into a screening as last year, and the combined venues have more capacity than the small theater at Alamo Drafthouse Ritz.
Speaking of which, the two Ritz theaters are also paired for some screenings early in the fest, allowing for more capacity during the busiest time.
The new venue for 2013 is the brand-new Topfer Theatre at ZACH (pictured at right). I don't know much about it yet, but I'll update the venue listing as we get acquainted. It's a large theater, and I'm guessing it'll be a good venue for Austin moviegoers with film wristbands.
The satellite venues are the same as 2012: Alamo Village and Alamo Slaughter. I regret SXSW is not screening films at these venues on the last two days of the fest, because Village was my favorite place to see movies and not have to deal with Music crowds. Topfer might be a good bet on those days.
SXSW Community Screenings, which are free and open to the public, will all take place at Carver Museum, a very nice theater that is a couple of miles away from the center of the fest, although easier to get to than the satellite venues.
The Film Festival Shuttle for Film badgeholders will run all days of SXSW Film. The stops are 7th and Congress (near the Paramount), ACC (on Trinity between 2nd and 3rd), Congress and 2nd (near Violet Crown), Rollins at the Long Center, and the Topfer at ZACH. SXSW has a Shuttle Tracker page that will track the shuttles in real-time during the fest.
SXSW Senior Programmer and Operations Manager Jarod Neece (who was very helpful with this guide) tells me that "there will be seven shuttles running full-time Friday, March 8 - Saturday, March 16 to get people [to Topfer] and to the Rollins from downtown." The shuttles do not travel to the SXSatellite venues.
And finally Catch a Chevy is back and will shuttle you around downtown at no cost if you have a SXSW badge or a Film wristband. Very nice.
Here are some mileage estimates for those of you who prefer walking instead of shuttling between venues:
It's about .75 mile from Rollins Theatre at the Long Center to the Topfer Theatre at ZACH if you take Riverside Drive, which might be a pretty walk, too.
Topfer to Violet Crown is .9 mile and you get to take the Lady Bird Trail over the lake. Rollins to Violet Crown is a half-mile.
Rollins to the Paramount is 1 mile. I've done this walk. In fact, I've done it at a run to get from one screening to another when I couldn't wait for the shuttle.
Topfer to ACC is about 1.4 miles. Yeah, I'd shuttle for that one unless I needed some exercise. And it's .9 mile from Rollins to ACC.
[Photo credit: "SXSW marquee at Stateside" by J. Kernion, all rights reserved. "Zach" by Stephen McElroy. Found on Flickr, used with permission, all rights reserved.]
Venue Type: Theater
Venue Type: Museum