Insider's Guide: Surviving SXSW 2012
Welcome to the third annual edition of the Slackerwood SXSW Survival Guide. This time we've taken more of a mix-tape approach to our tips. You could always make a playlist of the bolded tips and listen to them as you work on your schedule.
Here are some of our tried-and-true tips for making the most of SXSW Film Festival as well as Austin. Keep an eye out for our Dining Guide, and some tips from the filmmaker community, in the next week.
In These Shoes?
You may be tempted to dress to impress, but those smokin' new shoes could leave you with major blisters, not to mention very sore feet. Go for comfort, not speed, unless you happen to score a pair of shiny gold hightops that do both (I'm looking at you, Carla Jackson, when you rocked a sassy full-length gown and "Super Woman Sneaks" at AFF 2011 for A Swingin' Trio's premiere).
Everybody's Free (To Wear Sunscreen).
Austin in March averages 50-70 degree F temps, but they can dip into the 30s and soar into the 90s. Those shorts may result in freeze burn after a particularly long screening. Keep an eye on the weather but remember it can change very quickly, so plan on layers. And do not forget that sunscreen, regardless of cloud cover.
Traveling Light.
I don't mean your luggage limit on the plane, but your daily festival burden. A backpack or totebag can help you get through each SXSW day, but remember you may have that with you all day, especially if you aren't staying at a downtown hotel or have a conveniently parked car nearby. Trial sizes are your friends.
Slackerwood contributor Rod Paddock adds this advice: "If you plan on carrying a laptop to SXSW, don't! That extra 7-10 lbs will kill your back and you probably won't use it. I recommend using an iPad (or other tablet device). I use Pages on my iPad to do my writing. You would be surprised how useful they are when you try."
Steady On.
This not only applies to SXSW events, but to food and drink as well. Pace yourself. It's easy for even veteran festivalgoers to overdo it at SXSW with three conferences and all the official and unofficial goings-on. You want to be able to take advantage of the unexpected, and that's particularly hard to do when you're zombified. Not all venues are within comfortable walking distance (walking from ACC to Alamo Drafthouse on Lamar will likely exhaust you even if you are used to walking a lot). And stay hydrated.
Plop, Plop, Fizz, Fizz.
You might catch the dreaded "festival flu" but then again, your ailment might be allergies, especially if there's skin or eye itching. Before shelling out big bucks for nasal decongestants, check out some basic allergy relief at WebMD.com and know two really simple ways to reduce symptoms are to shower and wash your hair before bed (avoiding transfer of pollens), and try the proper(!!) use of nasal irrigation (even saline nasal spray can help). Various trees, grasses and molds are currently showing up in the allergy forecast so if you already know you're susceptible, stock up on your antihistamines.
Bus Stop.
Austin buses can be a handy and cheap way to get around town. Capital Metro has recently installed signs with QR codes at nearly all stops, although I noticed the sign doesn't have one at the southbound stop near Violet Crown (VCC) heading toward Alamo Lamar (It's Stop ID 5146). The signs include a Stop ID and simple URL you can use with a web-enabled phone to look up schedules and other info. QR codes are used a lot at SXSW, so get an app for it on your phone ASAP; you can also pick up bus schedules at the Capital Metro office on 4th and Congress, or view them online.
Note that the #3 southbound to Alamo Lamar and VCC will now pick you up on Congress (more convenient), and the #3 northbound is back on Brazos (more convenient to ACC and Ritz). Why should you care? The SXSW Film Fest Flyer is great, but 1) it's for badgeholders only, 2) even with the continual running the shuttles may not be the fastest option, and 3) downtown traffic and parking can be insane, and that's before SXSW Music starts (and I say that as a former Bostonian).
Slackerwood editor Jette Kernion notes, "Capital Metro says the MetroRail buses will run for later hours and weekends during SXSW, but they haven't posted a schedule yet. One of the rail stops is right in front of ACC, so follow the Cap Metro Twitter feed to keep informed."
Slackerwood contributor Chris Holland adds a tip for SXSW newbies, "These days SXSW is spread out all over the city, so spend some time getting to know Austin with a map (online or otherwise) to understand the venues and relative distances involved. It's possible to get a great festival experience without ever getting into a car, but it requires knowledge of which venues are within easy reach."
It's Gonna Be A Long Night.
Expecting to go home only after closing time? If you haven't reserved a cab, there are Night Owls, but there's a hitch: Cap Metro schedules are limited and routes end much earlier on weekends, and most stop early on Sunday night. The Night Owls don't run Monday "morning," which means if you're planning to take one home after an 11:59 pm on Sunday screening at the Ritz, you're SOL.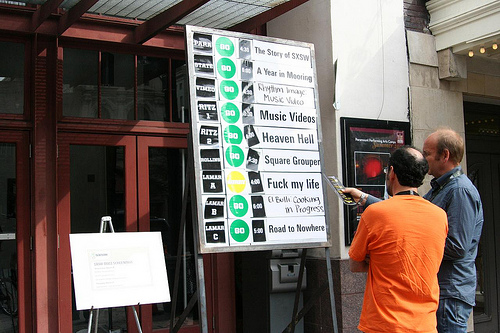 Why Can't We Be Friends?
Don't forget half the fun of a festival is meeting new people, so take advantage of the opportunity; you never know when strangers today end up being lifelong friends or future collaborators. Even if they just turn you on to a must-see movie or dive bar, it's still a great opportunity. SXSW started using "queue cards" to combat line leeching (where friends join friends in line, ahead of other people who get shut out of a screening they would have otherwise seen). Holding seats for your friends with higher numbered queue cards is off-limits, so don't surprised if the theater managers get stern with you for claiming people are already seated in the six empty seats next to you.
Hold On Loosely (But Don't Let Go).
You planned your schedule, but couldn't get into a screening? Don't fret, some of the best moments of SXSW are unplanned. Every SXSW bar none, I always end up loving a film I saw by sheer serendipity. That being said, it does help to have at least a rough schedule planned or it can be overwhelming.
Slackerwood contributor Debbie Cerda adds, "Structure is key. Now is the time to get online to check out all the films, panels, and events -- don't wait to pick up a schedule or the SXSW Film 'Big Book.' You can build your schedule online, and include backup plans, preferably within walking distance."
Miss Otis Regrets.
If there are a few absolutely-positively "you'll die if you don't see it" screenings, pick up SXXpress passes -- if you have a badge. But remember there are limited numbers of those passes and you have to get to ACC early in the morning to get them. The rule of thumb is the earlier in the fest, the later in the day, the smaller the venue and the bigger the buzz, the earlier you should get there, although SXSW instituted "Venue Status Boards" to help. Extra "buzz screening" slots may be announced during the fest, many films screen three or even four times, and the lines often shorten in the second half of the fest.
Splish Splash.
Cleanliness is Next to Godliness: in other words, smelling like metabolized booze and wearing the same shirt for three days is not. Seriously, don't be That Person, it's cruel to those stuck sitting next to you in a theater. And don't try to cover up odors by dousing yourself with perfume or cologne, it doesn't work and it'll make people gag just as much.
Der Kommissar.
You cannot bring outside food or drink into most film venues, ACC being the notable exception. So don't be surprised when you're stopped at the door and told to ditch those awesome ChiLantro kimchi fries. The Paramount is particularly strict about it, and will not let you carry in water bottles, even. I stick my Kleen Kanteen into my bag when entering a theater. I do not recommend stuffing ChiLantro kimchi fries in your backpack, though (it's not only distractingly pungent to others in an enclosed dark space, it'll make a mess in your bag, eww).
Jette adds, "Oh, dear God, Jenn, you had to mention the kimchi fries. Now the lines will be longer and everyone will want them. Regarding water bottles: I have a flask-sized bottle that actually fits in pants or jacket pockets -- your bottle doesn't have to be big, but you'll be sorry not to have one at the fest."
Don't Bogart That.
Smoking is not only banned in most public places, that ban has extended to all city parks. That's not even getting into our extended drought, which has only recently been downgraded to merely severe (yes, you read that right). So don't be surprised if lighting up or tossing a butt earns you glares and harsh words (or fines).
Safety Dance.
Considering the thousands of people crowding Austin during SXSW, it's a very safe fest. The worst I've experienced is social crimes (I mean you, Mr. Stinky No Sense of Personal Space Big Mouth), and the occasional fender-bender. But the one thing I hear about every single year is some band or filmmaker losing everything because they left all their gear in their car or van. Stow your stuff so it isn't wearing a cosmic "kick me" sign. And not to sound like your mother, but look both ways before crossing a street; those pedicab drivers are surprisingly fast.
Big Spender.
I wasn't going to mention tips this year, but the viral 1% tip pic makes it noteworthy. Etiquette says 16-20% (double the tax for the minimum tip), and keep in mind the waitstaff are probably keeping the same hours as you -- only working the entire time, so be nice.
Jette notes, "Speaking of spending, if you're bringing a car to SXSW downtown venues, you need to budget for paid parking. The days of free parking meters are largely over (except on Sundays and a few weeknights). It's going to cost $7-10 a day depending how lucky or wily you are. Again, getting downtown early is the best way to keep these costs down and find decent parking."
Follow Me.
If you're not already on Twitter, make an account. Why? Instant news on sold-out movies, surprise guests, parties, schedule changes, last-minute added screenings, and catching up with friends, just to name a few. But while you're doing that, know that wireless connectivity gets taxed during SXSW, particularly during the first day of badge pickup.
Rod adds this tip: "Get a Verizon Mi-Fi card. The wireless at SXSW can be wonky and overloaded. I have used my mi-fi device at events like San Diego Comic-Con and SXSW for years and I can tell you that this thing is a lifesaver."
Get the Party Started.
There are so many great things to do at SXSW that are official events, but there are nearly as many unofficial ones. Look for "SXSW Free" and "SXSW Unofficial" events on your preferred social media tools (there are simply too many to list here, and everyone has different interests). Web searches and social media are your friends. As are your friends, whether they're the ones you came to the fest with, or the ones you meet in line.
Looking for more tips? Check out our 2010 and 2009 editions, as well as SXSW Newbie Tips from Experts tips and other SXSW guides we're publishing next week on Slackerwood. And finally, check out this fun video from Flow Nonfiction with tips on how to "Do it Like a Local" at SXSW.
[Photo credit: "Super Woman Sneaks" by Carla Jackson, used with her permission. "Venue Status Board" and "A Trio of Pedicabs" by Jette Kernion, used under Creative Commons license.]