SXSW 2013 Guides: Drink Like an Austinite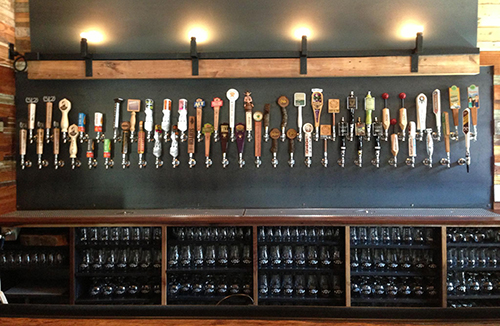 Quite a bit has changed over the last year in the Austin drinking scene -- thankfully more changes for the good than the bad. Sadly, the downtown Lovejoy's Taproom and Brewery closed and the Austin Ginger Man has transitioned to a more corporate model, but plenty of new watering holes are around to satisfy patrons, especially in the growing Rainey Street bar district. One of those is Craft Pride, a craft beer bar serving only Texas beer with regularly rotating selection on 54 taps and two cask engines, as seen above. The bar is introducing the "Texas-sized pints," with most beers served in 20-ounce pint glasses to allow appropriate head for proper presentation -- a novel concept created by owners J.T. and Brandi Egli, who are also local homebrewers. Step out back into the ample beer garden for tasty grub from the Bacon Truck.
In addition to the newest Austin breweries Rogness Brewing Company and South Austin Brewing Company, on the more diverse tap walls across town you can find Texas craft beer Deep Ellum Brewing Company and Lakewood Brewing out of Dallas and Guadalupe Brewing Company from New Braunfels. From hoppy ales with citrus and floral characteristics to barrel-aged milk stouts, these breweries are delivering beers worth trying.
Several well respected breweries from other states have taken notice of the explosive growth in Texas and have moved into the Texas market. Firestone Walker Brewing Company and Lagunitas Brewing are the latest and greatest to offer their award-winning beers here. Be sure to try the Fusion Series beer made exclusively for SXSW 2013, a hoppy ale created by local homebrewers Keith Bradley of the Austin Zealots and Bob Kapusinski of the Texas Carboys that they brewed with Lagunitas head brewer Jeremy Marshall.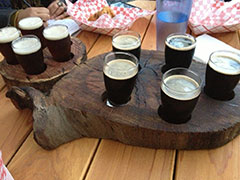 You don't have to commit to an entire pint of beer if you are unsure whether you'll like a new style, as many craft beer bars offer half-pints as well as taster flights, as pictured on the left.
If you want to take some beer home with you, you can find some great local bottles with larger retailers Spec's Liquor, Twin Liquors and Whole Foods -- even some HEB stores stock craft beer selections. My favorite, worth the trip into north central Austin, is Sunrise Mini-Mart on West Anderson Lane (not too far from Alamo Drafthouse Village), an unassuming Citgo gas station that features a diverse and reasonably priced selection of local, national and international craft beer. Say hello to savvy beer manager Sam, who's always eager to give a recommendation for the latest craft beer.
While in north Austin, you can also stop at Black Star Co-op for locally sourced food and a fine selection of craft beer. If you don't want to drive, just hop on MetroRail at ACC and get off at Crestview Station.
The Whip In, on the southbound feeder road of I-35 at Oltorf, has always been known for a diverse bottle selection to go. Their in-house draft beer is now brewing as Namaste Brewing. Pick up a "gayatricgrowler" full of the brewer's very special release, small-batch organic ales.
Not in the mood for beer? Plenty of places offer specialty cocktails and wine downtown, almost too numerous to mention -- check out What Are You Drinking? founder and writer Matt McGinnis' wine bar recommendations in his Austin City Guide: Your Guide to Great Wine Bars.
Near the Austin Convention Center (ACC), be sure to explore the newer districts of Rainey Street as well as the half-mile corridor of East Sixth. You'll find diverse crowds, strong drinks and hoppy ales at Shrangri-La (1016 East 5th Street), Gypsy Lounge (1504 E. 6th), and The White Horse (500 Comal) ... just to name a few. Feel free to share your discoveries in the comments below.
The following locations should appeal to many palates whether it is for beer, margaritas or specialty cocktails. Be sure to stop in to 400 Rabbits while at the Alamo Drafthouse Slaughter for a screening where you can enjoy tequila-centric cocktails. Peche at 208 West 4th Street is Austin's first absinthe bar (pictured at right) -- indulge at your own risk! -- where pre-Prohibition style cocktails are created by expert mixologists.
Downtown/north of the river (near Paramount/Stateside and ACC)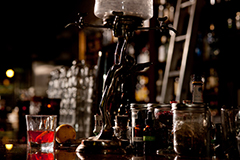 Barton Springs Road (near Rollins Studio Theatre at Long Center and Topfer Theatre at ZACH)

South Lamar (near Topfer Theatre at ZACH)

Need a pick-me-up after all that drinking? You can find plenty of places to get coffee downtown, starting with Alamo Drafthouse Ritz, which offers French press coffee on their menu (and no drip coffee, bear in mind). Here are a few favorites: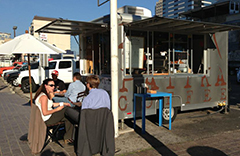 Near Paramount Theatre
By Austin Convention Center

Easy Tiger Bake Shop & Beer Garden (709 E. Sixth Street) -- Opens at 7 am, features micro-roast and fresh-baked pretzels, breads and pastries in the bakery upstairs.
Progress Coffee House (500 San Marcos Street) -- An easy walk from ACC, just east of I-35. Note that this coffeehouse is closed in the evenings.
Here are a few final pointers to make your SXSW drinking experience a painless and memorable experience:
Take some time away from parties and free beer for some well crafted beers and cocktails.
Avoid Sixth Street unless you are there for a screening at the Ritz. If you do venture into the belly of the beast, stop by Easy Tiger Bake Shop & Beer Garden for house-cured meats and fresh baked pastries.
Moderation is the best cure for a hangover. As with any film festival and the socializing that accompanies it -- it's a marathon, not a sprint!
Please be courteous and respectful to owners and staff at our local establishments and they'll welcome you with open arms and taps. Refrain from "tagging" walls and furniture with your company's stickers -- that might be a historic building that you're defacing (based on an actual incident).
Any recommendations from our fellow Austinites or seasoned fest visitors? Leave a comment and we'll add it to the guide. Be sure to read my Film on Tap: A Drink Before SXSW to find out about alcohol-related content at SXSW 2013. You can also find a lot of great local information in the Austin Food Blogger Alliance 2013 City Guide section on "Drinking From Morning to Night."
[Photo Credits: "Craft Pride Tap Wall" and "Live Oak Flight" courtesy of Craft Pride, "Absinthe Bar" courtesy of Peche, "Patika Coffee" courtesy of Patika Coffee]