SXSW 2012 Guides: Dining in Austin
Who knows the Austin food scene better than Austinites? Hungry festgoing Austinites (and a few honorary locals). For SXSW 2012, Austin has been through some restaurant changes -- closures, moves, new venues. and more alternatives to brick-and-mortar restaurants. This guide will help you find your way. We'll start with some general tips, then venue-specific recommendations, followed by some other recommendations by Slackerwood contributors and filmmakers.
Four Star Dining, Two Step Dress. The best part about Austin is few restaurants employ a strict dress code. Which means it's okay to show up at Barley Swine in your jeans. Some upscale restaurants like Uchiko do have a "smart casual" dress code, so don't show up in shorts and flip flops, mmk?
Top Chef. Speaking of Uchiko, yes, Paul Qui is an Austinite (and from all accounts as nice as he is talented). No, you are not likely to be able to use your connections to get a seat at Uchiko. Few reservation slots are available for Uchiko (and fewer for Uchi) during SXSW on OpenTable. But don't forget, Qui also co-owns East Side King food trailers, which has three locations along 6th Street.
No Reservations. If there's a place you really want to dine at during SXSW, check to see if they make reservations and make one ASAP. As in, stop reading this guide and go make the reservation now, especially if you're planning brunch.
Trailer Parks, Extra Trashy (and not so much). You'd have to be roadkill to not be aware of the food trailer phenomenon. Some of Austin's best cuisine is produced in a trailer. Just keep in mind that trailers by nature are not permanent, so if you have favorites, check to see their currently location (most are active on Twitter). Not all trailers take credit cards, so have some cash handy. Check out Austin Food Carts and Food Trailers Austin for all types of trailers and carts, and Taco Journalism for Mexican and other Central/South American street food.
Slackerwood contributors have some favorite food trailers not far from SXSW Film venues:
Jette Kernion: Holy Cacao on South First. The cake balls are tasty but what you want here is the hot chocolate, which may be the best in Austin. And on a warm day, the frozen hot chocolate. It's incredible. Get someone to drive you here if you are a hot (or cold) chocolate lover, it's well worth it.
Debbie Cerda: Patika Coffee (2nd and Congress) has excellent coffee and espressos paired with tasty pastries, and Italian sodas for non-java nuts. Also Naan Stop has fabulous samosas and chicken curry.
J.C. De Leon: ChiLantro BBQ -- Don't be dissuaded by the inevitably huge line at their 2nd and Congress location. The line moves quickly and it will totally be worth your time. [Jette also seconds this suggestions and recommends the kimchi fries.]
Jenn Brown: According to Austin360, the Squarespace Food Truck is back again at 5th & Neches during SXSW; check out the lineup (and be prepared for lines). Look for more trailer selections below associated with specific venues.
Health Consciousness. Two storefronts in downtown Austin specialize in healthful prepared foods: Snap Kitchen and Mel's Meals. These are great if you've got access to a kitchen but no time to cook. And the Snap Pod trailer is often down on Congress (although check to confirm its current location). More healthy-eating tips:
Many restaurants have vegetarian and vegan-friendly options; check VegAustin for specifics.
More and more restaurants have clearly defined gluten-free offerings, and Alamo Drafthouse menus include gluten-free and vegetarian options on their menus. Chris Holland has gluten-free suggestions for several venues below.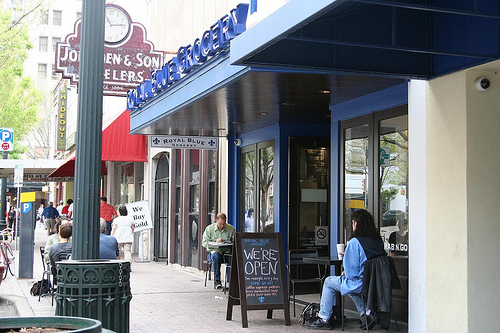 Go Grocery. Three Royal Blue Grocery locations are in downtown Austin: a block away from the Paramount and Stateside (pictured above), on the way to Violet Crown, and on Cesar Chavez. They're open early and late, and also sell breakfast and lunch items, cold drinks and a variety of protein bars. Other grocery options:
Chris Holland: If you've never made the pilgrimage to the flagship Whole Foods store on Sixth Street and Lamar, it's a must. Gluten-free options are available in the eye-popping food court, and of course there's a whole aisle of GF snacks (look for the "special diets" aisle). Worth the trek.
Jenn Brown: You can also pick up ready-to-heat/eat items at Central Market and Whole Foods, both of which also have outstanding in-store counters to appeal to just about any appetite. A less expensive alternative is HEB (several locations), especially if you're planning to pack a lunch (just do not pronounce the store name like the slur the acronym resembles).
Theater Food. Austin is blessed with Alamo Drafthouse and Violet Crown Cinema, which offer much more than the usual cinema fare; and lucky for you, VCC and four Alamos are SXSW venues. Alamo offers tableside service in the theater -- if you haven't experienced the Alamo, the waitstaff will gladly explain it to you (as will most of the folks nearby).
Ch-Ch-Changes. Hickory Street closed but has just re-opened with a very different menu. Little City has closed (I don't think Jette has yet recovered). Kerbey Lane on South Lamar moved down the street to just past Manchaca (you'll love the bigger parking lot). The food "trailer park" at Lamar Square near Alamo South Lamar closed due to construction (Gourdoughs moved and Odd Duck is closed indefinitely). There are more Torchy's Tacos locations. And that Dublin Dr Pepper we always rave about is all but gone ... those precious little bottles are now collector's items.
Taking it to the Streets. If you're willing and able to get away from theaters, I highly recommend cruising for places south of Lady Bird Lake, particularly South Congress, South First, South Lamar, and Barton Creek, where you don't have to deal with too many of the downtown road closures during the Music festival. No matter where you wander, don't judge a place by the look; good local flavor can be found in both shiny new places and divey joints. A few recommendations: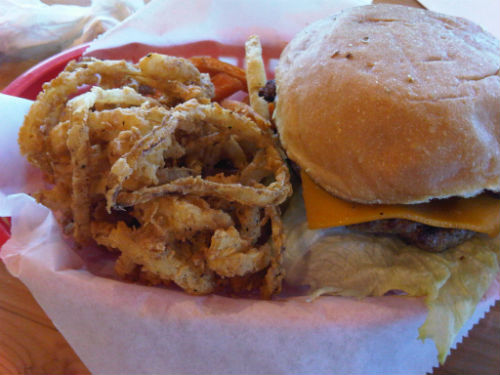 Odds and Sods. If you stop someplace that offers Rockstar Bagels, try them, even if you're from NYC or Boston (this former Bostonian is still a bagel snob). You can also get good breakfast tacos from Tacodeli and Torchy's Tacos at various coffeeshops, as well as their own locations.
Dining Near a Theater
Now onto the specific SXSW Film venues and recommendations nearby. Be aware that unless otherwise noted, outside food and drink are not permitted in venues. ACC, Ritz, Paramount and State are all within easy walking distance of one another. VCC is not far away from Paramount and State (and lounge venue The Hideout). The other venues will require a shuttle, car or a bus trip from downtown.
Austin Convention Center, aka ACC, aka Vimeo Theater (201 Trinity St) -- Various concession stands within the convention center offer soft drinks, salads, sandwiches and sundry. You can bring in your own food and drink into the Vimeo theater.
Alamo Drafthouse on South Lamar (1120 South Lamar Boulevard) -- Pub-style menu with tableside service in theaters including beer and wine.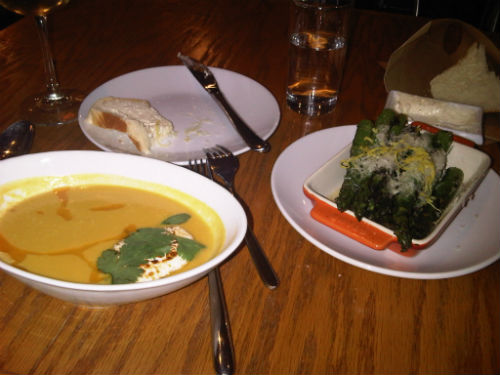 Alamo Drafthouse Ritz (320 E. 6th Street) -- Pub-style menu with tableside service in theaters including beer, wine and cocktails.
Canon Screening Room at the Long Center, aka Rollins Theatre (701 West Riverside Drive) -- Concessions at the miniscule bar (when it is open) include a limited selection of soft drinks, cocktails, beer and wine, and pricey nuts and goldfish.
Paramount and Stateside (713 and 719 Congress Ave) -- Concessions include popcorn and candy, soft drinks, beer and wine. Inside sources tell me that they expect to have sandwiches and pizza slices to sell during SXSW.
Jette Kernion: At Athenian Grill you can get a giant plate of Greek food that will last you all day. I'm told Ruth's Chris Steak House is not crowded on the weekend when everyone's flooding the cheaper places. The bar at Roaring Fork if you're in a hurry and damn, what am I going to do with no Little City this year?
Jordan Gass-Poore': The Hideout and Royal Blue Grocery. I know during festivals I like to go in these places to grab a quick, affordable meal/snack [Note: Hideout is also a SXSW lounge location]
Jenn Brown: I second Roaring Fork (try the carnitas), Royal Blue (quick breakfast tacos, drinks) and Hideout, which has a killer espresso rocket shake. The shake will satisfy milkshake and chocolate cravings, cool you down and perk you up all at the same time.
Carolee Mitchell (Rewind This!): Wholly Cow has locally sourced, grass-fed beef and the grilled buns are delicious. Hope to see them expand their soda selection as well for some interesting choices.
Jarod Neece (SXSW): The new Wholly Cow place next to The Hideout is great!
Mike Saulters: Cozzoli's Pizza, Thai Passion, Murphy's Deli, Manuel's
Chris Holland: Frank - Austin's hipster hot-dog haunt, with special amenities for gluten-free folks like GF hot dog buns and RedBridge GF beer.
Violet Crown Cinema (434 W 2nd St) -- Concessions include standard cinema fare as well as a full bar and cafe menu that can be brought into the theaters.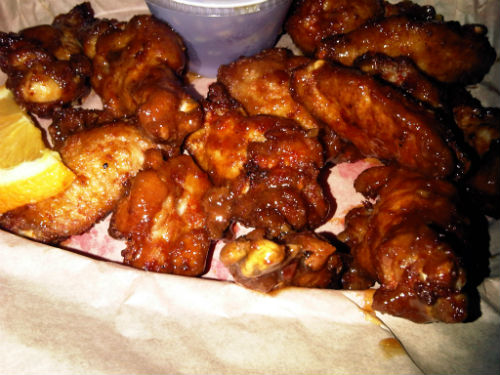 SXsatellite Venues: Alamo Drafthouse Slaughter Lane (5701 W. Slaughter Lane) -- Pub-style menu with tableside service in theaters including beer and wine. This newest Alamo location has a soft opening during SXSW, so be especially gentle on the waitstaff, not all of whom are Alamo veterans.
Jenn Brown: Slaughter has a few local and other chains, but I have fond memories of the ambience and food at Cypress Grill when I worked in the area.
Jette Kernion: Cypress Grill does some pretty good Cajun-ish food. There's also a Mandola's in the same general area. A Coffee Bean and Tea Leaf has just opened next to Alamo if you want coffee/pastries before and maybe after the movie, depending on how late they're open.
SXsatellite Venues: Alamo Drafthouse Village (2700 W Anderson Ln) -- Pub-style menu with tableside service in theaters including beer and wine.
Jenn Brown: I have a fondness for Alamo pizza but always have a tough time deciding between the Porky's and the Wild at Artichoke Hearts. And I love the bat wings (now known as wings with plum ginger soy sauce), with a Blue Moon beer.
Jette Kernion: Aha, my hood at last! Madam Mam is in the same strip mall, with great Thai food. Cover 3 is a sports bar in the same mall with loud TVs but tasty upscale bar snacks and entrees. But if you're at Village, you're probably in a car anyway, so drive a couple of blocks south on Burnet to Top Notch, and really get your Austin film vibe on (Dazed and Confused was filmed there). Top Notch also has some of the best fried chicken in Austin.
Mike Saulters: Suzi's China Grill, Korea House, Madam Mam's, Casa Chapala
Carver Museum (1165 Angelina Street). Only water allowed in the venue, no food or other drinks (this is a museum after all).
Angela Pires (Trash Dance): Three Little Pigs, a trailer with gourmet food behind a wine store. It's one of the best restaurants that opened last year, the owner used to be the Jeffrey's chef for many years. The pork belly slider can be the best thing of your festival experience.
Debbie Cerda: Franklin Barbecue; Austinites will arrive hours early to line up for some of the best brisket in town, well worth venturing slightly north of ACC to experience at least once during SXSW. Closed on Mondays, open at 11 until they sell out, which is usually by 1 pm. [Mike and Jenn agreed on this one, although Jette rolled her eyes a bit about its excessive trendiness.]
Jette Kernion: Blue Dahlia has a variety of breakfast and lunch options, and I love their bread. And you don't have to get there at 8 am for lunch!
Do you have a particular favorite Austin place to nosh during SXSW or otherwise? Let us know.
[Photo credit: "Barley Swine Shellfish Risotto," "Black Sheep Lodge Hamburger with onion strings," "Parkside Sweet Potato Soup with Asparagus Side," "Alamo Wings with Plum Ginger Soy Sauce" by Jennifer Brown. "Royal Blue Grocery" by Jette Kernion, used with permission.]