SXSW 2010 Guide: Film Festival Survival Tips
Film festivals are fun, right? Films, partying, it's a blast. Well, yes and no; the unprepared film festgoer is likely to end up miserable as early as halfway through. If you're a seasoned SXSW badgeholder, you still might find some value in this survival guide written by a local who usually sees 4-6 screenings a day without resorting to a car or hotel room.
Last year's survival guide had such a strong response, I'm updating it with even more useful tips. Jette has also provided us with Film Fest Geek Barbie (pictured at right), complete with mobile phone, water bottle, and handy shoulder bag. She even keeps a toothbrush, tissues, an energy bar and a DVD screener of her short film stashed in there. Obviously, she's been paying attention to the following suggestions.
Sleep
Get it now, while you can. Do not skimp on sleep before the festival. Arriving well-rested means you're more likely to have the endurance to make it through the festival, especially if you stay for all 10 days, and most especially if you also add Interactive and/or Music. I'm not exaggerating, I went into the shorter Fantastic Fest sleep deprived and missed out on the infamous Team Bill versus Team Eric karaoke battle because of it, as well as being such a zombie people thought I was ignoring them.
Comfortable Shoes
Opt for comfort over style and wear shoes you know you can stand in for hours. This is not the time to try out new, pretty shoes, but rely on your old faithful sneakers, sandals, and Danskos and Birkenstocks. After your first 45-minute line, you'll thank me. After your fifth, your feet will thank you. Me, I'm swapping out shoes daily, having the home closet advantage, and alternating between Danksos, Earth Sandals and sneakers. My feet will be happy and so will my bad knees.
Clothes
Out of towners, especially East Coasters, are expecting sultry, sunny weather. Don't make assumptions, as March is particularly chaotic weather-wise in Austin -- plan for chilly, rainy and sultry. Last week we went from temps in the 70s to genuine snow accumulation. A day later, the snow was gone, but if you're dressing for a balmy spring break, you might find yourself a bit chilly. With some theaters being exceptionally cold (and some the opposite), dressing in layers is particularly important. Plus, that jacket, sweater or sweatshirt can be used to hold your seat when you must dash to the restrooms before the film starts.
If you want to track the weather, this link to Weather Underground will show you the five-day forecast for central Austin. While five days isn't enough to forecast, it should help you get a better idea of the weather.
Umbrella
Again with the rain, I know, but few places in lines outside venues are protected. I just bought a Totes brand compact umbrella that's got a clip handle on the nylon case; I can easily attach it to any bag, meaning I'm not only less likely to lose it, I'm not going to get the contents of my bag wet. If you don't get one with a clipped handle, be sure to keep a small waterproof bag with you to stash a wet umbrella (no need to pack one, your Big Bag will have a few). Notice it's also not black, meaning I can easily find it in a dark theater or amongst the dozens of umbrellas in the lost and found at the Paramount. Just don't get one in lime green, mkay?
Of Bags and Backpack
If you're a badgeholder, you get a great big bag full of swag and ads. You can carry your stuff in there, or use a backpack. Either works. But you need something to carry the necessaries to make your festival experience more enjoyable, and survivable. I happen to have a "day tripper" travel bag that's about the size of a purse, but I can stash a lot in it in the 10x9x3.5 bag with organizer features. It's pictured below and cost less than $40 with shipping from eBags.com. I know, you guys don't want that because it's too much of a man purse, but for us gals, it's very handy and compact.
Hydration and Water Bottles
Stay hydrated; between the heat and the partying, you will feel a lot better if you drink plenty of water. I have a Klean Kanteen that's easy to clean, reusable, and doesn't have that nasty plastic taste (18oz, MSRP $16.45). Plus, it easily fits in my purse, meaning it's easily obscured from the prying eyes of Water Nazis. If you want something more disposable, Sei Water is available at Central Market in handy flask-shaped plastic bottles, some small enough to fit into a camera bag. [Jette's note: Jenn gave me a Sei bottle last year and I could stick it in my pants pocket without the Paramount ushers noticing it. Very handy.]
Nutrition Bars and Line Snacks
You only need a couple of them, but they're very handy when hungry and waiting in line, or when you're at a venue without food. And at least one day, you're going to oversleep from the late screenings and partying, and will have to dash to your first screening of the day. Austinites can also pick up bulk snacks of all sort of healthy varieties at Central Market and Whole Foods. I'm not a big fan of Luna or Cliff bars, but I rather enjoy Pria and ZonePerfect.
ZonePerfect bars also come in snack size, perfect to take the edge off. The ZonePerfect fudge grahams are better than some candy bars. The Pria Complete chocolate mint bars are pretty good, too.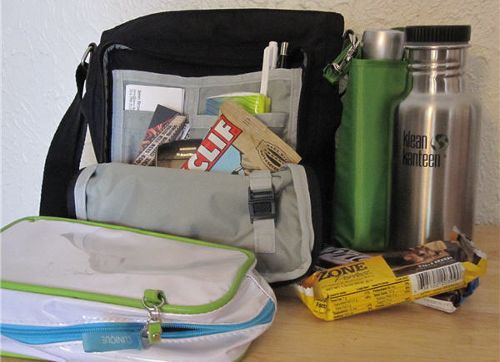 Trial Size Sundries and Allergy Remedies
Austin is practically paradise, but the drawback of living here is allergies. I recommend picking up some sunblock, vitamins, and if you use it, Airborne or some immune booster. Taking a trip to your local drugstore to pick up a few things will make your life easier and healthier. If you have allergies, bring whatever remedies or medications work for you. I also recommend picking up trial sizes of pain relief meds, tissues, wipes, bandaids, deodorant and nail clippers, all for whatever bag you carry with you.
I keep all this with a small brush and other personal care sundries in a pouch within my bag, because I'm just that organized. Or perhaps because I want all the messy stuff in one spot.
Deodorant and Hygiene
If you don't think you need the deodorant, think again; the top complaint of Alamo waitstaff during local film festivals is hygiene and shorted tips. And while you had a blast dancing and drinking til dawn, the people in line with you don't appreciate parfum de metabolized beer and stale sweat. So shower, deodorize, and change into fresh clothes to avoid being The Stinky Guy (or Gal). A travel toothbrush and trial-size toothpaste will also fit nicely in your bag.
Tips on Tipping
The Alamo Drafthouse is a restaurant and movie theater, and the food is fresh and good. Imagine working six sold-out restaurants a day for 10 days and adding stairs and the dark. That's a lot of work. so tip accordingly. If you can't afford a 15-20% tip, don't eat there. Personally, I never tip below 20% unless service is exceptionally bad, especially during festivals. Even if I only get water, I leave a dollar. They look out for you, so please look out for them. This is true for any table service you get during SXSW.
Cap Metro Passes and the Night Owls
SXSW shuttles are available during the film festival between most venues, but they stop once the music conference starts. Cap Metro #3 can get you to and from Alamo Lamar and the downtown venues. There are also "Night Owls" originating at 6th and Congress (west side) that run after midnight til around 3 am that can get you all over town. Go to Capital Metro for more information and you can pick up schedules and buy passes/tickets at 323 Congress.
Cars and Parking
I know Jette mentioned this in the Venue Guide, but it bears repeating; find a legal place to park and stay parked for the day. There are shuttles and the #3 bus to get you to/from Alamo Lamar. With the new Highball's popularity, parking is a contentious issue in that neighborhood, so please don't block driveways, etc. Do not leave anything in your car, as SXSW is like Christmas at The Maul for thieves, and every year there's at least one story of some unfortunate losing everything because it was all visible in their car.
Expectations
Two things in particular to keep in mind: you can't do everything and you won't like everything. It's simply not possible. Not even the programmers love every film, and everyone has different tastes and expectations. The SXSW program is diverse, and last year was particularly strong, but there is simply no way to please everyone every time. That being said, don't dismiss films you think you might not like. Every year I have at least one "filler" screening that I end up loving. There is no way to see everything, although SXSW is very good at having multiple screenings to make it possible to see quite a bit. If you see 20 films/panels, you're doing well, but if you only see films, you're missing out. While SXSW is a film festival, it's also a great opportunity to meet new friends and collaborators.
Attitude
My film fest is almost entirely based on Austin's festivals, which have different crowds; SXSW film leans heavily to film geeks, fans and filmmakers alike. Most are approachable regardless of status and you'll likely have "line buddies" you make friends with and those friendships can last for years. This is a great opportunity to socialize, so make the most of it. This is a very friendly crowd, not only are you likely to be in line with the people who made the film you just watched, who are as geeky about film as you.
Seating
No one, and I mean no one, is guaranteed a seat in any screening. The seating priority is invited guests, badges, passes and then single ticket holders. If you really want to see a screening, how soon you need to be in line is based on several factors: the smaller the venue, the fewer the screenings, and the larger the buzz, the sooner you should be in line. Don't fret when you see line-leeching (people joining their friends in line instead of going to the end), it's normal. Line jumping (moving up without the advantage of waiting with friends) is not cool, along with line leeching when the line is moving for a screening that won't seat everyone in your access group.
[Photo credits: "Film Fest Geek Barbie" by Jette Kernion, "Survival Bag" by Jenn Brown, and "A Sea of People Wait for Knocked Up" by Matt Smith on Flickr, used under Creative Commons license.]