What's Streaming: Fools on Film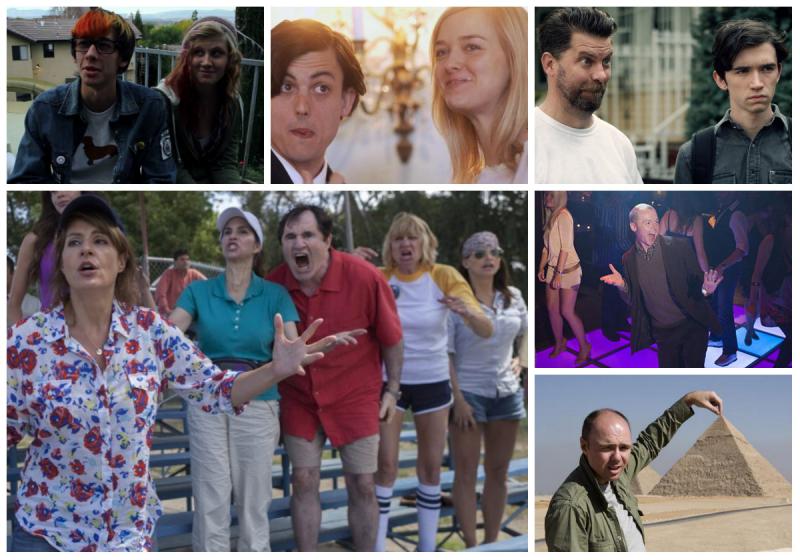 I hate jokes and anyone who makes them. Having a sense of humor has always disgusted me, and is one trait in people that I absolutely cannot stand. It's an automatic deal breaker for me when, after just having met someone, they crack a joke or use a bit of sarcasm in an effort to be impressive. If you're one of these people, we probably haven't gotten along very well (and that's probably why I never called or texted you back). It truly is the one thing I can't stand.
... Okay, that was my belated April Fools joke for you all. Who am I kidding? I love joking around with people, and will always be the first to lighten the mood in a room (or at least try to). In keeping with that tone for the month, I found myself watching a lot of films lately that have rather foolish protagonists. Some of them are jerks, some just don't have a clue. Some of them are just too young to know what's right and what's wrong. We've all acted foolishly in our own lives, and sometimes we might not realize it until we see someone acting the same way.
I'm not saying these movies will make you realize you're a fool. But, maybe they'll cause you to reflect on those elements of yourself that you didn't realize you had. Who knows -- you might just make some improvements this month.
FILM
Only The Young -- I had heard of this film a few years back; I remember the poster really sticking out to me. I had honestly forgotten about it until I met Austin Film Festival's newest Senior Film Programmer Liz Mims a few weeks back and realized she was one of the creative minds behind it. I knew I had to check this film out, and was pretty thrilled to find it available online. A quiet documentary that follows a group of teenagers living in Southern California, this film made me remember what it meant to be young, ridiculous, and incredibly bored as a teenager. It also made me realize that the things I went through as a teen are things that everyone goes through, and that we really aren't alone in our struggle to realize adulthood and maturity. (Elizabeth's AFF review and interview with Mims) Available on Amazon Instant and iTunes.
Somebody Up There Likes Me -- From Austin writer-director Bob Byington, this film chronicles 35 years in the life of Max (Keith Poulson, also an Austin local) and the relationships he falls into. Set (as well as shot) entirely in Austin, Max's life seems to be a series of screw-ups, failed relationships and bad timing. The one good thing in his life seems to be his friendship with Sal, played by the hilarious Nick Offerman or, as many of you know him, Ron Swanson from Parks and Recreation. Featuring an array of cameos from local talent (I'm lookin' at you, Jonny Mars) as well as many recognizable Austin locations, this film is a fantastical exploration of life, death and the weird moments in between. (Don's SXSW review, Jette's theatrical review, Jette's interview with Byington and Offerman plus bonus Austin chat) Available on Netflix, Amazon Instant and iTunes.
Dealin' With Idiots -- I never liked playing sports as a kid. Even when my parents signed me up for baseball, I knew it was because the coach was my dad's business partner and they were doing it to be nice. It was for the adults more than it was the kids. Comedian Jeff Garlin explores that in his latest film, giving audiences a fictional look at what the modern-day world of kids' sports looks like -- from a parent's point of view. Featuring comedy veterans like Bob Odenkirk, Kerri Kenney, Fred Willard and many others, this film had me in stitches. I can't wait to ask my parents if this is what my baseball years were like for them. Available on Netflix, Amazon Instant and iTunes.
How To Be A Man -- I was fortunate enough to go to an art school that featured many talented people. So, when one of them brings their acting/filmmaking work to my attention, the obvious choice is for me to drop what I'm doing and get to a theater or computer ASAP. (This is one of those instances.) Former comedian Mark (Gavin McInnes) believes he has a terminal illness and doesn't have much longer to live, so therefore decides to create an instructional video on "how to be a man" with deadbeat film school grad Bryan (the now grownup Liam Aiken). Although Mark isn't the best role model (or protagonist, for that matter), it seems that all of the people in his life learn some valuable lessons along the way, particularly Bryan. Whether or not you think Mark does is up to you. Available on Netflix and for purchase on Amazon Instant and iTunes.
How To Lose Friends and Alienate People -- I've always liked the work writer-actor Simon Pegg does, but this film didn't quite hook me when it first came out in 2008. After seeing it was available on Netflix recently and giving it a shot, I realized how much I could relate to the similar situation that Sidney Young (Pegg) finds himself in. A magazine journalist, Sidney isn't afraid to do whatever it takes to get a good story -- usually ones that embarrass the people they're about. When he is invited to move to New York City and work for a more prestigious magazine, he quickly finds the things that were always acceptable for him to do now make him look like a real jackass. A great look at what people will do for fame in any sort of capacity, and what happens when we fly too close to the sun. Available on Netflix, Amazon Instant and iTunes.
TELEVISION
An Idiot Abroad -- I'm only a few episodes in to this documentary series, but each one so far has left me cracking up. And if you've ever traveled outside of the U.S., you will probably enjoy it, too. From the British TV comedy duo Ricky Gervais and Stephen Merchant, the show follows bumbling pessimist Karl Pilkington as he travels around the world. It's obvious that Pilkington has never been outside of London and doesn't seem to have any interest in leaving. Gervais and Merchant, in an effort to get a rise out of both him and the audience, send him to a different place in each episode (think The Great Wall of China, the Taj Mahal, etc.), hoping he'll broaden his horizons and become more carefree. I've yet to see if these trips will change him, but the complaints and situations Pilkington finds himself in remind me of those friends of yours who have just returned from a great trip, yet all they could do was whine and moan about it. Trust me when I say that it's so much funnier than those friends. Available on Netflix and Amazon Instant and for purchase on iTunes.
[Images in the photo collage are stills from all of the films and television shows listed above.]