Austin at SXSW 2012: A Moment with Bob Byington and Nick Offerman, 'Somebody Up There Likes Me'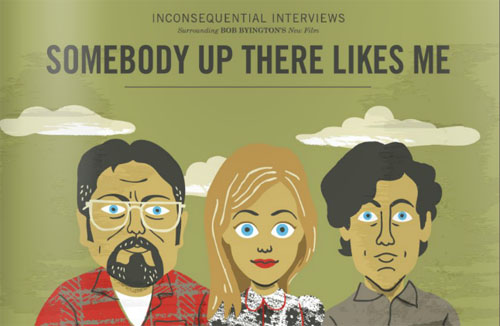 Last month, I had the chance to interview the director and one of the producers of Somebody Up There Likes Me: Bob Byington and Nick Offerman, respectively. Offerman also has a starring role in the movie, which will premiere at SXSW 2012 on Sunday night. As is the case with good interviews, I ended up with a lot of material -- too much for one article. But Byington and Offerman were so much fun together, I hated to leave anything out.

Look for a longer feature about the movie itself on Monday morning, based on my interview, and featuring a great photo of Offerman from the set of the movie. In the meantime, I'd like to share the parts of the interview where Byington and Offerman talk about Austin itself (and Smithville) -- barbecue, Brad Pitt's mojo, the Texas heat, and some SXSW advice (sort of).

It started when I asked Byington and Offerman what they liked about working together.

Nick Offerman: Well, I like any excuse to visit Austin and sample the barbecued meats there.

Slackerwood: Where do you like getting barbecue in Austin?

Offerman: So far my favorite location was a little jaunt down to Lockhart where I put Smitty's up against Kreuz's, and I'd have to say, I came down on the side of Smitty's. But it's a tough distinction to make, because Kreuz's is a near second and you know, you're not hurting if you can sit down at a table at either one of those establishments.

Bob Byington: I know we had barbecue when we were at the airport. Do you know where that came from, Nick?

Offerman: That would be a question for Hans [Hans Graffunder, another of the film's producers], it was whatever that little location is that's an hour-plus north, and it's one lady who just cooks all night Friday night and everybody lines up Saturday morning until she's sold out.

Slackerwood: That might be Snow's.

Byington: Oh yeah, it's Snow's.

Offerman: A mighty fine repast.

We did eventually talk about what Byington and Offerman liked about working together, in a non-barbecue sort of way, among other topics. I asked Offerman about shooting the film outdoors during a hot Texas summer and how he survived.

Offerman: I don't know, there's a certain masochism involved in signing up for any low-budget indie film or theater piece, where you know going in that no one is there for the excellent payday or the cushy amenities. We're there banding together to make a piece of entertainment that we think will be fun and poignant. Having sort of accepted that situation, I think a certain armor goes up where you know you're going to shoot all day, and it happens to be 113 degrees -- you just have to shrug and say, "Oh well, that's the deal."

I don't think we had too many people pass out, and we were well slathered in sunscreen, and that made it all okay.

Slackerwood: Bob, where did you film the movie? Any locations in Austin that people might recognize?

Byington: Probably. We were around town, we were also in Smithville and shot across the street from the Tree of Life house, which was nice. We actually shot in the house where Brad Pitt stayed when he was here, so there was some nice Brad Pitt mojo in the house.

But we made an effort to set the film not in Austin but in Anywhere, USA. So there are the kinds of things in a movie where you would say, that film is clearly shot in Austin -- we wanted to shy away from that. Or I did, I don't know if Nick cared either way.

Offerman: I made sure I used the john a couple of times in that Brad Pitt house, just in case there was any mojo to be gleaned. My upper thighs feel pretty hunky.

Byington: Nick and I had gone out to the house early to shoot, and on our location scout about a month previously, we had a lot of difficulty getting into the house, because the door was locked and the key didn't really work very well. And it took awhile to get in. And I remember driving out with Nick, and I said, "Nick, we're early, I don't know if we'll be able to get in the house, because it's kind of hard to open the door." And Nick, Nick just looked over at me and chuckled, like I'd said something, like I'd just told him a joke. And indeed, when we got to the location, Nick had opened the door in less than two seconds. So that was nice.

Do you remember that look of condescension you gave me, Nick?

Offerman: I remember it fondly.

Slackerwood: Do you all have any advice for people coming to town for SXSW Film?

Nick: Hydrate.

Bob: It's not going to be as hot, Nick.

Slackerwood: It could be.

Offerman: Still. People are going to hoard the bottled water, so make sure you hydrate.

Also, the second week of March, the second and third weeks, are a good time to visit Park City, Utah, actually. I understand the slopes are pretty clear, if you like snowboarding or downhill skiing.

Byington: That's a great idea. I'm not going to tell anybody my favorite restaurant because it's already crowded as it is. That'll make me seem mean-spirited, won't it.

Slackerwood: I think most Austinites don't want to tell their favorite restaurant during SXSW. Maybe I should start asking for a second favorite.

Offerman: Send 'em all to Lambert's.

Byington: Yes, Lambert's is going to be fine.

Somebody Up There Likes Me will have its world premiere at SXSW on Sunday night at 9:45 pm at the Stateside Theater. Byington and Offerman both plan to be there. For more info on the movie, check out the official website, which includes a very cool "book" of mini-interviews -- that's where I got the image at the top. Also, watch the trailer below.