SXSW Review: Somebody Up There Likes Me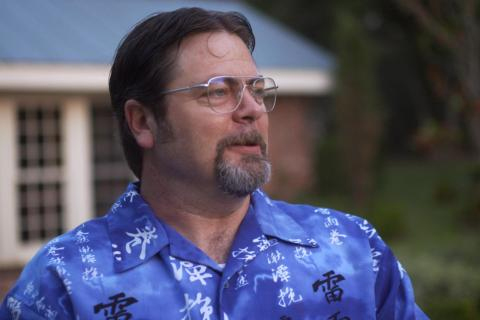 The ironically titled film Somebody Up There Likes Me is more like Somebody Up There Is Messing With Me, for all the characters' suffering. But their losses are our gain.
Bob Byington's latest feature is everything we've come to expect from the Austin filmmaker, a charmingly off-kilter examination of human relationships torn asunder. It's a thoroughly eccentric film, a movie so hilarious and engaging that I can forgive its slightly nonsensical premise.
At the center of Somebody Up There Likes Me is the bumbling, befuddled Max (Keith Poulson), a hapless everyman who can't seem to hang onto the breaks life gives him. When his ex-wife -- a nameless woman billed only as Ex-Wife (Kate Lyn Sheil) -- rejects his attempts to reconcile, Max plunges into the dating game with coaching from snide and sarcastic co-worker Sal (a show-stealing Nick Offerman). Max wastes little time in wooing and marrying Lyla (Jess Weixler), a breadstick-addicted waitress at the upscale steakhouse where Max and Sal work.
Not surprisingly, the marriage is a disaster from day one. Lyla's nameless and stony police officer father (Marshall Bell) takes an immediate and probably well deserved disliking to Max. To further complicate things, the ever-randy Max is tempted by the irresistible charms of babysitter Clarissa (Stephanie Hunt, who also steals the show, albeit for entirely different reasons than Offerman). Meanwhile, Sal offers his twisted perspective on all Max-related things and entertains us with his gloriously slackerish and self-centered behavior.
Somebody Up There Likes Me has an unusually broad scope for a low-budget indie, as it follows its characters for decades. To avoid spoilers, I'll skip any further story details and just say that the story's 35-year story arc includes hookups, breakups, business successes and personal failures to balance them, philosophical discussions, a running gag involving malapropisms and misunderstandings, and even a magical suitcase. Some of what happens makes little sense (okay, no sense at all) in our world, but perfect sense in Byington's cinematic world.
The charm of Somebody Up There Likes Me lies in its wonderfully likeable characters and endlessly witty dialogue. The script is thoroughly deadpan, a droll examination of how people deal with each other and, more importantly, their fates. The story isn't spiritual per se, but it does hint at the idea of a higher power/cosmic force/whatever you want to call it, something that helps the characters muddle through their days despite their perpetual blunders and bad decisions. Hence the film's title, which may not be ironic after all; maybe somebody up there does like Max and his gaffe-prone circle of friends and lovers, because they somehow plod ahead despite themselves.
Somebody Up There Likes Me also has stellar casting. Poulson is breathtakingly clueless as Max, in a performance that turns forlornness into a high art. Max says and does the wrong thing so often that when we're not laughing, we can't help but feel sorry for him. Weixler's breadstick-munching Lyla is as quirky as the rest of the movie, doing an understandable slow burn throughout the story as Max tests her patience. Hunt also is terrific as the temptress Clarissa; she's hilariously blatant and nonchalant about her sexual desires, playing her seductiveness for laughs more than titillation.
All great performances, to be sure -- but again, Offerman shines as the crabby, self-absorbed and ceaselessly wisecracking Sal. In his fourth collaboration with Byington (three features and a segment of Slacker 2011), the Parks and Recreation star plays the film's funniest character with perfect comic timing. Given Sal's often shallow, hey-look-at-me nature, Offerman imbues him with surprising subtlety and depth; thanks to Offerman's acting chops, the film's funniest character is also its most fully human.
Adding to the fun are cameos by Byington regulars Kevin Corrigan, Andrew Bujalski, Bob Schneider, and Chris Doubek, as well as other familiar faces from the Austin film scene (among them Jonny Mars). Apparently everyone in Austin wants to work with Byington, which is understandable given the director's respected track record. His previous feature, Harmony and Me, is not to be missed.
A wry take on fate and human relationships, Somebody Up There Likes Me is a great time at the movies. Whether or not you think anyone up there actually likes you, it's a film you'll enjoy.
Austin/Texas connections: Somebody Up There Likes Me was filmed in Austin with a mostly local cast and crew. Byington lives in Austin and has made several features here.
You can see Somebody Up There Likes Me at its final SXSW screening on Friday, March 16 at 11 am at the Paramount Theatre. For more details about the film, read Jette Kernion's interview with filmmaker Bob Byington and co-star/producer Nick Offerman.