Review: Somebody Up There Likes Me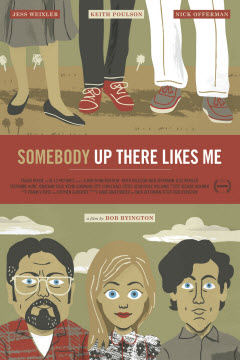 I've seen Somebody Up There Likes Me twice now -- once at SXSW 2012 with a lively local-heavy audience, once via screener with no one else but the cat -- and found the movie terribly funny both times. In fact, after I watched it the second time, I restarted the film so I could to see how the beginning tied into the end (it does, so pay attention) ... then had to stop myself from watching it a third time. The movie opens Friday at Violet Crown Cinema and I'm sorely tempted to go.
I liked it a lot, obviously. But I don't know whether you'd like it. Local filmmaker Bob Byington's universe is not for everyone.
Somebody Up There Likes Me is a comedy, but not in a broad sense -- its humor is very specific. I don't mean that it's full of obscure pop-culture references, either, because the movie could be set in any time or place. (You'd have to know Austin fairly well to recognize it was shot here.) The movie is off-center and your brain has to squint and tilt sideways and around the corner a little to appreciate it. Once you're in the universe of the film, however, it's wonderfully fulfilling.
At the heart of this movie is the relationship between Max (Keith Poulson) and Sal (Nick Offerman), although the focus is ostensibly on Max. Max and Sal work together in a fancy restaurant, along with Lyla (Jess Weixler), who catches Max's eye. Eventually Lyla and Max marry, and ...
You know, recounting this story does no good. It's not important what the characters are doing as much as how they're changing, or not changing, through the years. Because Somebody Up There Likes Me spans decades, although some characters never seem to look any older. Is this a reflection on how much they've matured inside? Possibly. The characters do a number of things externally that might be symbolic of their inner lives.
For example, during Max and Lyla's first date, their conversation is full of misses -- someone mishears, someone misspeaks. It's funny, it's a little awkward, and it's an apt representation of how relationships work (or don't). Lyla loves breadsticks ... and how does her enjoyment of them factor into the film? Lyla's father (Marshall Bell) appears to be an almost tangential character, but what is the extent of his influence on the events in the movie? Kevin Corrigan appears in a single scene, but his advice to Max might be critical. On my second viewing, I wondered fleetingly if Sal and Max were actually different aspects of a single character. And I haven't even mentioned the suitcase.
Austin filmmaker Byington's protagonists seem to be more sympathetic and less annoying with each subsequent movie. I couldn't abide the lead in RSO [Registered Sex Offender], wanted to shake some sense into the title character of Harmony and Me ... but merely rolled my eyes a lot at Max. Poulson epitomizes the man-child character we've seen in so many mainstream comedies ... but this movie twists that stereotype, taking it to its logical conclusion. Offerman is unsurprisingly excellent as Max's work partner Sal, and Weixler lights up every scene she's in, with a disingenuous way of delivering lines that makes her character more than just the protagonist's love interest.
The music, scored by Chris Baio of Vampire Weekend, is bubbly and strange and almost childlike at times. (I heard what sounded like a toy piano at one point.) It includes motifs that stick in your head and guide you subtly without sticking an emotion right in your face like too many blockbuster scores do. Local musician Bob Schneider, a regular in Byington's movies, appears briefly as a wedding singer backed up by Quiet Company. The score fits right in with the breezy animated transitions from Bob Sabiston.
I worry I've made Somebody Up There Likes Me sound obtuse and dense and overly arty ... and it's not. It's a comedy where the humor is not merely for humor's sake -- something else is going on. It requires that you pay attention. It requires that you think. But the payoff is far richer than in a comedy full of pratfalls and poop jokes.
Austin connections: The movie was shot in Austin and Smithville with a primarily local crew. You'd have to look carefully to spot Austin landmarks, and they're hardly iconic -- Austin-Bergstrom Airport, a glimpse of Royal Blue Grocery, the GSD&M building, what might be the Drag. This is the third movie in a year where I've spotted the restaurant Justine's. If you're a fan of Austin indies, you're going to recognize many of the actors in supporting roles: Chris Doubek, Jonny Mars (sporting an impressive mustache), Paul Stekler and Andrew Bujalski, among others. If you're a fan of Byington's previous films, you can have fun spotting many actors from those movies in brief roles.
[For another viewpoint, read Don's review from SXSW 2012. Also, you can read my interviews with Byington and Offerman about the movie and about Austin.]