SXSW Interview: Bob Byington and Nick Offerman, 'Somebody Up There Likes Me'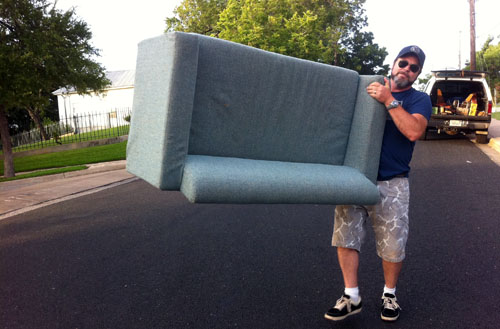 I don't like interviewing people over the phone, since I can't make eye contact. I don't like interviewing a filmmaker without seeing his or her movie first, in case it turns out to be awful. And I don't usually like two-on-one interviews with a filmmaker and actor, because I'm not confident about questions I have for actors, and always worry I'll lapse into lameness. So I try to avoid these situations.
However, I jumped into a combination of all of them a few weeks ago to talk with Austin filmmaker Bob Byington and actor/producer Nick Offerman about their latest film, Somebody Up There Likes Me, which had its world premiere at SXSW on Sunday night. It was well worth working outside my comfort zone. And yes, I ended up really liking the movie, so I didn't have to hide from Byington afterward.
The original plan was to interview Bob Byington at a local cafe, but he emailed me a day or two beforehand and asked if we could make it a phone interview to include Offerman. Offerman is actually in four films at SXSW this year -- besides Byington's movie, he has a supporting role in Casa de mi Padre, and briefer appearances in 21 Jump Street and Slacker 2011.
I figured even if I'm not fabulous at questions about acting, I could ask about Offerman's role as a producer. And indeed, chatting with Byington before we called Offerman, he wanted to discuss the hands-on work Offerman did as producer -- as you can see from the above photo.
"Nick and I have known each other for about 15 years, and we've always wanted to try to do something where he had a really big part in the film," Byington explained. "I didn't think we'd get Nick for more than a week because, you know, he's so busy with so many commitments, and he ended up being there for a month. Every day that he wasn't shooting as an actor, he was there on the set. And he would do anything, absolutely anything on the job. He was responsible for making signs, he would go get breakfast tacos, he would do anything and he was just egoless about it, and great for morale.
"On the last day, he was having his makeup taken off after we'd finished shooting the last scene, and he fell asleep in the makeup chair, which was really funny. He hadn't shown any sign of fatigue until the very last thing was done, and then he fell asleep."
Offerman -- well, first of all, I should note this is the first time someone started an interview with me with the sentence, "I'm going to go ahead and put some trousers on for this interview." Phone interviews are truly a different world.
But once the Parks and Recreation star was clad to his satisfaction, we could talk about Somebody Up There Likes Me, which is Offerman's first stint as a movie producer.
"It was really a great education for me in producing a film," he said. "We both [with Byington] were incredibly lucky to be in the capable hands of Hans Graffunder, our other producer, who has a vast amount of experience in running the numbers and the schedule and the purse strings of The Sopranos, and Terrence Malick films. Without his incredible guiding hand, we would have been a couple of kids with a flat tire on the side of the highway."
Offerman joked that his role was "sort of a farmer-producer" on the movie. "Because Hans was so on top of it, with his production coordinator Marla Quintana, I was able to be a much more creative producer. I spent a lot of the film on Bob's right hand, helping him oversee things, navigating some of the acting scenes. I brought my pickup truck full of tools from Los Angeles, so we ended up building a couple of apple boxes, and a camera cart at one point."
Byington and Offerman met on the set of the 1999 indie film Treasure Island, in which both had acting roles and Byington worked as script supervisor. They hit it off and have enjoyed working together since.
Byington wrote the lead characters in Somebody Up There Likes Me specifically for Offerman and Keith Poulson. Poulson stars as Max, a young man struggling to find love and happiness, and Offerman is his friend and co-worker/partner Sal.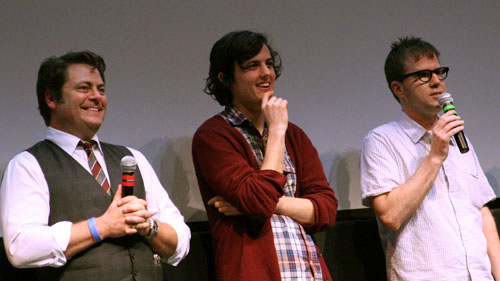 Those are terribly vague character descriptions, but I hate to give too much of the storyline away. Here's what Offerman has to say about Sal: "I would say, he's maybe more of a regular guy with regular guy foibles -- he's lazy and dishonest and dissatisfied, and you know, just kind of a normal American loser."
"He's not a loser," Byington argued. In fact, Byington had said before we phoned Offerman that he felt Sal's character was key to making a successful comedy, because Offerman has such a likeable presence. I found this interesting because Byington's movies often have main characters who are anything but likeable -- I usually want to give them a good shake, despite liking the movies. Why the change this time around?
"I was aware that if we put Nick in more of a movie, we would have a little bit more of a heartbeat there that was likeable," Byington said. "As Nick alluded, these characters don't necessarily do very sympathetic things. But in writing the movie for Keith and Nick, these were two guys that I hope the audience would respond to in an 'I kind of like these guys' kind of way. Even if they were doing things like stealing or cheating on -- I don't want to give anything away, but -- I'm certainly lazy and dishonest. I don't think Nick is, but I think a lot of other people are able to relate to both of those characteristics."
"It's in us all, Bob," Offerman noted.
"Yeah, all of us except you."
"You'd be surprised."
Offerman in turn is pleased to have any role in Byington's movies. "I love working with Bob, because I think he's a very clever writer with a very fresh sense of humor. My wife is a great arbiter of taste and when Bob's scripts come in, she always is very vocal about how good his material is. So even if I only come in for a small role, it's always very satisfying because there'a a lot of opportunity to have fun." Offerman's wife, actress Megan Mullally, has a small role herself in Somebody Up There Likes Me, as a therapist.
Besides Nick Offerman, Byington has worked with many of his cast and crew members before. Co-star Keith Poulson also had supporting roles in Harmony and Me and RSO [Registered Sex Offender]. Other actors making an encore performance in Byington's film include Kevin Corrigan, Chris Doubek, Josh and Nick Ashy Holden, Allison Latta, local filmmaker Andrew Bujalski ... and Austin musician Bob Schneider. Schneider played a wedding singer in Harmony and Me and does the same for this movie.
"I like putting him in the movies," Byington said of Bob Schneider. "He can't act worth a shit, but there's something he can do that we manage to harness in the films that works. And he freely admits he can't act, also, so he won't be offended, you can call him out on that."
Byington didn't hold auditions for the film. "Every part was cast without auditioning people. The only exception was the nanny, Stephanie Hunt. We held an open audition in Austin for the nanny, and she got the part the moment she walked in. We found out later she'd been on Friday Night Lights and of course she was good at what she did."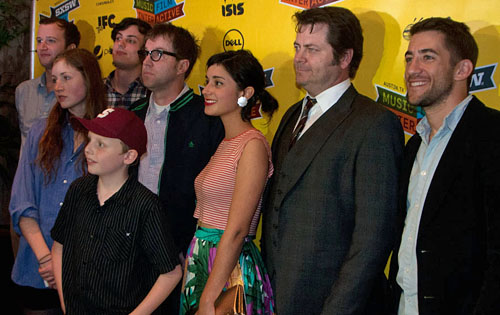 The composer for Somebody Up There Likes Me is Chris Baio. This is his first film composing gig, but you might know him from the band Vampire Weekend. "Wonderful to work with, astoundingly talented, as you might imagine," Byington said. "Chris was in a band with our music supervisor Lauren Mikus, so when it came time to hire someone, Lauren suggested Chris."
For more of Nick Offerman and Bob Byington's banter about Austin and SXSW, check out my pre-fest excerpt of the interview. Offerman even has barbecue recommendations.
Somebody Up There Likes Me is scheduled to play SXSW one more time -- on Friday morning at 11 am at the Paramount. It's a big theater, so even if you don't have a badge or film pass, you should be able to buy a ticket to see the film. Byington is hoping to fill it up as much as he can.
In addition, the movie is slated to play other upcoming film festivals. The easiest one for Austinites to get to will be the Dallas International Film Festival in April, but you can also catch Somebody Up There Likes Me at the Sarasota Film Festival, Wisconsin Film Festival and the San Francisco International Film Festival. You can find out more up-to-date information about where to see the movie on its official website.
[Photo credit: "Producer Nick Offerman Does It All" courtesy of Bob Byington, "Offerman, Poulson and Byington at Q&A" by Jette Kernion, and "Somebody Up There Likes Me Red Carpet" by Dinkins / De Jong. All rights reserved.]