AFF Review: Only the Young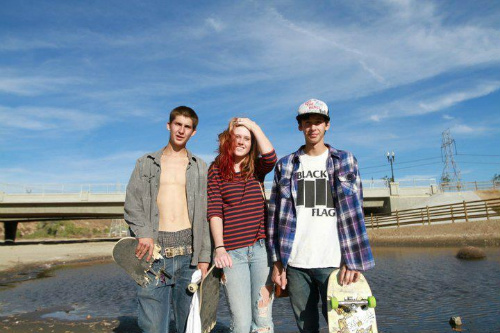 In Canyon Country, California, teen skaters Garrison and Kevin and their female friend Skye frolic amongst the dry, desolate landscape. Skye and Garrison go on dates to an abandoned golf park and Garrison and Kevin have made an empty house their hangout. Only the Young, from directors Austinite Elizabeth Mims and Jason Tippet, depicts a period of time in the lives of these high schoolers.
Skye describes on-again,-off-again boyfriend Garrison as "a conservative who loves punk rock." Her father is in jail, she recently found out her mom is not dead, and she currently lives with her grandparents. Skye is sharp-tongued and endearing -- well, really all the kids are somewhat endearing in this movie. Kevin and Garrison are best buds, and are trying to figure out what will happen after graduation. Their economic situation is somewhat up in the air.
Mims and Tippet's documentary -- their first feature-length film -- is a cinematic look at three evangelical kids, perfectly capturing moments of flight and movement. The boys participate in Ignition Skate Ministry (showing "the love of Jesus Christ through skateboarding," as their church leader says), but never really discuss their faith with the filmmakers. It's just a given that the church plays a large part in the lives of the three teens, and it even leads to a breakup between one couple.
Only the Young is gorgeously shot and plays like a narrative film, although the only way I was able to gauge time passing is through the changing hairstyles and relationship statuses. With all the friendship and love stuff going on, it seems almost like a Degrassi episode. However, it would be a beautifully shot, less melodramatic episode, where sometimes the players seem aware of the cameras.
I think Only the Young does an excellent job of capturing this moment in our nation's time, when so many houses are foreclosed on and suburbs empty out. These kids of the YouTube generation are surprisingly frank and honest to the camera. I look forward to seeing more from Mims and Tippet.
Austin connections: Co-director Elizabeth Mims grew up in Austin and is the daughter of local filmmaker/University of Texas film instructor Steve Mims.
Only the Young will play AFF once more on Wednesday, 10/24 at 8:30 pm at Rollins Theatre in the Long Center.