Texas Films at Dallas IFF: Landscapes, Cowboys and Music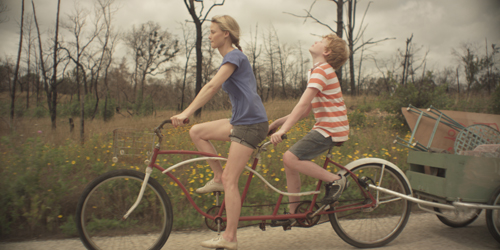 The 2014 Dallas International Film Festival (DIFF) runs from Thursday, April 3 - Saturday, April 13, and features over fifteen films that originated in the Lone Star State. From Texas musicans to epic Southern fables, there's plenty of great Texas-based content stretching from Dallas to the Piney Woods of East Texas to the coastal towns of Taft and Port Neches.
Austin-based writer and director Eric Hueber made his feature directorial debut at the Dallas International Film Festival in 2011 with his documentary Rainbow's End. Originally from Nacogdoches, Hueber studied film at Stephen F. Austin State University and has worked as an editing assistant for director Terrence Malick. Hueber returns to DIFF with the touching family drama Flutter (screening times).
Flutter focuses on nine-year-old Johnathan (Johnathan Huth Jr.), who loves sea monsters and his massive pet pig Wee Wee. His eyes flutter and he is also going blind as a result of nystagmus and severe glaucoma. Johnathan's mother JoLynn (Lindsay Pulsipher) raises him on her own with some help from her husband David's parents. David (Jesse Plemons) is absent, out on the road in search of musical fame as a singer/songwriter. JoLynn makes personal sacrifices for her son that jeopardize her own safety.
Watch the trailer for Flutter here:
Hueber actively sought out Dallas native Morshower at the 2011 Dallas IFF for a role in his unfinished script for Flutter. Morshower was so moved by the story that he not only agreed to the role, but joined on as executive producer.
In addition to Morshower, Flutter features an extensive Texas cast, including Jesse Plemons, Rex Linn, Brad Leland, Charles Baker, Kathy Lamkin, James Hampton, Reis Myers McCormick, Cassie Shea Watson, Farah White and Denton Blane Everett.
Here are all the other films we found with Austin and Texas connections -- let us know if we're missing anything.
About Mom and Dad (screening times)
This family drama about the breakup of a longterm marriage on the eve of their daughter's wedding was written and directed by UT Arlington MFA grad Rachel Shepherd. The film stars familiar Texas actors Farah White, Jonny Mars, and Heather Kafka. White -- who also produced this film -- also appears in DIFF 2014 features Flutter and The Ladies of the House.
Above All Else (Don's SXSW review) (screening times)
Shot in rural East Texas by UT Austin alum and Austin filmmaker John Fiege, this compelling documentary follows retired trapeze artist David Daniel in his battle against TransCanada's Keystone XL Pipeline, which crosses through his property. Don stated in his review that "like any well-crafted documentary, Above All Else isn't really about a pipeline -- it's about people." Fiege is also a Texas Filmmakers' Production Fund Grant recipient.
Believe Me (screening times)
This humorous satire shot in Austin by local filmmaker Will Bakke portrays the humorous outcome when four college seniors create a fake Christian charity to raise their tuition. The cast includes Nick Offerman and Zachary Knighton.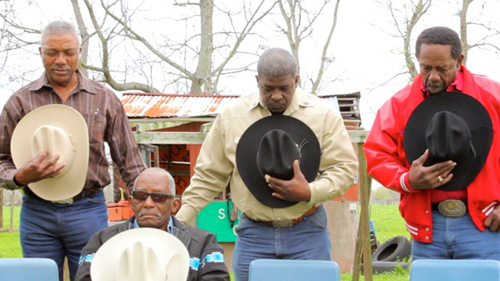 Cowboys of Color - Mutl-cultural Legacy (screening times)
Directed by Coy Poitier and Jacolby Percy of Dallas, this documentary film series (pictured above) chronicles the heritage and history of cowboys from various ethnic backgrounds across America. This documentary was the Best Texas Film winner at the 2014 Texas Black Film Festival and is presented as part of the Community Showcase.
Evolution of a Criminal (screening times)
Houston filmmaker Darius Clark Monroe returns home to examine how his role in a bank robbery ten years ago affected the lives of many, including his family, friends as well as the victims of his crime. The film premiered at SXSW last month.
Hellion (my Sundance review) (screening times)
Kat Candler's feature film portrays a family struggling to overcome the loss of a wife and mother, and the importance of taking responsibility for one's actions -- especially when the impact to others can be life-altering.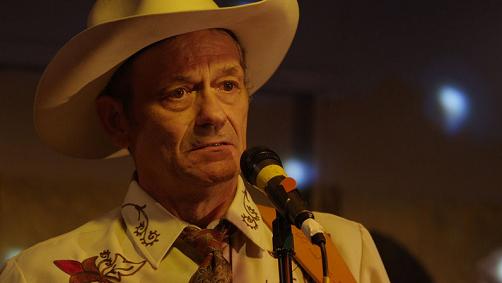 Thank You A Lot (Don's SXSW review) (screening times)
One of the most memorable films that I enjoy and recommend from SXSW 2014, Austin writer and director Matt Muir's Thank You A Lot is a multi-faceted tale of the relationship between a father and son dealing with failure differently, as well as insight into the music industry. The character portrayals by James Hand (seen above) and Blake DeLong are evocatively genuine, and are well balanced with performances from the supporting cast, including Austin talent Da'shade Moonbeam, Michael Conway and Sonny Carl Davis.
Tomato Republic (screening times)
Documentary filmmakers Jenna Jackson, Anthony Jackson and Whitney Graham Carter follow the dynamic and heated mayoral contest between three dynamic contenders -- "a flamboyant restaurateur, a good ol' boy and a political ingénue" -- for the Tomato Republic in Jacksonville, Texas.
In addition, Dallas-based filmmaker Toby Halbrooks' short film Dig, starring Jonny Mars and Mallory Mahoney, screens in Shorts Program 1. Check out my interview with Halbrooks earlier this year.
Other films with loose Texas connections include the documentary Rich Hill (screening times) by Black Metal and A Teacher cinematographer Andrew Droz Palermo, and the narrative Produce (screening times) by writer/director Chris Dowling, who received his BA in Radio-Television-Film from The University of Texas at Austin and is now based in LA.
A special presentation of Wim Wenders' cult classic road movie Paris, Texas takes place on the festival's closing day, Saturday, April 12, 3 pm, at the Texas Theatre. This screening is presented by the Texas Film Commission.
I plan on being in Dallas for most of this year's festival, so stay tuned for more on the great film content at DIFF 2014, including reviews and filmmaker interviews.
[Photo credits: "Simon and Zeke Hawkins," by Debbie Cerda, for use with attribution.]