Fantastic Fest Review: We Gotta Get Out of This Place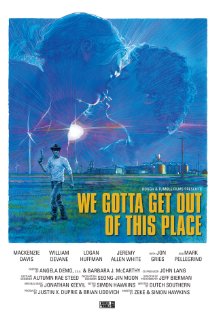 We Gotta Get Out of This Place was shot in Taft and Corpus Christi, Texas, during winter months where endless dead cotton fields perfectly represent the inescapable bleak feelings suffered by small-town high-school students on the cusp of starting new adult lives. Playing something like a more mature version of Something Wicked This Way Comes minus the supernatural element, writer Dutch Southern's screenplay inserts a maliciously scheming petty criminal father-figure into a teenage love triangle, with deadly results.
Mark Pellegrino (Dexter, Lost) has a career packed with dark roles, but Giff is a unique character. The rural mafia boss is uneducated but possesses a devastating crafty intelligence. Perhaps slightly insane, he is predatory, with a charming, even seductive personality that reveals his vicious intent with the punchline of his never-ending one liners. He employs teens B.J. (Logan Huffman) and Bobby (Jeremy Allen White), whom he coerces into working a heist for him to repay a small fortune that B.J. has stolen and then blown in a weekend of partying with Bobby and girlfriend Sue (Mackenzie Davis).
Like Pellegrino, the other leads in this movie are cast true to type. Best known for his role in the ABC reboot of V, Huffman's portrayal of B.J. is a Jim Nightshade analogue. With no prospects for college as a way out of town, he embraces Giff as a mentor and the only hope of finding success. He realizes too late that he is in over his head.
Jeremy Allen White's Bobby, like the light-haired Will Halloway, is more heroic, but his better education and plans to attend college with B.J.'s girlfriend Sue result in a growing feeling of alienation between the lifelong friends. Feelings of betrayal become deadly, and they could all pay the price.
Directed by brothers Simon and Zeke Hawkins, We Gotta Get Out of This Place is beautifully shot and edited. It captures exactly the atmosphere of a rural agricultural teenage wasteland with the gritty realism of a modern-day The Last Picture Show.
Austin connections: Associate producer Paul Gandersman lives in Austin, and associate producer Nick Robinson used to (both have also contributed to Slackerwood). Other Austinites include editor Luke Mullen, first assistant camera Brian Nelligan and sound mixer Isaac Hammons.