SXSW Review: Thank You a Lot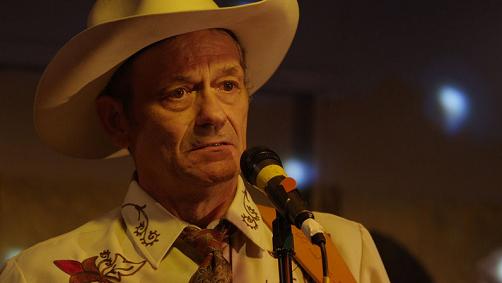 "Failure."
-- James Hand in Thank You a Lot, when asked what makes a good songwriter
In a single word, the fictional musician James Hand -- played by the real musician James Hand -- sums up a central theme of Thank You a Lot.
The poignant and perceptive film by Austin filmmaker Matt Muir explores many forms of failure: in parenthood, family relationships and artistic fulfillment. But it's also a hopeful film about redemption.
At the center of Thank You a Lot is Jack Hand (Blake DeLong), a bottom-feeding hustler and music manager whose only remaining clients are the hapless indie rock band The Wintermen and struggling hip-hop artist Desmond D (Jeffery Da'Shade Johnson). Jack spends his days trolling Austin's music scene for any deal he can work to his advantage; petty fraud and extortion are his stock in trade, and it's obvious his ethical compass broke long ago.
Jack's management agency is about to fire him unless he can sign an elusive client: his father, James, a revered but reclusive singer-songwriter. James's career is more about legend than reality; his cult following is as strong as ever (fans in foreign countries have recently discovered his work), but he barely earns a living playing in Austin clubs and spends most of his time at his farm outside Austin doing odd jobs and wondering where his life and career have gone.
Standing in Jack's way are James's crusty current manager and longtime friend, Frank (Sonny Carl Davis), and fiercely protective girlfriend, Allison (Robyn Rikoon). Frank obviously doesn't want to lose his client, and Allison -- a documentary filmmaker about half James's age -- knows her boyfriend is emotionally fragile, and she doesn't want his mostly estranged son to complicate his life. (Her motives aren't entirely selfless. Her fondness for James seems legit, but she's also making a documentary about him and won't let Jack to screw up her film.)
While Jack struggles to bond with his father, he also struggles to manage his own life. Broke, all but friendless, battling with his boss and clients and living in his car, Jack knows he can't reconcile with his father until he reconciles with himself. He knows his father is a mess, but so is he. Like father, like son -- and this is the heart of Thank You a Lot.
Thank You a Lot is a film with great insight into the emotional toll of creativity and the artistic life. Decades in the spotlight have left James vulnerable and raw around the edges. After spending his life trying to connect with audiences while also exposing himself to critics' barbs, he's had enough. This is painfully apparent in interview clips from Allison's documentary and in a particularly poignant scene where James walks off the stage in tired resignation while playing in a small Austin club.
Jack suffers the same toll, but in a different way. He's creative but apparently not talented, pursuing his dreams of stardom vicariously through his clients. Of course, he also feels their creative frustrations; in this way, he empathizes with his father. Father and son share a bond of diminished artistic dreams, a theme Thank You a Lot explores with terrific sensitivity.
DeLong and the entire cast (many of whom are not professional actors) deliver fine performances. But in his acting debut, the real James Hand owns Thank You a Lot. Hand is entirely comfortable on camera and a natural at playing a fictional version of himself; his vulnerability creates the film's most memorable moments. (The character's story is purely fictional, but his personality is based on Muir's perception of the real Hand's personality.)
Hand's performance fits well with Thank You a Lot's overall authenticity. From its glimpses of Austin's music scene -- all shot in real clubs with real musicians, not actors -- to its hilarious skewering of how popular culture is packaged and marketed, everything about Thank You a Lot feels real. It's a universal story of a family's struggle set against a spot-on portrayal of Austin's entertainment culture, all artfully scripted and beautifully shot. Whether your taste in music leans toward James Hand's plaintive country ballads or Desmond D's hip-hop lyrics, it's a film you should see.
Austin/Texas connections: Thank You a Lot was shot in Austin with a mostly local cast and crew. Matt Muir earned an MFA in film production at The University of Texas at Austin. Like his character, James Hand lives in Austin and performs often at local venues. The cast includes composer David Wingo, music journalist Andy Langer, and filmmakers David Hartstein, Berndt Mader, Carlyn Hudson and Sam Wainwright Douglas.
Thank You a Lot screens again on Sunday, March 9 at 9:30 pm at the Marchesa Hall and Theatre and Saturday, March 15 at 11 am at the Vimeo Theater at ACC.