SXSW Review: No No: A Dockumentary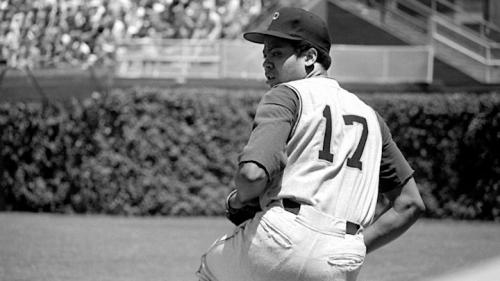 No No: A Dockumentary was directed by Austinite Jeffrey Radice and came about with much local support and funding (including a grant from Austin Film Society), so it was no surprise that it made its SXSW premiere to a big and welcoming crowd at the Paramount last Saturday.
The film explores the life of Dock Ellis, a Major League baseball player known for his talent as a pitcher as well as for the memorable feat of pitching a no-hitter (aka the "no no" of the title) while high on LSD. He also played at a time rife with racial tension and when illicit but quietly accepted drug use was rampant among players -- and rather than remaining a passive bystander in terms of baseball politics, Ellis was vocal and persistent in sharing his opinions.
Illuminating and affecting, No No pieces together Ellis' life with old photographs and video footage as well as interviews with teammates, friends, family and Ellis himself. Details about his upbringing, his dynamic and substance-fueled baseball career and his personal life bring about a deeper understanding of a man often too easily dismissed as a punchline. Even people who don't know much about baseball will find a compelling story here.
The discussion of race relations -- particularly a clip of Ellis reading a letter written to him by Jackie Robinson -- stand out as the more memorable scenes and encourage a greater understanding of why Ellis was the way he was. Through his outspokenness he helped effect change, but he also had many less-than-heroic moments (particularly in his romantic relationships and a few scarily violent episodes). Radice includes both the ups and the downs, and overall has done a thorough job of creating a revealing portrait of a fascinating person.
Towards the end of his life (Ellis died in 2008), the once high-flying baseball star went sober and began focusing his energy in positive ways. He started working in counseling and education and used stories of his own mistakes to guide young people away from drugs and alcohol and towards leading more productive lives, and this final chapter makes for a cathartic and uplifting story overall.
No No: A Dockumentary will screen again Wednesday, March 12 at 9:30 pm at the Rollins Theatre at the Long Center, and Saturday, March 15 at 9:30 pm at the Marchesa. Read Slackerwood's interview with Radice here, in which he discusses, among other things, what it's like to be a part of the Austin film community.
Austin connections: Radice is an Austin filmmaker, and No No received an AFS Grant in 2009. Much of the crew is local, including cinematographer John Fiege, whose film Above All Else is screening at SXSW too, and editor/co-producer Sam Wainwright Douglas, who directed Citizen Architect (and who appears onscreen briefly in SXSW feature Thank You a Lot).