Sundance Review: Hellion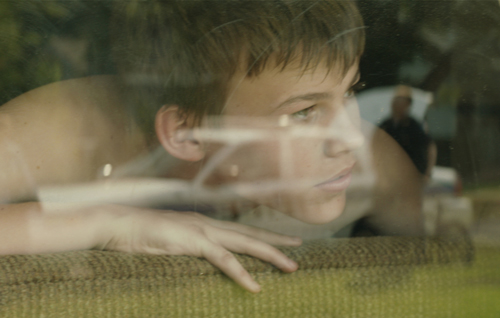 Local writer and director Kat Candler returned to Sundance Film Festival for her third consecutive year, with the feature-length version of Hellion. In 2012 Candler debuted the short that served as the basis for this dramatic feature, and in 2013 her short film Black Metal screened at the fest and online.
Hellion stars Aaron Paul as Hollis Wilson, a disconsolate widower raising his sons Jacob (Josh Wiggins) and Wes (Deke Garner) with the support of his sister-in-law Pam (Juliette Lewis). The boys are left without supervision most of the time, with Jacob engaging in delinquent acts around their southeast Texas town of Port Neches and Wes insistent on tagging along. After Jacob's actions result in his younger brother being taken from their home, he must overcome his anger and pain from his father's abandonment and mother's death to repair the tenuous bonds that hold the Wilson men together.
With the wealth of emotions exhibited from the main characters in Hellion, this film could very well tip towards the more melodramatic under a less-conscientious filmmaker. However, Candler's direction as well as her solid writing provides an in-depth characterization of her lead actors. Paul and Wiggins are well suited and immersed in their roles, and their interactions are spot on.
Lewis' performance as the aunt trying to protect her deceased sister's children is brilliantly understated, demonstrating Pam's well-meaning and perhaps misguided intentions. Austin actor Jonny Mars was unrecognizable at first in a supporting role as Wilson's friend and drinking buddy, Duncan.
The art direction and location of Hellion plays a big role in setting the tone of this film, effectively capturing the state of limbo in which the grieving and broken Wilson family are caught. The heavy metal music mirrors Jacob's rage and frustration towards his father.
The all-handheld cinematography by Brett Pawlak (Short Term 12) captures an intimate and immersive view of its subjects and their environs. On a side note, I highly recommend that moviegoers who are not comfortable viewing this style would be best served by sitting farther back in the theater to lessen the impact. I found that sitting in the third row was not the best vantage point personally.
The pacing of Hellion is never rushed, allowing the emotions of its main characters to build and simmer until the final act. I highly recommend watching this emotional and touching portrait of a family that must break through the veil of grief to face the impacts of their actions in order to salvage what was once a loving close-knit unit.
The list of Texas producers on this project is quite extensive -- most notably Hellion was executive produced by Jeff Nichols, with Andrew Logan, Jonathan Duffy and Kelly Williams on board as producers and Austin-based Arts + Labor's co-founder Kristin Johansen-Berg as an associate producer. Hellion also features the work of Arts + Labor Lauren Sanders as assistant editor.
Hellion received an Austin Film Society Grant in 2013, and the San Francisco Film Society also supported this movie with a post-production grant.