SXSW 2014: Connecting With Local and Indie Music Through Film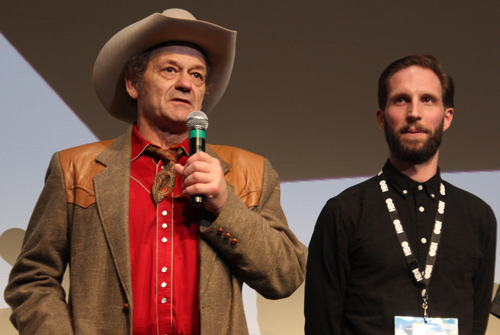 I've often encountered a false assumption that all Austinites are familiar with every musical artist and band in the self-proclaimed "Live Music Capital of the World." Despite decades of involvement in the local music scene as a college radio station DJ, band manager and "merch girl," I probably only know one-tenth of who's playing the clubs nowadays. Therefore I welcome any films that feature local or unknown musical artists.
Music documentaries really stood out at the 2013 SXSW Film Festival, but this year it was the movies that focus on fictionalized characters in the music industry that I enjoyed the most. Not only did I like the narrative aspect of these films, but also the introduction to some wonderful music that I'd not been familiar with prior to my movie-watching experience.
My SXSW film experience began appropriately on opening night with Matt Muir's Thank You A Lot, a project that we've been following since my set visit in the summer of 2012.
Thank You A Lot exceeded my expectations -- I laughed and I cried at the brilliant dialogue and direction by Muir, with outstanding performances by stage and screen actor Blake DeLong and Texas country singer James Hand in his acting debut. Hand was so natural and captivating that I had to ask whether his documentary interviews within the narrative were unscripted. The interactions between DeLong as a struggling manager of Da'Shade Moonbeam and Hundred Visions as The Wintermen are hilariously realistic, culminating with a memorable scene involving Austin's own media personality Andy Langer.
The musical performances and film score served as a vital connective element, and the cinematography intimately captured the Austin club experience from honky-tonks to Red River music venues. For more on Thank You A Lot, check out Don's review and my interview with writer/director Matt Muir and producer Chris Ohlson.
The other film at SXSW I could have easily watched a second time is Big in Japan starring non-actors and Seattle-based band Tennis Pro members Phillip Peterson, David Drury and Sean Lowry. In addition to original Tennis Pro songs, Peterson created the film score and played several of his compositions during the premiere pre-show (pictured above).
The casting of non-actors may seem a bit risky, but the long relationship between Tennis Pro members made for an authentic and constantly entertaining movie. I was completely engaged with the storyline, and like many left the screening humming Tennis Pro tunes, craving ramen and pondering a trip to Japan.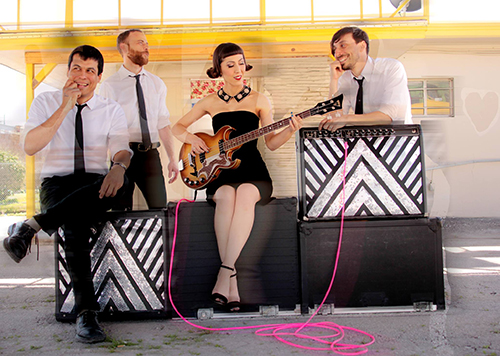 Although I've been acquainted with The Octopus Project (pictured above) for several years, it's worth noting for anyone who's not checked out their special blend of experimental pop to watch Kumiko, The Treasure Hunter. The band was awarded a special jury award at Sundance for their musical score, an integral part of this multi-faceted film.
Read my review of Kumiko, The Treasure Hunter here, and check back for my interview with writers and directors David and Nathan Zellner. Kumiko, The Treasure Hunter will also be featured at the Dallas International Film Festival in April.
Although these narratives top my list, I have to mention the importance of Butterfly Girl in introducing me to a musical artist who I'd not been familiar with from our local scene. John Evans is well established in Austin as well as throughout honky-tonks across Texas, but I've not encountered his music until director Cary Bell featured his and Emily Bell's original music in her film. Their music complements the tone of this touching documentary. Check out my full review of Butterfly Girl here and you can listen to the music in this trailer:
I thoroughly enjoyed the added bonus of live performances of featured artists including James Hand, Hundred Visions, Tennis Pro and John Evans over the course of my SXSW 2014 week. My only complaint was not having the time to see both their wonderful films and dynamic performances more than once.
[Photo credits: "James Hand and Blake DeLong of Thank You A Lot", "Phillip Performs at the State Theater", by Debbie Cerda, for use with attribution; "The Octopus Project" by Todd V. Wolfson used with permission, all rights reserved.]