Austin at SXSW 2014: Matt Muir and Chris Ohlson, 'Thank You A Lot'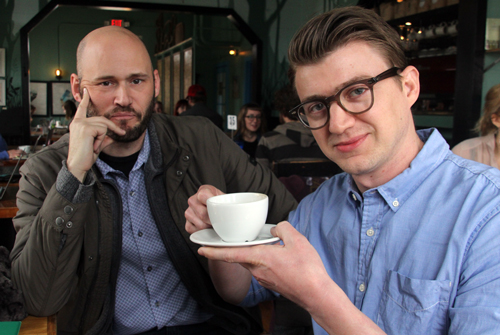 In August 2012, I visited the set of the movie Thank You A Lot, which features Texas singer/songwriter James "Slim" Hand as a fictionalized version of himself along with actor Blake DeLong as a small-time music agent who struggles within the Austin music scene. Texas musicians who appear in the film include hip-hop artist Da'Shade Moonbeam, members of the Austin band Hundred Visions and jazz vocalist Keri Johnsrud.
Thank You A Lot will debut at this year's SXSW Film Festival in the Narrative Spotlight category, with the premiere screening at the Topfer Theatre at ZACH on Friday, March 7 at 7 pm. Additional screenings take place on Sunday, March 9 at the Marchesa and Saturday, March 15 at the Vimeo Theater in the Austin Convention Center.
I recently spoke with writer/director Matt Muir and producer Chris Ohlson to continue our discussion about the journey of Thank You A Lot from the set to the screen. Muir and Ohlson are business partners in the film and video company Revelator, and the duo perform commercial and corporate work while developing film projects within their schedule.
Ohlson also produced David and Nathan Zellner's critically acclaimed narrative Kumiko, The Treasure Hunter (my Sundance review), which makes its regional debut at SXSW on Tuesday, March 11, 1:45 pm, at The Paramount Theatre.
Slackerwood: You began filming Thank You A Lot in August 2012 -- what's been happening since then?

Matt Muir: We've just been slowly but surely finishing. We've had a luxurious timeline where we've were able to do a couple of pick-ups. We've tested a bunch of different options in the edit, and really lived with the movie for awhile and made some music decisions.
A big part of the movie is what world it takes place in. It's kind of a bit of a subculture movie about the music business and the Austin music scene. Because of that we definitely wanted to create a unique world, so a lot of that was like, what kind of interesting things that we could do in post -- with the music selection we pick, what kind of world we want to create with sound design.
Looking at a lot of the time elements in the story structure of the movie that we can play around with as well and test out different things. Creating a specific tone for the movie that we really like and are really excited about.
In setting the tone of the movie, and the music -- how do you strike the balance/contrast?
Muir: One of the big conversations that we had early on about the movie is that it takes place in a specific kind of subculture. Even in that subculture -- in the music business or the idea of live performance musicians -- music is the interconnective tissue to a bunch of different worlds which is country music, the hip-hop scene, indie rock scene.
All these characters live in these different worlds and the main character Jack is definitely the connection to each of these worlds. That's one of the things that we are trying to accomplish with these different versions of the edit. We are looking at how we are creating a specific mood with sound design, different edit choices, different music selections. That definitely informed these interconnected but very definitely diverse worlds that exist in the movie.
Who made the decisions on the music to use in Thank You A Lot?
Chris Ohlson: It was really the two of us, and I think that a key that we've learned from making other things is that time is sort of the golden currency. We don't have a big studio or a financier pushing on us to have it done by a certain date. What we wanted to do was definitely explore what would work best. The strategy was always to sort of have the movie ready for the spring, but it's sort of working backwards from there.
It's like -- let's use a lot of the Texas-based musicians that we know and love, and sort of explore what would work and what wouldn't. We were able to test things and see what works best that way.
What challenges did you have dealing with publishing and music rights?
Ohlson: We have a great music supervisor on board, Dominique Preyer, who I've worked with a handful of times. He's making sure legally and paperwork-wise, the artists are happy and we're covered. But we were also very cognizant of only reaching out to or using music that we had a shot at getting.
Muir: A big part of that was already created in the film, because I wrote the script for musicians that I knew personally. I was already definitely writing for their voice. Like James Hand and Hundred Visions -- the band that plays the fictional band Wintermen in the film -- I was putting specific songs in the script. It would be like, "The Wintermen play this specific song from Hundred Visions", because I knew that I had specific music that would already be creating a tone, and creating a pace and energy for the film.
Some of that was already written into the screenplay, and I was listening to James Hand and Hundred Visions music whenever I was writing the script. We started out ahead already because we knew a little bit of what the energy and tone of the scene would be like dictated by live music that was being performed on screen. And then after that, you had a blueprint set to say that these are the tone pieces that we have set, and how can we fill that out more.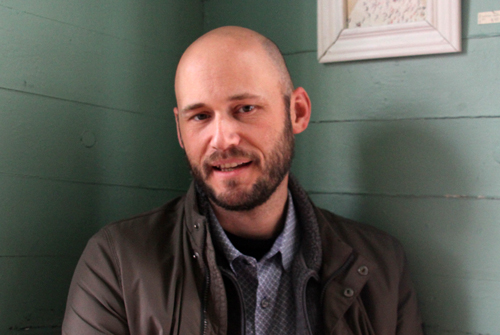 Chris -- as a producer, you've also been busy on the festival circuit supporting Kumiko, the Treasurer Hunter. Can you describe your role in production of the film and the music?
Ohlson: I'm very lucky-- both Kumiko and Thank You A Lot are movies that I've been a part of for a long, long time so I'm kind of like a dad with two kids in that sense.
For the music in Kumiko, 90 percent was composed by an Austin-based band called The Octopus Project, which won a special jury award at Sundance, and then we licensed a handful of songs for the film.
It couldn't be any more different than Thank You A Lot, in that we have 20-plus music cues in Thank You A Lot that stem from all sorts of different bands and musicians. I will say that they are both movies that really depend on music to set a pace and a tone, but they couldn't be more different in their style.
Any side benefits to the musicians represented in Thank You A Lot?
Muir: I really valued the music of James Hand -- I'm a fan first and foremost, so on a selfish level I just made this movie to convince everyone else just how great these people are. That is a really exciting thing for me, for these bands to be seen by a whole new group of people in a context that some of their fans, and other potential fans maybe wouldn't expect to see them in.
And to see them in a way that is really personal and has an emotional impact to it. Our aim was to be really true to the original music, and the authentic emotion of that music and what it meant to me. Hopefully it has the same effect and power in the movie. Just on a personal level, the opportunity to create more fans for these people that are really special and mean a lot to us is a side benefit.
Being a music-related narrative featuring Texas-based musicians, Thank You A Lot and its artists seem like great content to spotlight in the SXSW Film -- and Music -- program.
Ohlson: I don't want to say that the movie is tailor-made for SXSW, but it's a great fit for us. We don't look at it as a hometown crowd, we look at it as it is one of the best film festivals in North America.
We also have the ability to have a great turnout in terms of our cast and crew, which is something you always wish for. It would be great to play Toronto (Film Festival) or something like that, but we would have a much harder time making an impression there. Whereas I feel like SXSW is a great venue for us, really and truly.
Muir: We like to think of it that this would be a great fit even if it were shot in Chicago or New York City. It's a movie with values in line with what SXSW is really about -- that was always exciting for us.
Last year's releases included several strong music docs -- what effect might that have on Thank You A Lot?
Muir: I'm a really big fan of this trend of personal examinations of the life of musicians, and the personal journey of musicians that maybe didn't experience the kind of storybook path of success. That trend in documentaries is really exciting for us. because we love those kind of movies. In a dumb luck kind of way that lines up in a great way to our movie. I feel like there is an interesting new layer because that is in the public consciousness now.
[Photo credits: "Tea Time with Matt Muir and Chris Ohlson," "Matt Muir, The Director" and "Chris Ohlson" by Debbie Cerda, for use with attribute upon request.]