SXSW Review: Butterfly Girl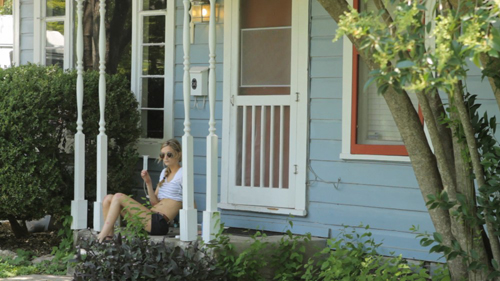 As the main subject of the documentary Butterfly Girl, written and directed by Houston-based writer and director Cary Bell, lovely 18-year-old Abigail Evans appears to be a typical teenager -- moody, stubborn, and sometimes overly dramatic -- longing for her first alcoholic drink and someone to hold her who is not a parent. However, her everyday drama and challenges are far apart from the usual high school experience. Abbie was born with the life-threatening skin disease of epidermolysis bullosa (EB), and has been homeschooled by her mother Stacie so that she can be safer at home or on the road with her father, Austin musician John Evans.
Much of Abbie's life has been spent in hospitals being treated for her genetic disease and the physical damage wreaked upon her hands, skin and esophagus. She depends on her mother as a caregiver, who does her laundry and housework. Unable to eat regularly due to blisters in her esophagus that require multiple surgeries a year, Abbie must supplement her caloric intake through a gastrostomy tube daily.
Despite the physical challenges, Abbie has experienced the unconventional teenage experience of honky-tonks where she sells merchandise for her dad's band. However, Abbie wants to experience life beyond the protectiveness of her divorced parents. As she asserts her blossoming independence, she struggles with her dependencies on her loving parents and supportive medical team. Navigating the journey into adulthood can be challenging enough, but its the profound impact of EB on Abbie's physical well-being that is the ultimate factor of what she can accomplish on her own.
Butterfly Girl is an intimate portrayal of a young woman and how she both touches others and is supported by a loving network. Cinematographer Matthew Godwin and filmmaker Bell (who did additional camera work) are on the scene both for seemingly normal moments as well as life-changing ones.
Whether a close-up of Bell changing out her stomach tube or a discussion with her hand doctor on about a procedure before the fingers of one of her hands are completely fused, the audience is made acutely aware of the absence of normalcy in Abbie's everyday life. However, we also witness the light spirit that she emulates more often than not.
Editing by Jessica Miller provides a well-balanced portrayal of the contrast between life with each of her parents, as well as frequent trips from Austin to Houston for treatment at the Texas Children's Hospital and nights behind a merch table. The film score and music by Emily Bell and John Evans are a perfect accompaniment to this personal story, especially the touching ballad that Evans wrote many years ago for Abbie -- "Butterfly Girl."
Don't miss your chance to see this touching personal story about hope for a "normal" existence and future from a young woman who touched many in her short yet full life -- be forewarned to have some tissues handy. Watch the trailer below:
Butterfly Girl will have its final screening at SXSW at the Marchesa on Saturday, March 15 at 7 pm. Austin Film Society Associate Creative Director Holly Herrick will moderate a Q&A that will include Abbie's medical team, making a special trip in from Houston. Check back for my interview with Bell and Miller.