Photo Essay: Visiting 'Thank You A Lot'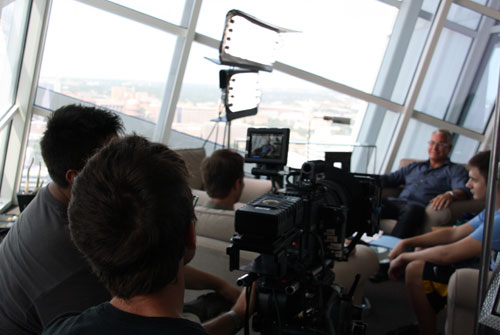 With so many independent film projects in Austin, it can sometimes be challenging to stay up to date on local production news. Promotions usually don't occur until after a film has been completed, but now and then filmmakers offer the unique opportunity of a set visit. These behind-the-scenes experiences reveal that the "magic" of moviemaking is really about the blood, sweat and tears a filmmaking team will sacrifice for their project. Specifically, the dedication and passion behind bringing a story to the screen, the physical conditions endured, and the frustration of funding dissolving at critical moments.
An upcoming film project that had hit my radar while researching for my monthly "Ready, Set, Fund" column is the feature Thank You A Lot. I was intrigued that Texas singer/songwriter James "Slim" Hand was prominently featured in this film, as well as local Austin musicians.
Set in Austin as well as nearby Marble Falls, Texas, Thank You A Lot is about Jack Hand (Blake DeLong), a small-time music agent, who is forced by his management company to sign his reclusive and legendary musician father (James Hand) from who he is estranged. Jack hustles his way through a vibrant and diverse Austin music scene, trying to protect his current clients while discovering the real person behind his musician father. In addition to DeLong and local favorite Sonny Carl Davis (Bernie, Thelma and Louise), real musicians portray many of the supporting cast including hip-hop artist Da'Shade Moonbeam, members of the Austin band Hundred Visions, and jazz vocalist Keri Johnsrud.
Producer Chris Ohlson (Happy Poet) reached out to Slackerwood about this film project, and during their 18-day shoot I visited one of the sets on the 33rd floor of the Frost Bank Tower in downtown Austin. As seen above, the offices being used as the record management company were quite plush, but with temperatures in the triple digits on a summer afternoon it's hard to say that the crew was comfortable. As I'd experienced during the Red, White, and Blue filming at my house, it is normal practice not to run air conditioning during shooting to minimize ambient noise.
Here are a few more photos from the set visit of Thank You A Lot.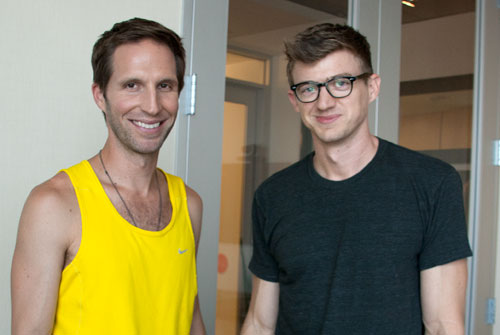 I caught up with lead actor Blake DeLong and writer/director Matt Muir during a lunch break and we spoke at length about the project, including how Muir wrote this film specifically with roles earmarked for DeLong and Hand. DeLong and Muir also wanted to capture the vibrance and diversity of the Austin music scene in this film project. I'll have more details from their interview in a future article.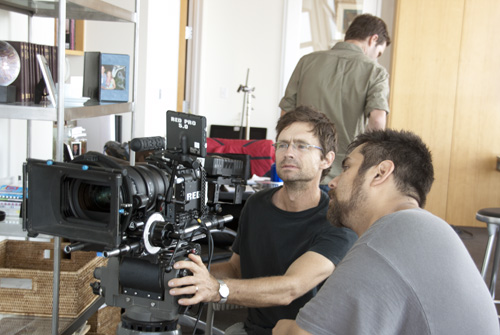 Director of Photography Harrison Witt sets up a shot while lead actor DeLong preps for the scene in the background.
Thank You A Lot is funding through August 29, 2012 on Kickstarter.
[Photo credits: "On the Set with Thank You A Lot," "Blake DeLong and Matt Muir," "Setting a Shot with DP," by Debbie Cerda, all rights reserved.]