2013 in Review: Elizabeth's Top Ten Women Onscreen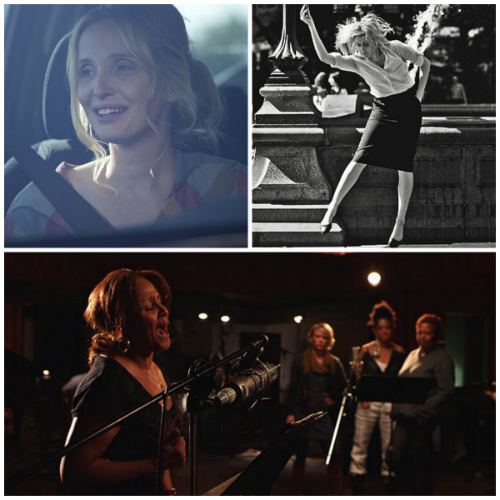 There is much movement to be made as far as diverse representation of women on the big screen, as well as getting more women behind the camera, but last year was not lacking in opportunities to see brilliant performances by females in film. So without much further ado, here are my top ten ladies of 2013 film:
10. The sisters of Frozen -- I certainly didn't expect much from this movie after reading how "difficult" Frozen's head of animation found it to animate women. It was a happy surprise to find the main relationship in the film is between the two sisters, Elsa (Idina Menzel) and Anna (Kristen Bell) and not a male/female romance. The sisters share tentative affection, with Anna determined to restore the close friendship they shared as kids. If you can watch the "Do You Wanna Build a Snowman?" sequence and remain dry-eyed, more power to you. [Mike's review]
9. Seedne Bujaidar, Sombras de Azul -- Bujaidar, cousin to director Kelly Daniela Norris, plays Maribel as pensive and quietly inquisitive in this film, which won the Audience Award at the 2013 Austin Film Festival. AFF will be screening this at Alamo Drafthouse Village next week. [my review]
8. Melissa McCarthy and Sandra Bullock, The Heat -- Bullock's standoffish FBI agent and McCarthy's abrasive Boston cop strike up a wonderful camaraderie in last year's best buddy comedy. [my review]
7. Lupita N'Yongo, 12 Years a Slave -- It's no surprise that N'Yongo has received award buzz for her role in Steve McQueen's film. Patsey always brings in the largest haul of cotton, but endures torment from Mistress Epps (and rape from Epps himself). N'Yongo instills Patsey with a determined spirit despite her dreadful situation. [my review]
6. Julia Louis-Dreyfus, Enough Said -- JLD continues to prove her near perfection with her role as a divorced massage therapist in Nicole Holofcener's film. She and James Gandolfini spark off each other in this wonderfully awkward romance. [my review]
5. Emma Thompson, Saving Mr. Banks -- Other aspects of this film may have been bothersome, but Ms. Thompson is the saving grace of the Disney movie. Just think what she could have done if there had more of the real P. L. Travers in the story... [my review]
4. Lake Bell and Michaela Watkins, In a World... -- Bell's directorial debut gives Bell & Watkins a chance to show their versatility. While the film about a female voiceover performer leans toward comedy, neither Bell or Watkins shy away from the dramatic when the script calls for it (for example: the family dinner scene). [my review]
3. The women of 20 Feet from Stardom -- The backup singers in this documentary were so inspiring that I made a Spotify playlist days after seeing the film at SXSW. The story of Merry Clayton recording the haunting vocals for "Gimme Shelter" in curlers in the wee hours of the morning is just one of the movie's memorable moments.
1. TIE: Greta Gerwig, Frances Ha and Julie Delpy, Before Midnight -- Two very different performances from two talented actresses. I can't pick which one is my favorite, so I'm cheating and calling it a tie. 2013 was the year I realized how amazing Julie Delpy is, as I watched the earlier Linklater Before movies and even enjoyed her Two Days in Paris on New Year's Eve. She's flawless in Before Midnight, especially in the hotel fight scene. Gerwig's Frances is flighty, but real enough to be recognizable. Do I know anyone who would sleep through a trip to Paris? Probably not. I still think Frances, as Gerwig co-created her, would be fun to grab coffee with (of course, I'd probably get stuck with the bill). [Jette's review of Frances Ha, Debbie's review of Before Midnight (and mine)]
Honorable Mention:
Sandra Bullock, Gravity
Judi Dench, Philomena
Heather Mazur, A Leading Man (screened at Austin Film Festival)
Jennifer Coolidge, Austenland
[Stills in above image: Julie Delpy in Before Midnight, Greta Gerwig in Frances Ha, and Darlene Love in 20 Feet From Stardom. Stills in collage at right from 12 Years a Slave, Enough Said, Saving Mr. Banks and In a World...]