Review: Frozen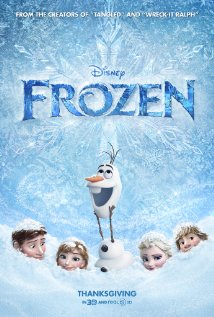 The movie Frozen may be Disney's best animated film in 20 years. The adaptation of Hans Christian Andersen's "The Snow Queen" is a return to Disney classic form with a few new twists on old tropes.
The pairing of composer Christophe Beck (Pitch Perfect, Burlesque) with lyricist Kristen Anderson-Lopez recaptures some of the magic of Menken/Ashman from 1989-1992 in The Little Mermaid, Beauty and the Beast and Aladdin. The screenplay by Jennifer Lee (Wreck-It Ralph), who also shared directing duties with Chris Buck (Tarzan), carefully balances dark subject matter with good-natured humor as it transports the audience into a magical frozen world.
Idina Menzel won a Tony for her Broadway performance in Wicked as Elphaba, the misunderstood "wicked witch" forced into isolation by her appearance and powers. The role of snow queen Elsa she plays in Frozen is not a very far stretch from that character, though she is not the heroine of this tale.
Princess Anna is voiced by Kristen Bell, who also performs her own songs. Who knew Kristen Bell could sing like this? Performing in four tracks that include duets with Santino Fontana, Josh Gad, and Menzel, her voice is flawless.
The most memorable numbers in Frozen, however, are "In Summer," performed by Josh Gad (Jobs, Ice Age) about a snowman's light-hearted musing on dreams of warm weather, and "Let It Go," which inspired youngsters in the audience to sing along with the credits.
After she accidentally injures younger sister Anna while playing with her budding magical powers, Elsa's parents hide her away, isolated from people in order to avoid hurting them. She grows up striving to repress, rather than control, her feelings and thus her powers. After their parents' deaths, Elsa comes of age and must assume her role as queen at a coronation ceremony, resulting in a disaster from which she flees.
Away from her kingdom, alone on a mountain, Elsa is finally free to release the full force of her powers. This is where Frozen peaks; as she sings "Let It Go," Menzell releases the full force of her voice while Elsa constructs her ice palace in an astounding display of 3D animation. Unfortunately, Elsa's release locks the kingdom in eternal winter, and Anna must find her and convince her to reverse the effect before it's too late. Along the way she meets Kristoff (Jonathan Groff), an ice hauler, and Olaf (Josh Gad), a living snowman (read: comic relief) made by her sister.
Frozen is a must-be-seen-in-3D title that I can't recommend strongly enough. With the nation caught in the grip of an Arctic storm, the movie's release could not have been more appropriately timed, though the cold will hopefully not be reflected in holiday box-office numbers.